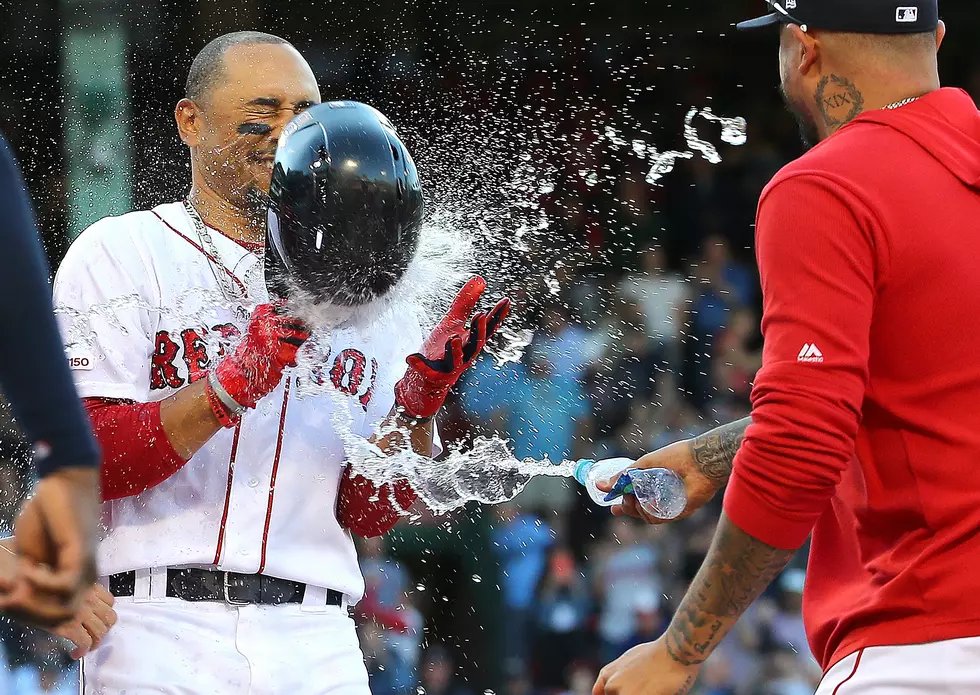 Red Sox Walk-Off Win Over Texas 4-3 [VIDEO]
Photo by Jim Rogash/Getty Images
The Boston Red Sox earned their 3rd walk-off win of the season on Wednesday, June 12th, beating the Texas Rangers as Mookie Betts recorded his 4th career bases loaded walk-off RBI scoring Marco Hernandez. The Red Sox won 4-3
The Red Sox squandered a good pitching effort by Rick Porcello who went 6.2 innings allowing 2 runs in the 1st inning. He struck out 6, scattering 5 hits and at one point retired 16 consecutive Texas Rangers.
Andrew Benintendi was 3-4, with 2 doubles and a triple. He doubled in the 1st, hit a RBI triple in the 3rd and a RBI double in the 5th inning.
Brock Holt tripled to center in the 4th inning. It was the 1st Red Sox game that the team hit 2 triples since July 28, 2018 when they did it against Minnesota.
Rafael Devers was 2-4 with a double and a RBI and is now tied with Xander Bogaerts for the team lead in RBIs with 43. He's had 10 RBIs in his last 9 games and 29 RBIs in his last 29 games.
Matt Barnes picked up the win, pitching a scoreless 9th inning, striking out 2.
Prior to the game the Red Sox recalled right handed pitchers Travis Larkins and Josh Smith from Pawtucket. To make room on the 25 man roster lefty Bobby Poyneer was optioned to Pawtucket and lefty Darwinzon Hernandez was optioned to Portland.
The Red Sox are now 35-34 7.5 games behind the 1st place Yankees.
The Red Sox and Rangers will conclude their 4 game series Thursday night, with David Price going to the mound for the Red Sox. The pregame starts at 6:10 and 1st pitch at 7:10. You can hear that game and every game on AM 1370 WDEA in the Ellsworth and Bar Harbor area and The Rock 101.9 FM, WOZI in Presque Isle
More From WDEA Ellsworth Maine