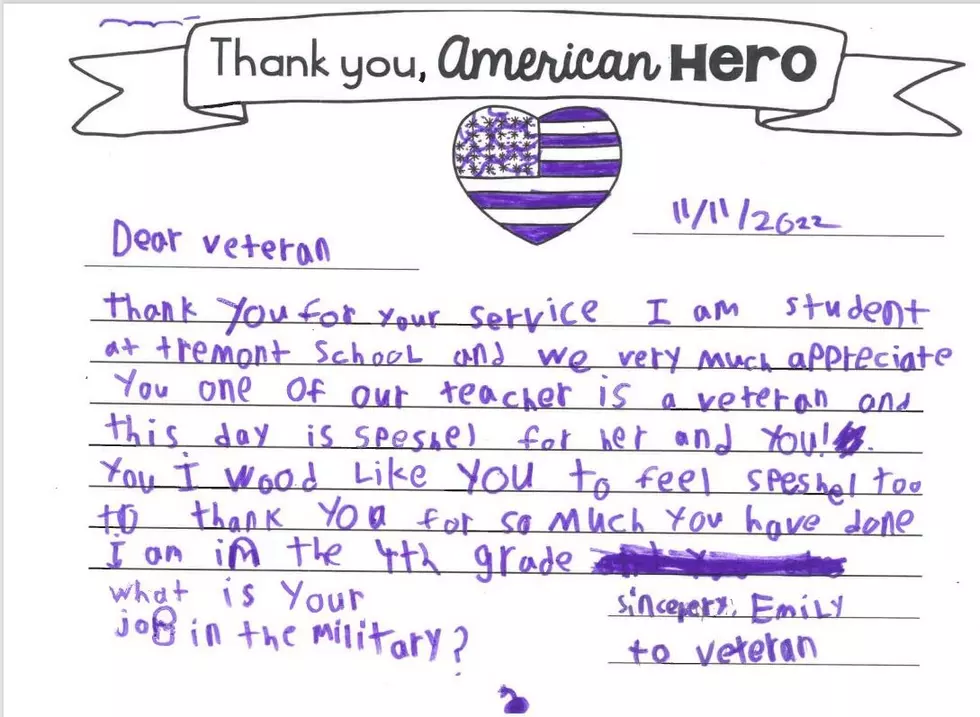 Veteran Gets Thanks for the 1st Time
Chris Popper
Think what your 3rd or 4th grader does in school doesn't make a difference? Let me tell you this story. Mrs. P's (Natalia Pajor-Meddaugh)  Janey Adler's 3rd/4th grade class at the Tremont School wrote thank you letters to local veterans leading up to Veterans Day.
Here's the letter that Emily wrote.
Now typically the Tremont School invites local veterans to a service and lunch prior to Veterans Day, but COVID has wrecked that the past couple of years.
Mrs. P  and Mrs. Adler told the class that with some luck they might get a response. Well they did. Charlie wrote them back. Go ahead and read the letter. And just pause when you read
"I returned from Viet Nam in the mid '60's. On my return I was advised to get out of my military uniform and go about life which I did. I was never thanked for my service. Then it happened. At Tremont Elementary School, some 50 years later, I was thanked for my service....."
Read that again, and let it sink in. When was the last time you thanked a Veteran for their service?
I will tell you in Bar Harbor, on Veterans Day, before we started the bed races, I invited all Veterans to come into the middle of Cottage Street and accept the thanks of a grateful community!" And they did, and received a rousing round of applause!!
So be like a 3rd or 4th grader! Thank a veteran today, or when you see someone in military clothing. Who knows, you might be the 1st one ever to thank them! Today and going forward be like Mrs. P's  and Mrs. Adler's Class and thank a veteran!
More From WDEA Ellsworth Maine