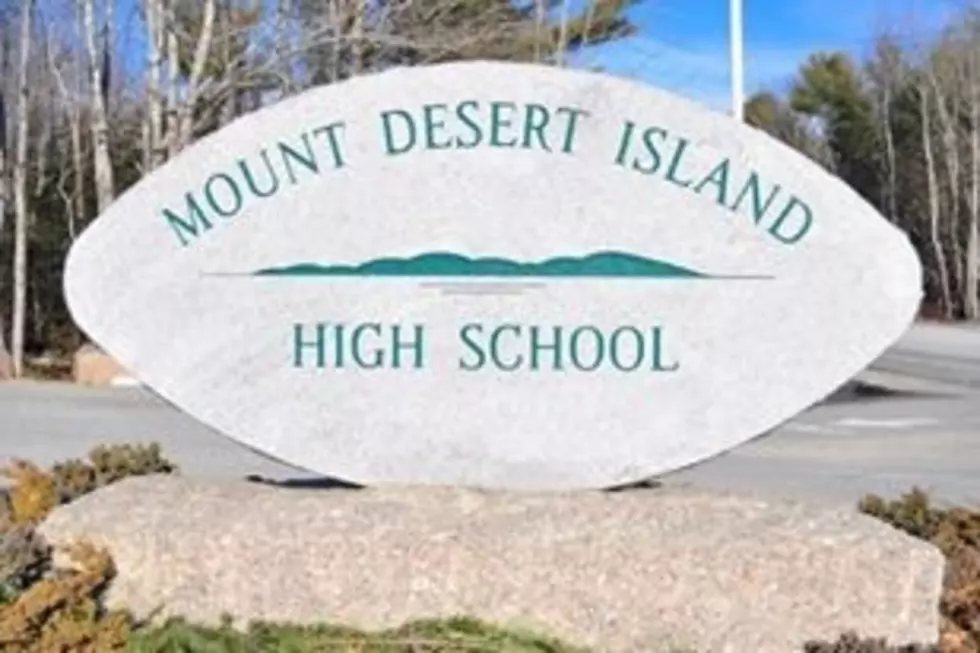 March 31st Letter From AOS 91 Superintendent Dr. Marc Gousse
Photo Courtesy MDI High School
Dr. Marc Gousse , the Superintendent of AOS 91 sent out the following email to staff and students on Tuesday, March 31st. Unfortunately if you don't have a school email, I don't believe you will receive it. He has authorized the updates to be forwarded to me, so they may be shared with you! Here's the Tuesday, March 31st update
I hope this message finds you, your families and those closest to you healthy, safe and well.
As we enter another week adapting to our new reality, I wish thank you for the continued patience, and flexibility each of you have displayed in support of our staff providing resources for our students and communities.
In doing so, Please know our number one priority and focus remains on the health, safety and well being of our students, staff and those within our communities. We are working very hard to the best of our collective ability to ensure we maintain continuity throughout our district with respect to providing resources and support for remote learning. In addition to communications and guidelines provided previously, please find the following recommended practice to further support of community efforts to combat the spread of COVID-19:
Stay home - avoid any/all unnecessary travel until further notice
Plan ahead - limit trips to only those essential and necessary needs (groceries, fuel, medicine)
Do not visit or attempt to enter any school,building or office without administrative pre-approval until further notice -no exceptions please!
Continue to practice social distancing and follow established hygiene protocols (wash hands frequently...)
When exercising or recreating - avoid congregating in groups or confined areas
Remain cognizant of, and discourage, people from gathering in large groups or off site locations away from home (playgrounds, parks, etc...)
Clearly, this is a very challenging time for all as we weigh known risks while considering how to best move forward both now and in the foreseeable future. Remember, we are all in this together; we must remain strong, united and focused on taking care of each other. As school employees, we realize how very fortunate we are to receive the outstanding support displayed by our students, parents, families, school board and communities and remain comforted by the fact that in order to take care of others our staff know they are valued, appreciated are cared for as well.
This is an unprecedented time in our lives however, it is times like these that present opportunities to unite and do what is best for the common good of society. I am confident our nation will overcome this challenge and comforted by the fact that we will do this together - one day a time. Our new normal presents us with many hurdles - not all have to be tackled immediately... we must continue to take deep breaths, remember to step back - think and consider alternatives. In doing so, we must all recognize that "many hands make work light..."
In closing, I wish everyone to know we are conscious of, and sensitive to the need to celebrate success, honor traditions and keep the positive spirit alive in our young people, schools and communities. We appreciate the outreach, suggestions, advocacy and support for events to include: graduations, proms, class trips, promotional ceremonies, concerts, shows, exhibits, performances and athletics. These events, and many others, are very important and we will continue to network and to identify ways to celebrate and recognize our students while remaining focused on everyone's health and safety. As Americans, we have faced many, many challenges in the past - we will overcome this challenge as well and come out of this stronger - Never give up - ever! 
I am proud to serve our students and communities and will continue to keep each of you in my thoughts and hopes each and every day. Take care, stay healthy and safe and please look for future communications, updates and information.
Marc Edward Gousse, Ed.D.
MDIRSS AOS # 91 Superintendent of Schools
Enter your number to get our free mobile app
More From WDEA Ellsworth Maine