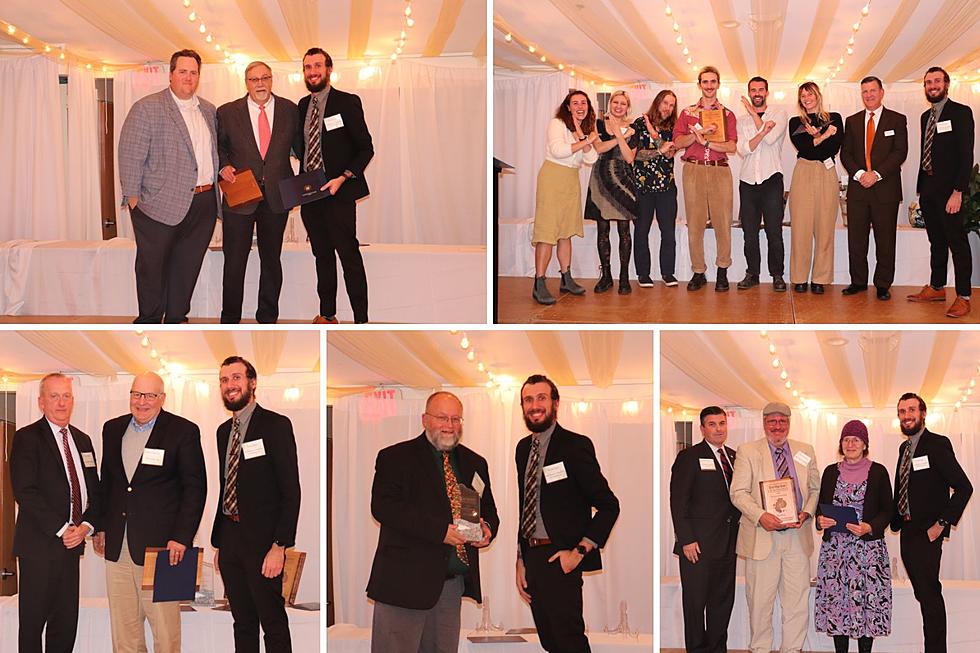 2023 Bar Harbor Chamber of Commerce Annual Award Dinner Winners [VIDEO]
Photos Bar Harbor Chamber of Commerce
The Bar Harbor Chamber of Commerce held their Annual Awards Dinner on Wednesday night, November 1st at the Atlantic Oceanside Hotel and Event Center in Bar Harbor.
It was a beautiful night, and the following received awards
Neighbor Business of the Year - Volta
Community Impact Award - Open Table MDI
President's Award - Tom Testa
Business of the Year - Reel Pizza
Cadillac Award - Chris Popper
At the Dinner, the Bar Harbor Chamber of Commerce played this video, produced by the legendary Jeff Dobbs.
To say that I was honored and embarrassed is an understatement. I have long been better at promoting others and telling other's stories,rather than promoting myself. I have been extremely fortunate to be able to promote the Wonderful Down East Area (WDEA) for 21 years. You have welcomed me into your homes, allowed me to share your stories and supported my requests for help. Living in Bangor, you have taken pictures for me, been my eyes and ears and together WE have made WDEA a part of the Downeast Community. You have invited me to events, and listened to me telling the same stories over and over.
When I have asked for your assistance whether it be to collect pasta, help firefighters, reroof a house, supporting someone in need, you have come through time after time after time. I have said that no one is as generous as someone from Downeast Maine, and that Mainers take care of Mainers and those they love, and you have proven me true, time after time.
I couldn't have done this without the support of my family. My wife of 35 years, and much better half, Bonnie. My children, who aren't children anymore, Craig and Collin. And of course Elmer and Pebbles (my Great Danes), who are waiting for me to take them for a ride.
A special thanks to MDI and Ellsworth High Schools. You have granted me total access. When COVID locked down the gyms, I was 1 of 10 in the gyms, doing play-by-play and telling the stories. You have and continue to allow me on the buses, to get me to events and home safely. To the coaches, players and families thank you for letting me tell your stories. I've covered the exhilaration of State Championship victories and the crushing losses. I've had listeners tell me that they can tell how MDI and Ellsworth are doing just by listening to the tone of my voice, and without hearing the score. I am a proud cheerleader for MDI and Ellsworth. I have watched these kids grow up, sometimes from grade school through High School and beyond. I want them to do nothing but succeed.
I look forward to hopefully telling the stories of Downeast Maine with your help for a few more years to come!
More From WDEA Ellsworth Maine