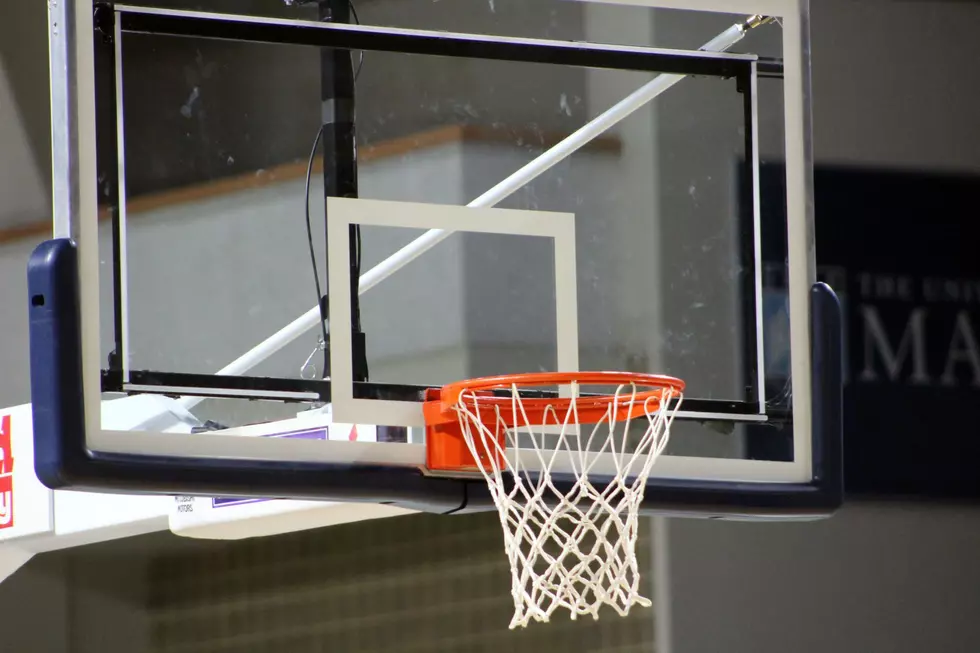 Witches Too Much for Eagles in 2nd Half – Brewer Boys Beat Ellsworth 62-43 [STATS]
Photo Chris Popper
The Brewer Witches Boys Basketball Team proved to be too much for the Ellsworth Eagles on Friday night, February 12th, winning 62-43 in Brewer.
Ellsworth led 12-11 at the end of the 1st Quarter, and after outscoring Brewer 9-7 in the 2nd Quarter, let 21-18 at the end of the 1st Half. Brewer outscored Ellsworth 23-16 in the 3rd Quarter to make the score 41-37 Brewer before the Witches outscored Ellsworth 21-6 in the final Quarter.
Ellsworth was led by Michael Palmer with 12 points while Eamon MacDonald finished with 11 points. The Eagles were 0-4 from the free throw line and managed only 1 3-pointer, by MacDonald.
Brewer was led by Brady Saunders with 16 points while Aaron Newcomb had 10 10 points. The Witches were 6-9 from the free throw line and hit 6 3-pointers, with Saunders draining 3, Newcomb 2 and Dylan Huff 1.
Ellsworth is back in action on Tuesday, February 16th when they will play host to John Bapst at 6 p.m. That game will be live-streamed on the Ellsworth High School You Tube Channel
Line Score
| | | | | | |
| --- | --- | --- | --- | --- | --- |
| | 1 | 2 | 3 | 4 | T |
| EHS Boys | 12 | 9 | 16 | 6 | 43 |
| Brewer | 11 | 7 | 23 | 21 | 62 |
Box Score
Ellsworth
| | | | | | | | | | |
| --- | --- | --- | --- | --- | --- | --- | --- | --- | --- |
| # | Name | G | PTS | FGM | 2PM | 3PM | FTM | FTA | PF |
| 3 | Chance Mercier | 1 | 2 | 1 | 1 | 0 | 0 | 0 | 2 |
| 4 | Miles Palmer | 1 | 4 | 2 | 2 | 0 | 0 | 0 | 0 |
| 10 | Hunter Curtis | 1 | 6 | 3 | 3 | 0 | 0 | 4 | 1 |
| 11 | Brett Bragdon | 1 | 2 | 1 | 1 | 0 | 0 | 0 | 2 |
| 12 | Gage Hardy | 1 | 0 | 0 | 0 | 0 | 0 | 0 | 0 |
| 14 | Brody Mercier | 1 | 2 | 1 | 1 | 0 | 0 | 0 | 1 |
| 15 | Eamon MacDonald | 1 | 11 | 5 | 4 | 1 | 0 | 0 | 0 |
| 20 | Peter Keblinsky | 1 | 0 | 0 | 0 | 0 | 0 | 0 | 0 |
| 21 | Brady Kenny | 1 | 0 | 0 | 0 | 0 | 0 | 0 | 0 |
| 22 | Michael Palmer | 1 | 12 | 6 | 6 | 0 | 0 | 0 | 3 |
| 23 | Kaleb Connors | 1 | 4 | 2 | 2 | 0 | 0 | 0 | 1 |
| 30 | Michael Harris | 1 | 0 | 0 | 0 | 0 | 0 | 0 | 0 |
| | TOTALS | 1 | 43 | 21 | 20 | 1 | - | 4 | 10 |
Brewer
| | | | | | | | | | |
| --- | --- | --- | --- | --- | --- | --- | --- | --- | --- |
| # | Name | G | PTS | FGM | 2PM | 3PM | FTM | FTA | PF |
| 4 | Colby Smith | 1 | 8 | 4 | 4 | 0 | 0 | 1 | 0 |
| 10 | Kyle Goodrich | 1 | 6 | 3 | 3 | 0 | 0 | 0 | 1 |
| 12 | Lennox Cummings | 1 | 0 | 0 | 0 | 0 | 0 | 0 | 0 |
| 14 | Dylan Huff | 1 | 9 | 3 | 2 | 1 | 2 | 2 | 2 |
| 20 | Aaron Newcomb | 1 | 10 | 3 | 1 | 2 | 2 | 2 | 2 |
| 22 | Brady Saunders | 1 | 16 | 6 | 3 | 3 | 1 | 1 | 0 |
| 24 | Ryder Goodwin | 1 | 9 | 4 | 4 | 0 | 1 | 1 | 1 |
| 32 | Ryan Young | 1 | 0 | 0 | 0 | 0 | 0 | 0 | 0 |
| 34 | Cameron Hughes | 1 | 4 | 2 | 2 | 0 | 0 | 2 | 1 |
| | TOTALS | 1 | 62 | 25 | 19 | 6 | 6 | 9 | 7 |