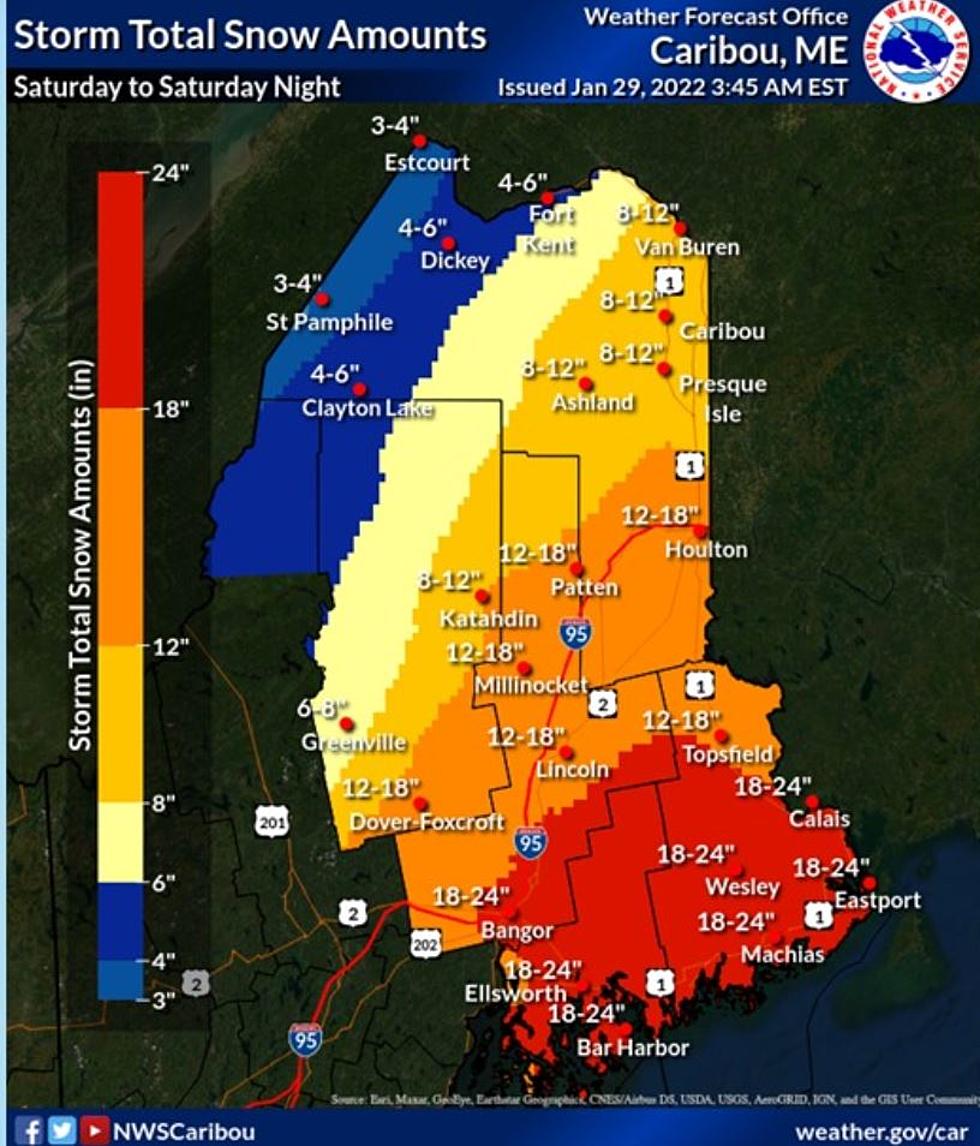 Snowfall Totals Increased 18-24 inches Expected Downeast [UPDATE]
National Weather Service Caribou
Update Saturday morning  January 29 -  A Blizzard Warning remains in effect until 7 a.m Sunday, January 30th. The snowfall totals have been increased with total snowfall accumulations expected Downeast of 18-24 inches.
Driving will be hazardous during the peak of the storm on Saturday, with blowing snow and visibility of a quarter mile or less
Why we joke about preparing for the storm and getting the Bread and Milk, there are some things you should prepare for with a storm of this magnitude
With the heavy snow and high winds, there is a good chance for power outages. With high temperatures only expected to be around 18 Downeast, you might consider turning up the heat inside, so your house is a little warmer in the event you lose power. If you heat with wood, bring some extra wood inside so you don't have to go outside to get it in the middle of the storm
You should make sure that all your electronic devices are charged on Friday night and Saturday morning. That way, even if you lose power, you have the ability to check the WDEA website where we will be posting power outage reports and any information from the Hancock County Emergency Management authorities.
Please make sure you secure your pets! No one wants to consider having to go out in the middle of the snowstorm to find a lost dog or cat! With the considerable snowfall expected, dogs will lose their "usual scents" and may not be able to find their way home if let out. Keep them on a leash or in a fenced in area if you let them out to go to the bathroom!
You will need to make sure that you keep dryer vents, and heat vents clear of snow. If they are covered or aren't "clean" you run the risk of carbon monoxide backing up into your house. When was the last time you changed the batter in your carbon monoxide detector? Do you even have one? Good things to check on today or Friday and buy a new battery or detector!
With a nod to my father in heaven and the question he would always ask me when he would hear we are getting snow.. Do you have enough gasoline for your snowblower? Roads likely won't be safe to drive on Saturday afternoon in the brunt of the storm, and you won't want to find out that your snowblower is out of gas!
Now... Let's talk snow removal. Not sure if it's going to be heavy or fluffy, but upwards of a foot is A LOT of snow! If you are tasked with the snow removal chores you are going to make a couple of trips to do so. You are better off going out a few times in the storm and shovel or snowblow rather than waiting until the end. While it may seem pointless to shovel or snowblow while it's still snowing heavily, trust me you don't want to face upwards of a foot at once! If you are shoveling or snowblowing, take frequent breaks. Back in 2016 I spoke with Sarah McEachern from MDI Hospital about shoveling safety tips, and although the interview is 6 years old, the tips are as pertinent now as they were then!
Mainers are great on checking on their neighbors and this is the perfect opportunity to check in, before, during and after the storm.
Keep safe.
15 Stores You Shopped At In Maine But Your Kids Have Never Heard Of
More From WDEA Ellsworth Maine