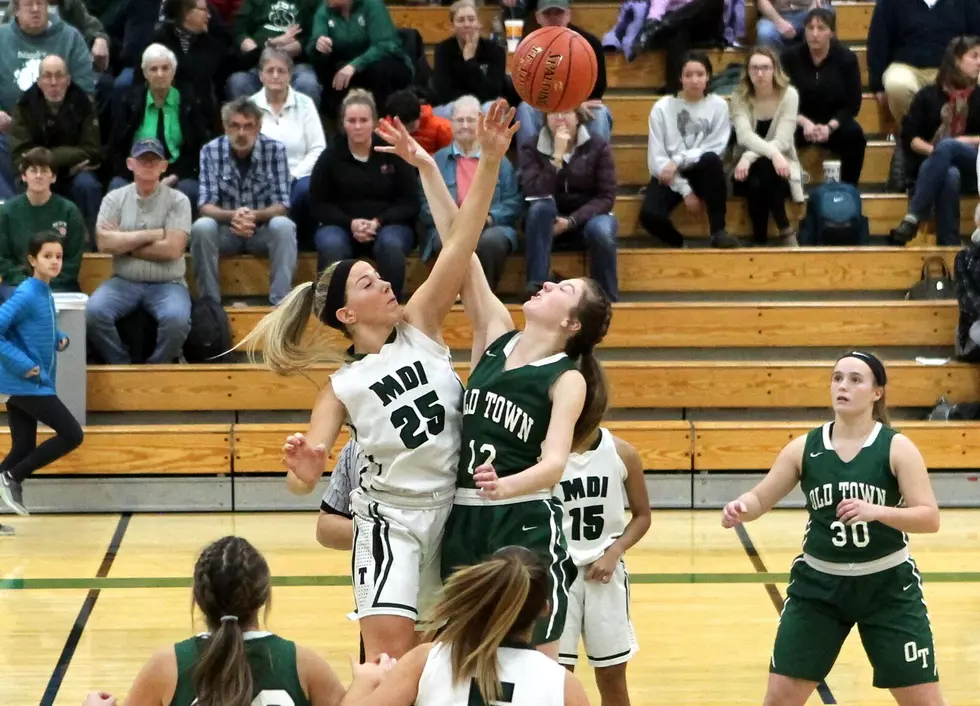 MDI Girls Beat Old Town 57-50 [PHOTOS]
MDI-Old Town Girls Basketball December 7, 2018 Photo Walter Churchill
The MDI Girls Varsity Basketball Team opened the 2018-19 regular season with a 57-50 victory over the Old Town Coyotes at Bernard Parady Gymnasium in Bar Harbor on Friday, December 7th.
Old Town a much improved team showed they weren't to be taken lightly, as they didn't allow MDI many second opportunities at the basket, out rebounding the Trojans. At the end of the 1st Quarter the score was tied 8-8. In the 1st Quarter MDI was led by Julia Watras with 8 points and Maddy Candage with 2 points. For Old Town Olivia Albert had 4 points and Sydney Loring and Lexi Thibodeau each had a basket.
In the 2nd Quarter MDI outscored Old Town 17-10 to take a 25-18 lead at halftime. MDI started to find the range from beyond the 3 point arc, as Hannah Chamberlain hit back to back 3's for 6 points. Watras added a 3-pointer and Elizabeth Jones scored her first varsity points with a 2-pointer. MDI also had baskets from Lindsey McEachern, Rachelle Swanson and Candage. For Old Town Madelyn Emerson scored her 1st varsity points, scoring 5 points with a 3-pointer. Thibodeau had 4 points and Logan Gardner scored her 1st points, going 1-2 from the free throw line.
MDI increased their lead to 11 points at the end of the 3rd Quarter 42-31. Alexis Clarito drained 2 3-pointers, and Chamberlain added another for the Trojans. Candage and Watras each had 4 points in the 3rd Quarter.  For the Coyotes Hannah Richards and Claudia Damboise each had 4 points, Loring drained a 3-pointer and Tihibodeau had 2 points.
In the 4th Quarter MDI couldn't pull away, as the Coyotes chipped into the lead, but MDI never let them get closer than 5 points. Richards had 8 points for Old Town including a 3-pointer, while Emerson added 5 more points with another 3-pointer. Albert, Loring and Damboise each chipped in with a basket. For MDI Candage had 7 points, Chamberlain drained her 4th 3-pointer and was 1-2 from the free throw line and Watras added another basket. Rachelle Swanson iced the game in the final minute, going 2-2 from the free throw line.
MDI was led by Julia Watras and Maddy Candage each with 15 points, while Hannah Chamberlain had 13 points, with 4 3-pointers. The Trojans were 4-9 from the free throw line.
Old Town was led by Hannah Richards with 12 points, while Madelyn Emerson had 10 points. The Coyotes were 6-10 from the free throw line.
Old Town, 0-1, will host Ellsworth on Wednesday, December 12th at 7PM.
Thanks to Walter Churchill for the great photos.
| | | | | | |
| --- | --- | --- | --- | --- | --- |
| | 1 | 2 | 3 | 4 | T |
| Old Town Coyote Girls | 8 | 10 | 13 | 19 | 50 |
| MDI Girls 2018-19 | 8 | 17 | 17 | 15 | 57 |
| | | | | | | | | | |
| --- | --- | --- | --- | --- | --- | --- | --- | --- | --- |
| # | Name | G | PTS | FGM | 2PM | 3PM | FTM | FTA | PF |
| 2 | Maddy Arsenault | 1 | 0 | 0 | 0 | 0 | 0 | 0 | 0 |
| 4 | Madelyn Emerson | 1 | 10 | 4 | 2 | 2 | 0 | 0 | 1 |
| 10 | Alivia  Coulombe | 1 | 0 | 0 | 0 | 0 | 0 | 0 | 1 |
| 12 | Hannah Richards | 1 | 12 | 4 | 3 | 1 | 3 | 5 | 2 |
| 14 | Jadeyn Cain | 1 | 0 | 0 | 0 | 0 | 0 | 0 | 0 |
| 20 | Amber Morgan | 1 | 0 | 0 | 0 | 0 | 0 | 0 | 0 |
| 22 | Lexi Thibodeau | 1 | 8 | 3 | 3 | 0 | 2 | 3 | 4 |
| 24 | Logan Gardner | 1 | 1 | 0 | 0 | 0 | 1 | 2 | 0 |
| 30 | Olivia Albert | 1 | 6 | 3 | 3 | 0 | 0 | 0 | 0 |
| 32 | Alexis Austin | 1 | 0 | 0 | 0 | 0 | 0 | 0 | 0 |
| 40 | Sydney Loring | 1 | 7 | 3 | 2 | 1 | 0 | 0 | 1 |
| 42 | Payton Cody | 1 | 0 | 0 | 0 | 0 | 0 | 0 | 0 |
| 52 | Claudia Damboise | 1 | 6 | 3 | 3 | 0 | 0 | 0 | 3 |
| | TOTALS | 1 | 50 | 20 | 16 | 4 | 6 | 10 | 12 |
| | | | | | | | | | |
| --- | --- | --- | --- | --- | --- | --- | --- | --- | --- |
| # | Name | G | PTS | FGM | 2PM | 3PM | FTM | FTA | PF |
| 3 | Lindsey McEachern | 1 | 2 | 1 | 1 | 0 | 0 | 0 | 1 |
| 5 | Julia Watras | 1 | 15 | 7 | 6 | 1 | 0 | 3 | 1 |
| 13 | Leah Carroll | 1 | 0 | 0 | 0 | 0 | 0 | 0 | 0 |
| 13 | Julia Perconti | 1 | 0 | 0 | 0 | 0 | 0 | 0 | 0 |
| 15 | Alexis Clarito | 1 | 6 | 2 | 0 | 2 | 0 | 0 | 3 |
| 21 | Lexi Rich | 1 | 0 | 0 | 0 | 0 | 0 | 0 | 0 |
| 25 | Maddy Candage | 1 | 15 | 7 | 7 | 0 | 1 | 2 | 2 |
| 31 | Olivia Gray | 1 | 0 | 0 | 0 | 0 | 0 | 0 | 0 |
| 33 | Rachelle Swanson | 1 | 4 | 1 | 1 | 0 | 2 | 2 | 2 |
| 35 | Cassie Craig | 1 | 0 | 0 | 0 | 0 | 0 | 0 | 0 |
| 41 | Hannah Chamberlain | 1 | 13 | 4 | 0 | 4 | 1 | 2 | 0 |
| 43 | Elizabeth Jones | 1 | 2 | 1 | 1 | 0 | 0 | 0 | 0 |
| 45 | Zoe Parker | 1 | 0 | 0 | 0 | 0 | 0 | 0 | 0 |
| | TOTALS | 1 | 57 | 23 | 16 | 7 | 4 | 9 | 9 |
More From WDEA Ellsworth Maine