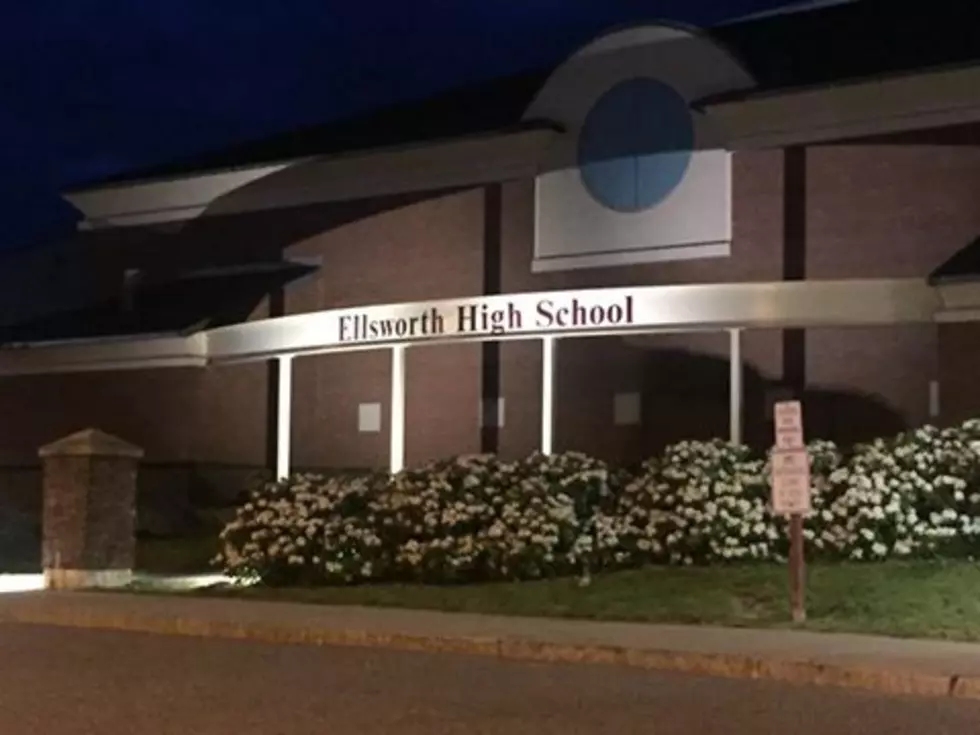 Ellsworth School Department Extends Closure Through April 26th
Photo Ellsworth High School
Superintendent Dan Higgins sent out a letter to Ellsworth Parents. Guardians and Students on Friday, March 20th, extending the school closures through April 20th but with the April break April 20-24 schools will be closed through April 26th.
Schools are now set to tentatively re-open on Monday, April 27th.
Dear Parents and Guardians of Ellsworth School Department Students:
Maine Governor Janet Mills recently recommended that all Maine schools cease classroom-based instruction for the duration of her announced civil emergency – which is a 30-day period. Many Superintendents in regions across the state, including the Hancock County Region, have determined that an extension of the target return dates expressed in their original closure notifications to coincide with the initial civil emergency period is a prudent and appropriate action. The recent increase in the number of confirmed presumptive positive cases of COVID-19 in Maine supports this determination.
Based on this determination, the Ellsworth School Department will extend its school closure period through Friday April 17, 2020 to be followed by the regularly scheduled April vacation week (April 20- 24, 2020). This extension of the closure period to coincide with the civil emergency period and school vacation establishes our new target date for the re-opening of our schools as Monday April 27, 2020.
Please know, however, as communicated in previous messages, we will continue to monitor new information as it becomes available, rely on the guidance of the Maine CDC and Maine Department of Education and assess whether conditions make it possible to reopen our schools on April 27, 2020.
As communicated to you by building principals through our notification system yesterday, the plan to distribute remote and distance learning materials to students and families for a two-week period is in place and all students should have packets by the end of the day Tuesday. Depending upon which school your child attends, more detailed information regarding directions, expectations for time engaged in work and work completion, and tracking and assessment of completed work has either been provided to your child or will be included in the work packet. If you have questions regarding those expectations, please contact your child's teacher via e-mail or the school office. All ESD staff e-mail addresses are available on the ESD website. Please know that our staff has done an incredible job preparing student work for the initial two-week closure period. Specific to the initial two-week period, depending upon the grade level of class, students will participate in a variety of experiences that support new learning and also maintain and reinforce skills to prevent regression. As remote and distance learning is a new experience for both staff and students, we will assess the initial two-week plan and adjust for the next two-week period as necessary.
A question that has arisen from many is whether or not students and staff will need to make up days missed as a result of the school closure. Based on information received from the Maine DOE, the remote and distance learning days we have planned will meet state instructional requirements and we will be granted a waiver for instructional days. As a result, students and staff will not be required to make up days at the end of the year.
We are awaiting formal approval for participation in the Maine DOE Summer Food Service program, which would provide financial support that would enable us to implement a meal program available to all Ellsworth students. Once we receive approval as anticipated, we will communicate details to you. In the meantime, Food Services Director Ray Daily and members of his staff began delivering food to students yesterday. That delivery program, not connected with the MDOE program will expand to support additional families next week. Our intent is to resume food delivery to residences on Wednesday and to potentially expand to a pick-up program. Additionally, if there are families who are in need of food prior to Wednesday please contact Mr. Daily via e-mail at rdaily@ellsworthschools.org or leave a voice message at either EEMS 667-6241, Ext 2187 or the ESD Superintendent office 664-7100. When contacting us, please provide your name, phone number and physical address. Mr. Daily or one of his staff will communicate with you Monday to make arrangements for delivery or pick-up of food.
Through the initial days of the closure, I am proud of how our school leaders, staff, students and families have handled themselves and maintained a positive, kind, and calm demeanor. We have observed and heard of amazing examples of caring, generosity, and kindness, and taking care of one another. We have also seen a tremendous outreach by our community to help in any way possible. While this is a very difficult and challenging situation for all of us, the fact that we are coming together as a community to address the challenges is an indication that we will all get through this together.
Thank you for your continued support and patience as we work together to take care of our students and community.
Daniel A. Higgins Superintendent of Schools
More From WDEA Ellsworth Maine