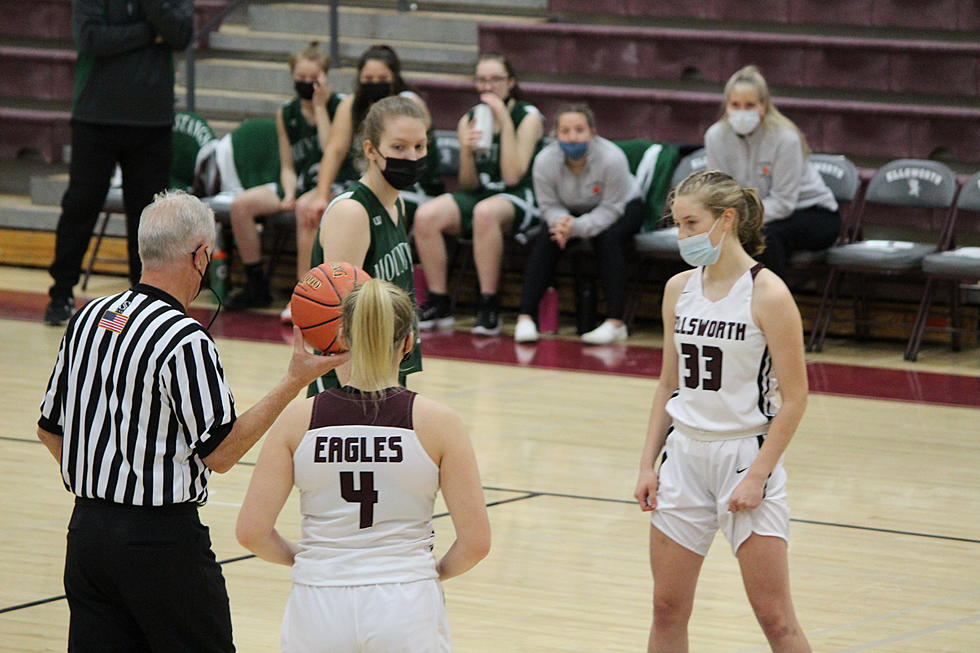 Ellsworth Girls Open Season with 69-49 Win Over Mount View [STATS]
EHS-Mt.View Girls Basketball December 11, 2021 Photo Chris Popper
The Ellsworth Girls Basketball Team opened the season at Katsiaficas Gymnasium on Saturday morning, December 11th with a 69-49 victory over the Mt. View Mustangs.
Ellsworth led 15-13 at the end of the 1st Quarter, but Mt. View took a 2-point led at the end of the 1st Half, 27-25, having outscored Ellsworth 14-10. But, from the start of the 3rd Quarter, it was all Ellsworth. The Eagles outscored the Mustangs18-10 to take a 43-35 lead. In the 4th Quarter Ellsworth outscored Mt. View 26-14 for the final 69-49.
Ellsworth had 4 players in double figures. Grace Jaffrey led Ellsworth with 18 points. Abby Radel finished with 13 points, while Morgan Clifford and Megan Jordan finished with 12 points each. Ellsworth was 14-20 from the free throw line and had 5 3-pointers. Morgan Clifford had 3 3-pointw and Abby Radel had 2 3-pointers.
For Mount View, Hannah Coolen led all scorers with 23 points. Kricket Thompson finished with 9 points. Mt. View was 13-22 from the free throw line. Mount View had 2 3-pointers, 1 each by Syd Vogel and the other by Hannah Coolen.
Ellsworth opens the season 1-0. They will play host to MDI on Tuesday, December 14th at 7 p.m. With the pregame starting at 6:45. That game will be broadcast on AM 1370 WDEA, on WDEA Internet Radio, on our free downloadable APP and on any Alexa enabled device. That game will also be livestreamed on the Ellsworth High School You Tube Channel.
Line Score
| | | | | | |
| --- | --- | --- | --- | --- | --- |
| | 1 | 2 | 3 | 4 | T |
| Mt View Girls | 13 | 14 | 8 | 14 | 49 |
| Ellsworth Girls | 15 | 10 | 18 | 26 | 69 |
Box Score
Mount View
| | | | | | | | | | |
| --- | --- | --- | --- | --- | --- | --- | --- | --- | --- |
| # | Name | G | PTS | FGM | 2PM | 3PM | FTM | FTA | PF |
| 1 | Brooke Dyer | 1 | 0 | 0 | 0 | 0 | 0 | 0 | 0 |
| 10 | Syd Vogel | 1 | 3 | 1 | 0 | 1 | 0 | 0 | 4 |
| 13 | Carli Finn | 1 | 0 | 0 | 0 | 0 | 0 | 0 | 0 |
| 21 | Kricket Thompson | 1 | 9 | 3 | 3 | 0 | 3 | 6 | 2 |
| 22 | Hannah Coolen | 1 | 23 | 7 | 6 | 1 | 8 | 9 | 1 |
| 24 | Ari Bradeen | 1 | 5 | 2 | 2 | 0 | 1 | 2 | 0 |
| 33 | Kayleigh Dunton | 1 | 5 | 2 | 2 | 0 | 1 | 3 | 2 |
| 34 | Savannah Lorenz | 1 | 4 | 2 | 2 | 0 | 0 | 2 | 3 |
| | TOTALS | 1 | 49 | 17 | 15 | 2 | 13 | 22 | 12 |
Ellsworth
| | | | | | | | | | |
| --- | --- | --- | --- | --- | --- | --- | --- | --- | --- |
| # | Name | G | PTS | FGM | 2PM | 3PM | FTM | FTA | PF |
| 2 | Abby Radel | 1 | 13 | 4 | 2 | 2 | 3 | 3 | 3 |
| 3 | Alex Bivins | 1 | 0 | 0 | 0 | 0 | 0 | 0 | 0 |
| 4 | Jocelyn Jordan | 1 | 4 | 2 | 2 | 0 | 0 | 0 | 0 |
| 10 | Megan Jordan | 1 | 12 | 6 | 6 | 0 | 0 | 0 | 4 |
| 11 | Morgan Clifford | 1 | 12 | 4 | 1 | 3 | 1 | 2 | 3 |
| 12 | Aaliyah Manning | 1 | 0 | 0 | 0 | 0 | 0 | 0 | 2 |
| 14 | Addison Atherton | 1 | 0 | 0 | 0 | 0 | 0 | 0 | 0 |
| 15 | Brooke Pirie | 1 | 3 | 1 | 1 | 0 | 1 | 2 | 3 |
| 21 | Lily Bean | 1 | 7 | 1 | 1 | 0 | 5 | 7 | 3 |
| 33 | Grace Jaffrey | 1 | 18 | 7 | 7 | 0 | 4 | 6 | 3 |
| | TOTALS | 1 | 69 | 25 | 20 | 5 | 14 | 20 | 21 |
More From WDEA Ellsworth Maine