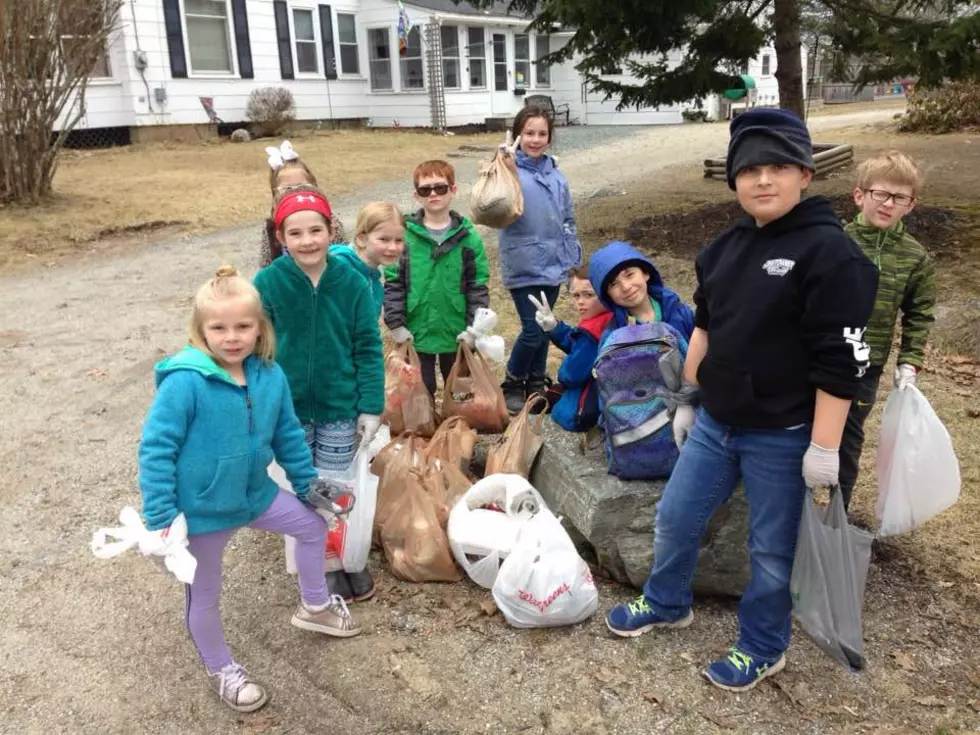 Photo Susan Liddy Tripp
Beginning on Sunday April 28, 2019 and continuing through Saturday May 4, 2019 the Ellsworth Green Plan Steering Committee will be hosting the annual city-wide Roadside Cleanup Day. However this group of youngsters got a jump on everyone during school vacation, collecting all sorts of trash from around the perimeter of the Ellsworth Elementary-Middle School, the Knowlton Park and in their neighborhood.
This cleanup will begin with an on-your-own cleanup week after the Card Brook cleanup (meeting at 930 at Hannaford on Saturday April 27). On Saturday May 4, an organized cleanup event will be held starting at 9:30 at City Hall.
Yellow trash bags can be picked up at City Hall from April 24 through May 4 (City Hall will be closed on Sunday April 28), or at the Card Brook cleanup. Ellsworth Public Works will pick up filled trash bags stashed along the road beginning on May 6.Interested participants can check the Ellsworth Green Plan Facebook page for information about a rain date on the morning of the event. A project of the Energy and Solid Waste subcommittee, this event and the associated week-long opportunity will help to beautify city roads by removing unsightly litter, trash, and potentially dangerous discards. Organizers want to help increase city pride by encouraging attendee, other residents, visitor and business investment in the community.
Subcommittee member Mark Whiting said, "This is where we live and work. It's important that things look nice."The coordinated Saturday day event will begin at 930 am on May 4th. Interested participants will meet in the morning at City Hall to pick up road assignments, trash bags, and light refreshments. Organizers encourage all participants to wear boots, work gloves, and bright clothing (hunting or safety vests are perfect), and to work for as long as they are able - or until the event finishes at 2 pm on the same day. Whiting also recommended that participants not fill the trash bags to their maximum capacity out of consideration for Ellsworth Public Works employees who need to handle them. The weeklong opportunity begins at 8 am on Sunday and finishes at 5 pm on Saturday. Organizers encourage anyone who cannot make it on the Saturday event to coordinate their own pick up efforts during this week at their own convenience.
Pick up yellow plastic trash bags at City Hall. After leaving their bags on the road shoulder in safe but visible locations, participants should then report the location of their trash bags to Ellsworth Public Works for disposal, at 667-2563. Participants can leave a message with any employee who answers.For both the day and the weeklong events, participants should separate trash and redeemable bottles and cans into separate bags. Participants can donate redeemables to the SPCA on the Bar Harbor Road, or can return them for the deposit themselves.
For more information about both events, please contact Mark Whiting at mark.c.whiting@gmx.com or call 664-0928.
More From WDEA Ellsworth Maine