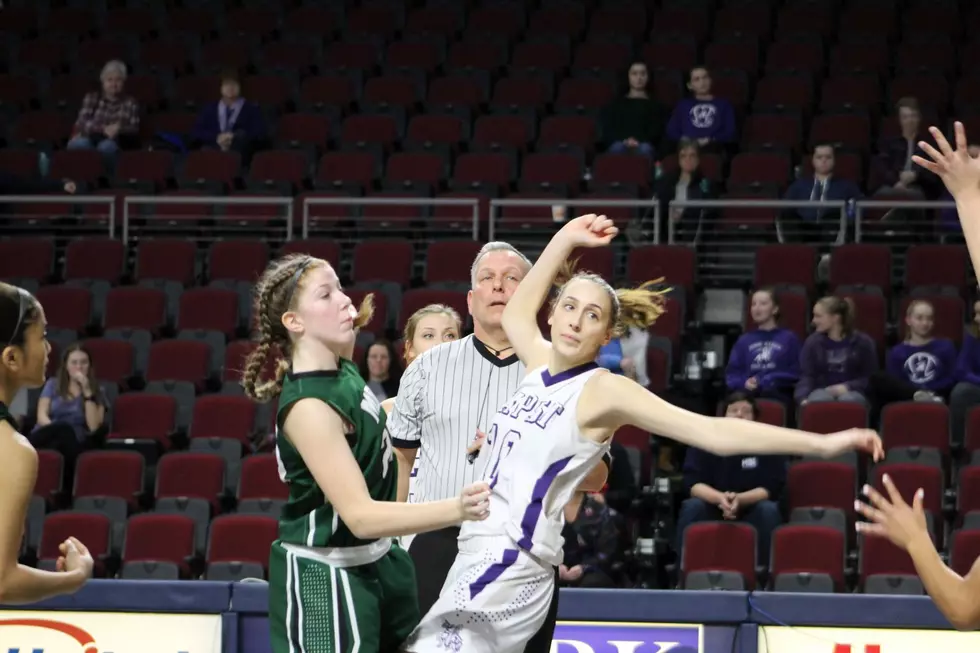 Bapst Too Much For MDI 66-48 [Box Score/Recap/Photos]
MDI-John Bapst Girls January 20, 2018 Photo Chris Popper
The John Bapst Crusaders were too much for the MDI Trojans on Saturday afternoon, January 20th at the Cross Insurance Center in Bangor, hitting 5 3-pointers in the 1st Quarter and beat MDI 66-48, after both teams had lost on Friday night.
In the 1st Quarter, John Bapst jumped out to a 22-12 lead, thanks to 7 points from Crystal Bell, 6 points each from Gracie Phillippon and Abbey Lagasse and 3 points from Caleigh Lebel. Legasse had 2 3-pointers and Phillippon, Lebel and Bell each had 1 3-pointer. MDI received 6 points from Maddy Candage, 4 points from Emily Banks and 2 points from Julia Watras.
It was 32-21 at the end of the 1st Half. In the 2nd Quarter, Watras had 5 points for MDI and Banks and Alexis Clarito each chipped in with 2 points. For the Crusaders Phillippon had 7 points with another 3-pointer, Sydney Ellis had 2 points and Lebel was 1-2 from the free throw line.
In the 3rd Quarter John Bapst extended their lead to 15 points, 49-34. Lebel had 8 points for John Bapst with a 3-pointer, Phillippon 4 points, Tia Zephyr had 3 points, and Legasse and Bell each went 1-2 from the free throw line. For MDI Rachelle Swanson and Hannah Chamberlain hit 3-pointers, Banks had 3 points, and Candage and Watras had 2 points.
In the 4th Quarter, MDI could never cut the deficit to below 10 points. Watras, Banks and Maddy Good each had 4 points for MDI with Swanson adding 2 points. For John Bapst Phillippon and Zephyr each had 5 points, with Phillippon hitting her third 3-pointer of the game. Lebel had 4 points, Emily Mook had 2 points and Bell 1 point.
MDI was led by Julia Watras and Emily Banks with 13 points each. The Trojans were 10-13 from the free throw line.
John Bapst was led by Gracie Phillippon with a game high 22 points and Caleigh Lebel had 16 points. The Crusaders were 14-23 from the free throw line.
MDI now 8-3 plays host to Old Town on Monday, January 22nd at 7 PM.
John Bapst, now 10-1 plays at Presque Isle on Tuesday, January 23rd at 4:30 PM.
Thanks to Walter Churchill for the photos
| | | | | | |
| --- | --- | --- | --- | --- | --- |
| | 1 | 2 | 3 | 4 | T |
| MDI Girls | 12 | 9 | 13 | 14 | 48 |
| John Bapst Crusaders Girls | 22 | 10 | 17 | 17 | 66 |
| | | | | | | | | | |
| --- | --- | --- | --- | --- | --- | --- | --- | --- | --- |
| # | Name | G | FGM | 2PM | 3PM | FTM | FTA | PF | PTS |
| 3 | Lindsey McEachern | 1 | 0 | 0 | 0 | 0 | 0 | 1 | 0 |
| 5 | Julia Watras | 1 | 5 | 5 | 0 | 3 | 4 | 4 | 13 |
| 11 | Lily Cook | 1 | 0 | 0 | 0 | 0 | 0 | 0 | 0 |
| 13 | Emily Banks | 1 | 5 | 5 | 0 | 3 | 3 | 4 | 13 |
| 15 | Alexis Clarito | 1 | 1 | 1 | 0 | 0 | 0 | 2 | 2 |
| 21 | Maddy Good | 1 | 1 | 1 | 0 | 2 | 2 | 3 | 4 |
| 23 | Julia Link | 1 | 0 | 0 | 0 | 0 | 0 | 0 | 0 |
| 25 | Maddy Candage | 1 | 4 | 4 | 0 | 0 | 0 | 2 | 8 |
| 33 | Rachelle Swanson | 1 | 2 | 1 | 1 | 0 | 0 | 2 | 5 |
| 35 | Cassie Craig | 1 | 0 | 0 | 0 | 0 | 0 | 0 | 0 |
| 41 | Hannah Chamberlain | 1 | 1 | 0 | 1 | 0 | 0 | 1 | 3 |
| 43 | Alahna Mild | 1 | 0 | 0 | 0 | 0 | 0 | 0 | 0 |
| | TOTALS | 1 | 19 | 17 | 2 | 8 | 9 | 19 | 481 |
| | | | | | | | | | |
| --- | --- | --- | --- | --- | --- | --- | --- | --- | --- |
| # | Name | G | FGM | 2PM | 3PM | FTM | FTA | PF | PTS |
| 4 | Emiliee Soucie | 1 | 0 | 0 | 0 | 0 | 0 | 0 | 0 |
| 5 | Courtney Luttrell | 1 | 0 | 0 | 0 | 0 | 0 | 0 | 0 |
| 10 | Gracie Philippon | 1 | 8 | 5 | 3 | 3 | 4 | 2 | 22 |
| 12 | Brooke Springer | 1 | 0 | 0 | 0 | 0 | 0 | 0 | 0 |
| 14 | Tia Zephyr | 1 | 2 | 2 | 0 | 4 | 7 | 1 | 8 |
| 20 | Tiana Cyr | 1 | 0 | 0 | 0 | 0 | 0 | 1 | 0 |
| 22 | Sydney Ellis | 1 | 1 | 1 | 0 | 0 | 0 | 0 | 2 |
| 23 | Abbey Legasse | 1 | 2 | 0 | 2 | 1 | 3 | 1 | 7 |
| 24 | Jayda Smith | 1 | 0 | 0 | 0 | 0 | 0 | 0 | 0 |
| 30 | Olivia Harriman | 1 | 0 | 0 | 0 | 0 | 0 | 0 | 0 |
| 32 | Caleigh Lebel | 1 | 5 | 3 | 2 | 4 | 5 | 3 | 16 |
| 33 | Emily Mock | 1 | 1 | 1 | 0 | 0 | 0 | 0 | 2 |
| 34 | Lacey Scanlon | 1 | 0 | 0 | 0 | 0 | 0 | 0 | 0 |
| 40 | Crystal Bell | 1 | 3 | 2 | 1 | 2 | 4 | 1 | 9 |
| 44 | Adelaide Valley | 1 | 0 | 0 | 0 | 0 | 0 | 0 | 0 |
| | TOTALS | 1 | 22 | 14 | 8 | 14 | 23 | 9 | 66 |
More From WDEA Ellsworth Maine