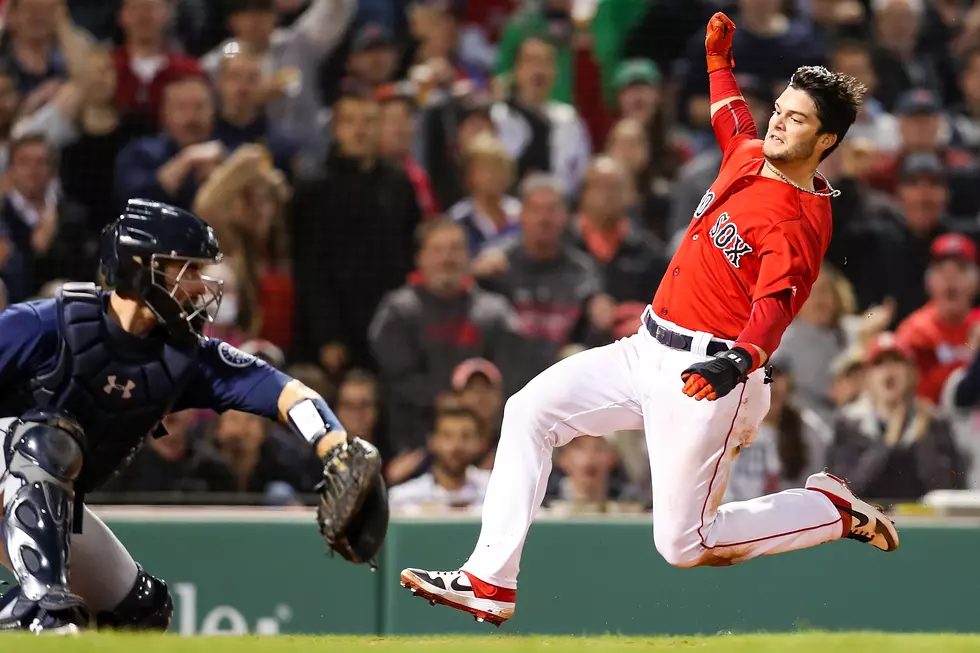 Red Sox Sink Mariners 14-1 [VIDEO]
Photo by Adam Glanzman/Getty Images
The 2019 season started inauspiciously for the World Champion Boston Red Sox. They lost t3 out of 4 game to Seattle and started the season 1-3 and finally got back to .500 on Wednesday night May 8th. On Friday night, May 10th the Red Sox thumped Seattle 14-1 to go a game above .500 for the 1st time all season
The Red Sox are now 9-2 in their last 11 games and 14-6 in their last 20 games. Since April 19th they now have a plus 56 in run differential and Friday night's game marked the 3rd time this season the Red Sox have scored as many as 10 runs in the game.
The Red Sox blasted 15 hits, with Mitch Moreland, Rafael Devers and Andrew Benintendi all hitting homers.
Mitch Moreland was 2-3, with a double and his homer was the 11th of season. He drive in 4 runs. He leads the Red Sox with 11 homers and 28 RBIs
Rafael Devers was 3-5 with a double and a homer. He drove in 4 RBIs. He's knocked in 15 runs in his last 15 games
Andrew Benintendi was 3-5 and his homer was the 5th of the season.He has knocked in 7 runs in his last 8 games and is batting .387 (12-31) with 3 homers and 6 RBIs in his last 7 games.
Meanwhile Eduardo Rodriguez pitched a gem of a game, throwing 7 innings and allowing 5 hits, and 1 walk while striking out 5. After having a 12.38 ERA in his 1st 2 starts, he has a .278 ERA in his last 6 starts. More importantly the Red Sox have won each of Rodriguez's last 6 starts.
The Red Sox are now 20-19 and in 3rd place, 4 games behind the 1st place Tampa Bay Rays. The Red Sox and Mariners will play game 2 of the 3 game series Saturday afternoon. Rick Porcello is scheduled to start for Boston with the pregame starting at 12:05 and 1st pitch at 1:05. Hear the game on AM 1370 WDEA in Ellsworth and Bar Harbor area and The Rock 101.9 FM, WOZI in Presque Isle.
More From WDEA Ellsworth Maine