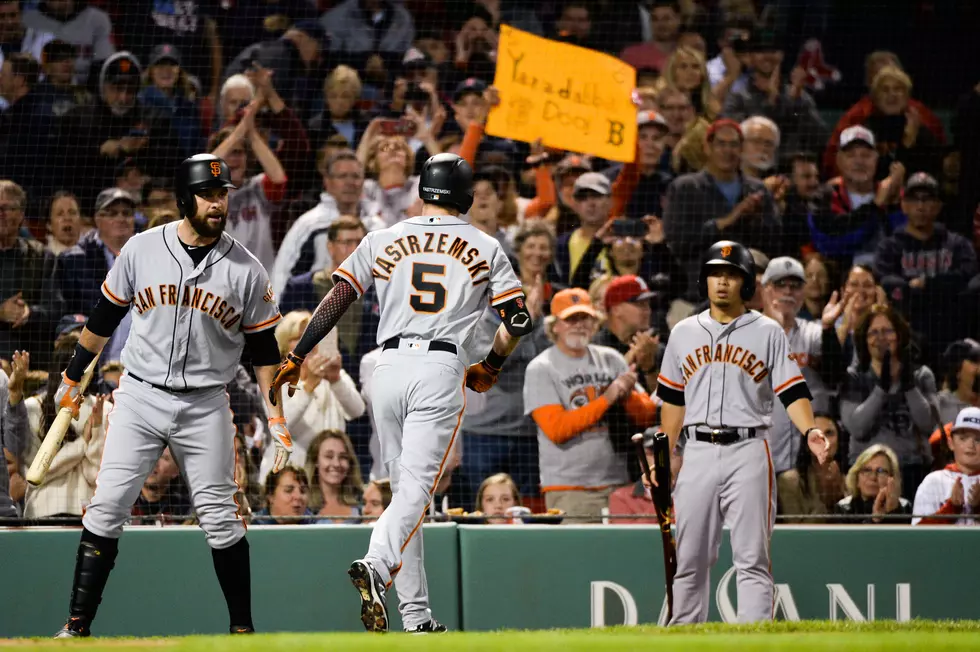 Red Sox Fall to Giants 7-6 in 15 Innings [VIDEO]
Photo by Kathryn Riley/Getty Image
After being staked to a 5-1 lead, the Boston Red Sox battled back tying the San Francisco Giants 5-5. The score stayed that way until each team scored in the 13th inning 6-6 before the Giants won in the 15th inning 7-6. The teams combined to use 24 pitchers, tied for the most used in major league history.
The Red Sox received outstanding pitching from the bullpen, as they allowed just 2 runs in 11 innings. Nathan Eovaldi, the starter lasted just 4 innings allowing 7 hits and 5 runs while striking out 6 and walking 3.
It was a blast from the past as Mike Yastrzemski hit a homer, his 20th of the season. He's the 1st Giants rookie to hit 20 or more homes since Dave Kingman did so in 1972. Yastrzemski was 2-7 and received a standing ovation in his first plate appearance.
Jackie Bradley Jr. was 2-7 with a homer and 2 RBIs. That was his 19th of the season.
Christian Vazquez was 1-2 with a double, and 2 walks and a stolen base. He now has 7 RBIs, 2 doubles and 2 homers in his last 3 games.
Xander Bogaerts, Rafael Devers, Sandy Leon and Marco Hernandez each had 2 hits for Boston.
The Red Sox and Giants will play game 2 of the 3 games series Wednesday night. Jhoulys Chacin will pitch for the Red Sox. In his last 3 starts he hasn't allowed a run in 5.2 innings. The pregame will begin at 6:10 with the first pitch at 7:10..Hear this and every Red Sox  game on  AM 1370 WDEA in the Ellsworth and Bar Harbor area and The Rock 101.9 FM, WOZI in Presque Isle
More From WDEA Ellsworth Maine