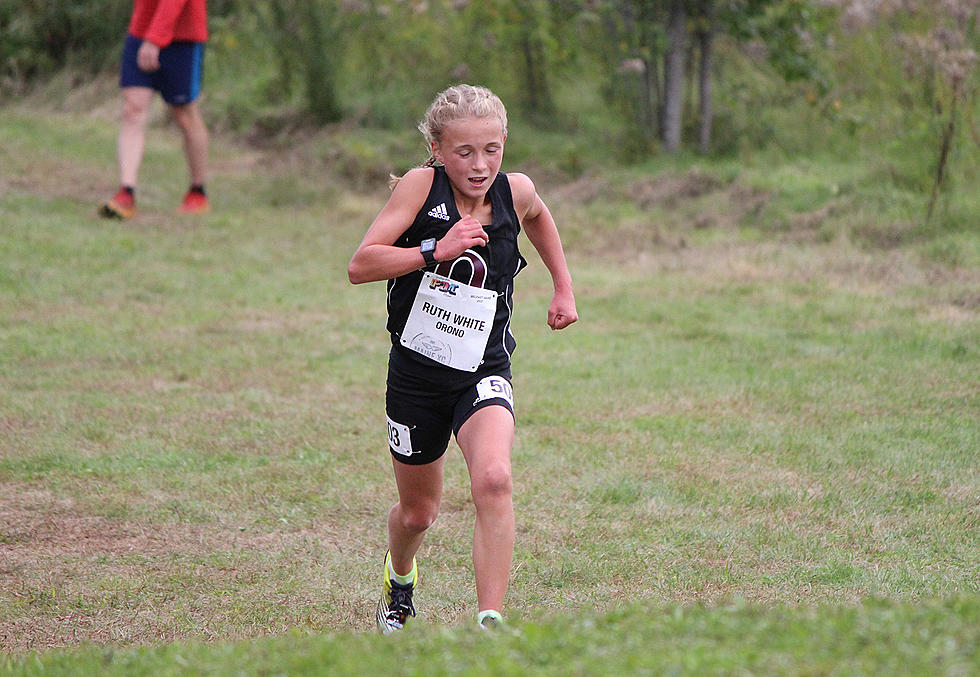 Orono's Ruth White Completes Undefeated Season – Wins New England's
File Photo Chris Popper file photo
Orono's Ruth White completed an undefeated season, winning the New England High School Cross Country Championships on Saturday, November 13th at Thetford Vermont.
Ruth finished 1st with a time of 18:44.73 which was a little over 22 seconds than the 2nd fastest finisher.
In the team results, Bonny Eagle finished 2nd, MDI finished 20th, Marshwood 21st, Bangor 26th and Gorham 28th.
Here are the individual Maine results.
1. Ruth White - Orono 18:44.73
4. Hadley Mahoney - Cape Elizabeth - 19:42.48
5. Cary Drake - York - 19:43.64
6. Delaney Hesler - Bonny Eagle - 19:48.24
8. Thea Crowley - GSA - 19:52.73
14. Megan Randall - Bangor - 20:06.16
17. Nora White - Orono - 20:13.26
38. Emmaline Pendleton - Bonny Eagle - 20:54.83
44. Sarah McClellan - Marshwood - 20:58.83
45. Annie Reynolds - Greely - 20:59.00
49. Amelia VanDongen - MDI - 21:03.64
52. Teanne Ewings - Houlton - 21:06.29
58. Addy Thibodeau - Bonny Eagle - 21:14.94
60. Samantha Moore - Portland - 21:20.84
84. AyliGrace Munro - MDI - 21:43.75
88. Cassie Middleton - Camden Hills - 21:46.80
90. Emma Charles - Mt. Blue - 21:47.82
105. Payton Bell - Edward Little - 22:00.43
106. Alexa Allen - Monmouth - 22:00.63
107. Jenna Vanryn - Camden Hills - 22:00.87
116. Hannah Stevens - Bonny Eagle - 22:11.09
135. Grace Munger - MDI - 22:24.91
137. Addie Fuller - Marshwood - 22:26.21
139. Kayley Bell - Caribou - 22:26.68
141. Catie McClellan - Marshwood - 22:27.66
146. Haley Williams - Winthrop - 22:28.90
151. Allie Hesler - Bonny Eagle - 22:31.53
154. Elisabeth Loranger - Gorham - 22:32.92
157. Sadie Harrow - Bangor - 2236.29
159. Megan Cummingham - Deering - 22:37.53
175. Rita Cummings - Gorham - 22:55.16
181. Grace Johnson - Gorham - 22:57.20
188. Katie McCarthy - Bangor - 23:04.61
193. Kallie Warner - Bonny Eagle - 23:09.41
194. Ella Joyce - MDI - 23:11.04
195. Maggie Chamberlain - Marshwood - 23:11.12
207. Callan Eason - MDI - 23:21.09
209. Meri Rainford - MDI - 23:23.56
220. Emma Ressier - Marshwood - 23:37.67
221. Piper Soares - MDI - 23:38.50
226. Meseret Day - Bonny Eagle - 23:50.39
227. Ellie Brooks - Orono - 23:50.95
246. Aislyn McLean - Gorham - 24:58.96
247. Sophie Reuter - Bangor - 25:06.71
252. Alana Day - Mashwood - 25:36.83
252. Alison St. Peter - Bangor - 25:54.08
254. Sophia Mazzarelli - Bangor - 25:55.67
255. Mo Tyne - Orono - 26:04.17
256. Jasmine Knapp - Bangor - 26:04.96
257. Natalie Miner - Gorham - 26:11.77
258. Brynn Butler - Marshwood - 27:02.44
259. Rachel Cummings - Gorham - 32.27.02
More From WDEA Ellsworth Maine