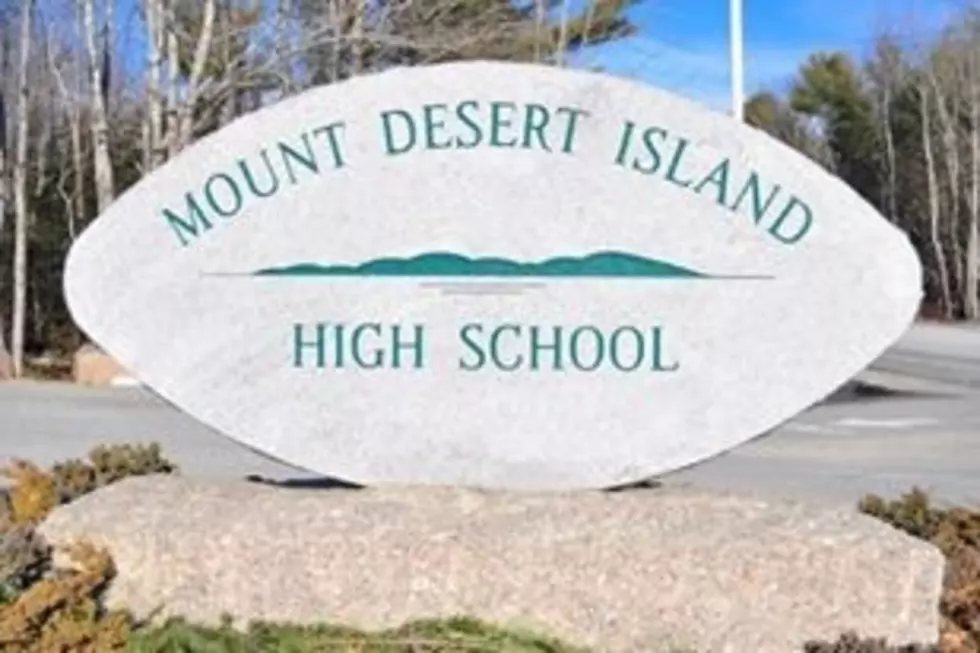 MDI High School Recognized as a Green Ribbon School by Department of Education
Photo Courtesy MDI High School
MDI High School was 1 of 2 schools in Maine, recognized as a Green Ribbon School, on Earth Day, April 22nd by the US Department of Education. The other school in Maine recognized was Camden Hills Regional High School.
In total 39 schools, 11 districts, and five post-secondary institutions were honored for their innovative efforts to address the three "Pillars" of the program: reducing environmental impact and utility costs, improving health and wellness, and ensuring effective sustainability education
To read all the highlights of those honored, click HERE
From the report honoring MDIHS
Mount Desert Island High School (MDIHS) is a rural public high school in Maine that draws 542 students from 10 K–8 schools in and around the Mt. Desert/Bar Harbor,Maine, region, including three tiny schools (3–36 students) from nearby outer islands. Green and sustainability efforts are supported by school and district administrators, school board members, the school's Environmental Concerns (Eco) team, teachers across departments, and staff, including counselors, custodians, and cafeteria staff. There is widely shared interest in the health and wellness of students and staff, support for educational experiences that prepare students to be active informed citizens interested in the changing world, and an increasing emphasis on environmental sustainability.
Decisions for the past decade have been made with environmental health and efficiency in mind. Most obvious are the 1400+ solar panels on the roof of the high school. MDI High School was the first high school in Maine to generate all of its electricity needs from on-site solar in the fall of 2019. Soon, everyone will be able to see the new electric bus parked outside with its diesel counterparts.
In 2011, energy efficient boilers were installed when replacement of the old boilers was necessary. Two years ago, the school completed a conversion to LED lights inside school and LED "night-sky" compliant lighting in parking areas. The building renovation also completed that year included a focus on improving the building's insulation to better regulate temperatures and save energy. The new storage building near the athletic field, completed a year ago, was built with smart climate control, solar panels, and restrooms with low-flow toilets, water-on-demand faucets, and electric hand dryers. There is an electric vehicle charging station in the parking lot for staff and students to use.
MDIHS advisory groups and the Eco team oversee recycling of every type. National Honor Society members pick up returnables weekly throughout the building and students manage the recycling in all of the administrative offices as well. This is the fourth year that the cafeteria is using reusable metal instead of disposable plastic silverware. Composting in the cafeteria started at the end of 2018–19. The school contracted with Agri-Cycle to efficiently convert food waste into electricity, fuel, fertilizer, and other beneficial products. Cafeteria staff participated in the Smarter Lunchroom program to learn additional ways to cut down on food waste.
The custodial staff uses eco-friendly cleaning products to keep the floors buffed, classrooms and bathrooms clean, and the windows sparkling.  During the building renovation in 2017, filtered water bottle filling stations were installed throughout the school to reduce plastic waste and promote hydration. As part of the library renovation, the last remaining fluorescent light ballasts will be removed, eliminating what was once an extensive PCB hazard throughout the building. The school was built in 1979, so an asbestos management plan was put into place 20 years ago and staff are trained annually. Drinking water is regularly tested for nitrates, coliforms, lead, copper, and pesticide residue. MDIHS has eliminated the use of toxic substances in the art studios and chemical management is taken very seriously, following the OSHA safety guidance for science labs. There is signage and an ongoing effort to discourage engine idling. The school is set back quite far from the main road, minimizing traffic noise and air quality degradation from passing cars and trucks. There is an integrated pest management plan and practices in place.
MDIHS is home to state-of-the-art fitness center and dance studio, staffing for guidance and counseling, a full-time nurse, and an abundance of choices for P.E. classes and extracurricular athletic options. CPR certification is a part of the required Wellness class. This ensures that approximately 50 percent of the total student body is certified in CPR at any given time. Students have a choice of a variety of classes to complete the P.E. requirement: Foundations of Fitness, Lifetime Activities, Team Sports, Weight Training and Cardiovascular Fitness, Outdoor Activities and Fitness, and Adapted P.E.
An active staff wellness program is led by two teachers who challenge their colleagues each month to improve their physical and mental health through water challenges, movement challenges, morale boosters, and other activities. For many years, the nurse at MDI High School coordinated a small Wellness Fair once a year for high school staff. This has turned into a districtwide biennial Health and Wellness Professional half day held at MDIHS in March to build community, emphasize wellness, and help staff relax and rejuvenate.
During the 2019–20 school year, more than 50 percent of students will be in at least one course that includes a focus on climate change, human impacts on the environment, and/or proposing and designing solutions for problems they identify and research. In comparison with five years ago, all incoming freshmen will graduate having had to use critical and systems thinking to consider the environmental issues facing the planet and how they might respond. For example, MDIHS has completely redesigned the required freshmen biology class to include a strong environmental focus. Freshmen biology now includes the study of carbon cycling in photosynthesis and cellular respiration through case studies of deforestation and loss of phytoplankton and a study of ecology that includes looking at and discussing trophic cascades, biomagnification of pollutants, and many case studies of human impact on the environment (Aleutian Islands, Willamette River, Yellowstone wolves). The course culminates with a Human Impact Project in which students research and present one way that humans are impacting the earth, such as through the spread of invasive species, poaching, or irresponsible mining.
Most of MDIHS students will engage with the related issues of climate change and human impact multiple times during their high school career, regardless of their pathway to graduation, through traditional classes, advanced classes, experiential learning experiences or other electives, and/or during their senior exhibition capstone project. MDIHS students not only explore climate change and environmental issues in many science classes, they also explore these topics in human geography, current events, AP History, and foreign languages. In addition, students examine topics related to environmental degradation and possible stewardship solutions when engaged in experiential learning.
Students enrolled in the nine-week Farm to Table elective visit local farms and spend some time in the kitchen, learning to prepare and cook locally grown and gathered food. In the Food and Nutrition course students discuss the environmental impact of agriculture and ways that it can be done more sustainably, compare the environmental and economic impacts of eating locally versus globally sourced foods, and explore the nutritional importance of water and impact of global climate change on the availability of clean water. Students in the Clothing Construction course compare natural versus synthetic fibers and fabrics and discuss the environmental impact of each, as well as the impact of mass production of natural fabrics versus organic and/or locally grown fibers. The Guatemalan Studies class, offered every other year since 2012, is a semester-long course combined with two weeks of study, cultural immersion, and service learning in the highlands of Guatemala.
MDIHS students can also apply for school year and summer internships at The MDI Biological Laboratory, where they can study sea life adaptation to the changing climate. The MDI Biological Laboratory also partners with individual MDIHS teachers to have students participate in an ongoing place-based citizen science investigation and data literacy project into arsenic levels in local wells. Another powerful pathway to developing critical, creative thinkers and problem solvers are Design Thinking courses.
It would be easy for MDI High School students, like so many other young people, to be discouraged about slow progress on climate change reform or to be anxious about the state of the world. They would not be alone. Instead, when interviewed, Eco Team members talk about hope and optimism. Listening to Eastern Maine Skippers' presentations, Senior Ex presentations, and student presentations to the community about plastics pollution or the need to declare a climate emergency, it is clear that MDIHS students feel educated and empowered to take action. Students can study a topic related to how their own lives may be impacted by climate change for their Senior Ex capstone project.
Next steps for students on the Eco Team, staff and administrators include researching the best way to reduce paper waste in the bathrooms, further exploring the implications of the high school cafeteria being part of the Sustainable MDIHS pledge, embarking on an energy benchmarking project, improving recycling signage, and looking into programmable venting and air quality testing. And, of course, evaluating how the new electric bus performs.