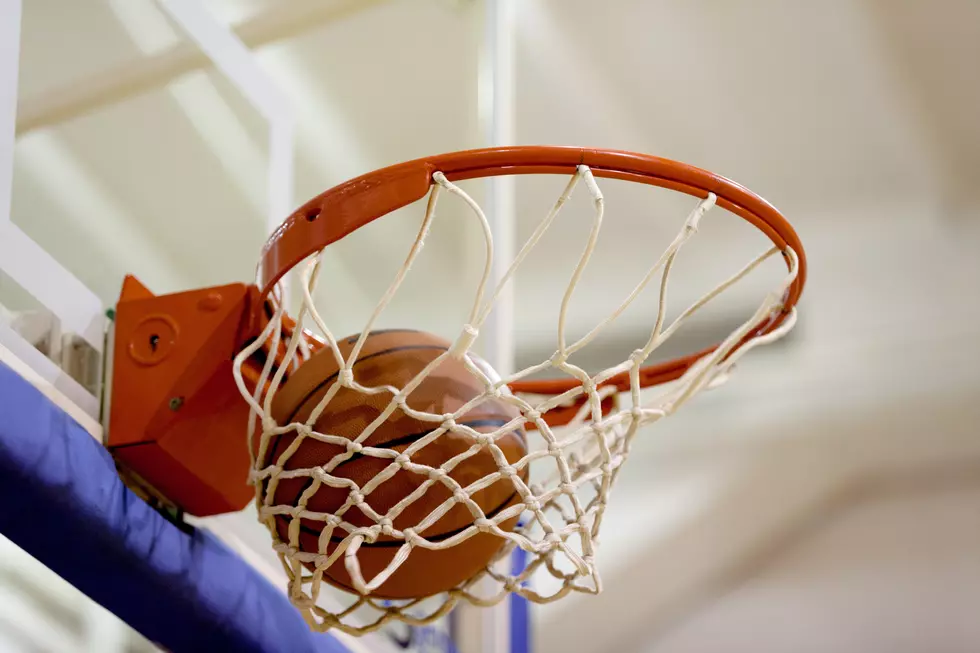 MDI Girls Roll Over Brewer 41-27 [STATS]
Getty Images/iStockphoto
A night after squeaking out a 1 point victory over Ellsworth in their 1st game of the season, the MDI Girls Basketball Team had an easier night on Wednesday, January 27th, beating the Brewer Witches 41-27 in Brewer.
MDI jumped out to a 16-2 lead at the end of the 1st Quarter. Emily Carter, celebrating her birthday, had 2 3-pointers for 6 points, while Olivia Gray had a 3-pointer. Elizabeth Jones had 3 points and Elena Alderman and Mollie Gray each had 2 points. For Brewer Josie Pece had 2 points.
In the 2nd Quarter, Brewer outscored Brewer 9-7, but MDI led 23-11 at the end of the 1st Half. Josie Pece had 5 points for Brewer, Mariah Roberts was 2-2 from the free throw line and Jenna McQuarrie was 1-2 from the free throw line. For MDI Jones, Alderman and Carter each chipped in 2 points and Ella Joyce was 1-2 from the free throw line.
In the 3rd Quarter MDI extended their lead 35-16 as they outscored the Witches 12-4. Emily Carter had 6 points, Leah Carroll a 3-pointer, Abbie Farley 2 points and Elizabeth Jones was 1-2 from the free throw line. For Brewer, Trea Broussard and Drew Johnson each had a basket.
In the 4th Quarter for MDI Molly Ritter and Abbie Farley each had a basket while Sophia Brophy and Bella Brown were each 1-2 from the foul line. For Brewer Dominique Oullett had 5 points with a 3-pointer, Kelly DiCarlo 2 points and Kaylee Dore and and Jenna McQuarrie each hit 2 free throws.
MDI was led by Emily Carter with a game high 14 points. 11 of the 13 MDI players scored on the night. MDI was 5-10 from the free throw line
For Brewer they were led by Josie Pece with 7 points. The Witches were 4-10 from the free throw line.
MDI improves to 2-0 on the season and will play host to Bangor on Friday, January 29th.
Earlier the MDI JV team lost to Brewer 51-23
We will broadcast the Varsity Girls game at 6:15 p.m. on AM 1370 WDEA, on WDEA Internet Radio, on our free downloadable APP and on any Alexa enabled device.
The JV Game will start at 4:30 and you can watch both the JV and Varsity games on the MDI NFHS Channel (subscription required)
Line Score
| | | | | | |
| --- | --- | --- | --- | --- | --- |
| | 1 | 2 | 3 | 4 | T |
| MDI Girls | 16 | 7 | 12 | 6 | 41 |
| Brewer Girls | 2 | 10 | 4 | 11 | 27 |
Box Score
MDI
| | | | | | | | | |
| --- | --- | --- | --- | --- | --- | --- | --- | --- |
| # | Name | G | PTS | FGM | 2PM | 3PM | FTM | FTA |
| 3 | Molly  Ritter | 1 | 2 | 1 | 1 | 0 | 0 | 0 |
| 5 | Taber Allen | 1 | 0 | 0 | 0 | 0 | 0 | 0 |
| 11 | Elena Alderman | 1 | 4 | 2 | 2 | 0 | 0 | 0 |
| 13 | Emily Carter | 1 | 14 | 6 | 4 | 2 | 0 | 0 |
| 15 | Grace Witham | 1 | 0 | 0 | 0 | 0 | 0 | 0 |
| 21 | Sophia Brophy | 1 | 1 | 0 | 0 | 0 | 1 | 2 |
| 23 | Leah Carroll | 1 | 3 | 1 | 0 | 1 | 0 | 0 |
| 25 | Abbie Farley | 1 | 4 | 2 | 2 | 0 | 0 | 0 |
| 31 | Olivia Gray | 1 | 3 | 1 | 0 | 1 | 0 | 0 |
| 33 | Ella Joyce | 1 | 1 | 0 | 0 | 0 | 1 | 2 |
| 35 | Mollie Gray | 1 | 2 | 1 | 1 | 0 | 0 | 0 |
| 41 | Bella Brown | 1 | 1 | 0 | 0 | 0 | 1 | 2 |
| 43 | Elizabeth Jones | 1 | 6 | 2 | 2 | 0 | 2 | 4 |
| | TOTALS | 1 | 41 | 16 | 12 | 4 | 5 | 10 |
Brewer
| | | | | | | | | |
| --- | --- | --- | --- | --- | --- | --- | --- | --- |
| # | Name | G | PTS | FGM | 2PM | 3PM | FTM | FTA |
| 3 | Makayla Dore | 1 | 0 | 0 | 0 | 0 | 0 | 0 |
| 10 | Trea Broussard | 1 | 2 | 1 | 1 | 0 | 0 | 1 |
| 11 | Drew Johnson | 1 | 2 | 1 | 1 | 0 | 0 | 2 |
| 12 | Kaylee Dorr | 1 | 2 | 0 | 0 | 0 | 2 | 2 |
| 20 | Mariah Roberts | 1 | 2 | 0 | 0 | 0 | 2 | 2 |
| 21 | Lindsey Pine | 1 | 0 | 0 | 0 | 0 | 0 | 0 |
| 22 | Jenna McQuarrie | 1 | 3 | 0 | 0 | 0 | 3 | 5 |
| 23 | Dominique Ouellette | 1 | 5 | 2 | 1 | 1 | 0 | 0 |
| 35 | Kelly DiCarlo | 1 | 4 | 2 | 2 | 0 | 0 | 0 |
| 44 | Josie Pece | 1 | 7 | 3 | 3 | 0 | 1 | 4 |
| | TOTALS | 1 | 27 | 9 | 8 | 1 | 8 | 16 |
More From WDEA Ellsworth Maine