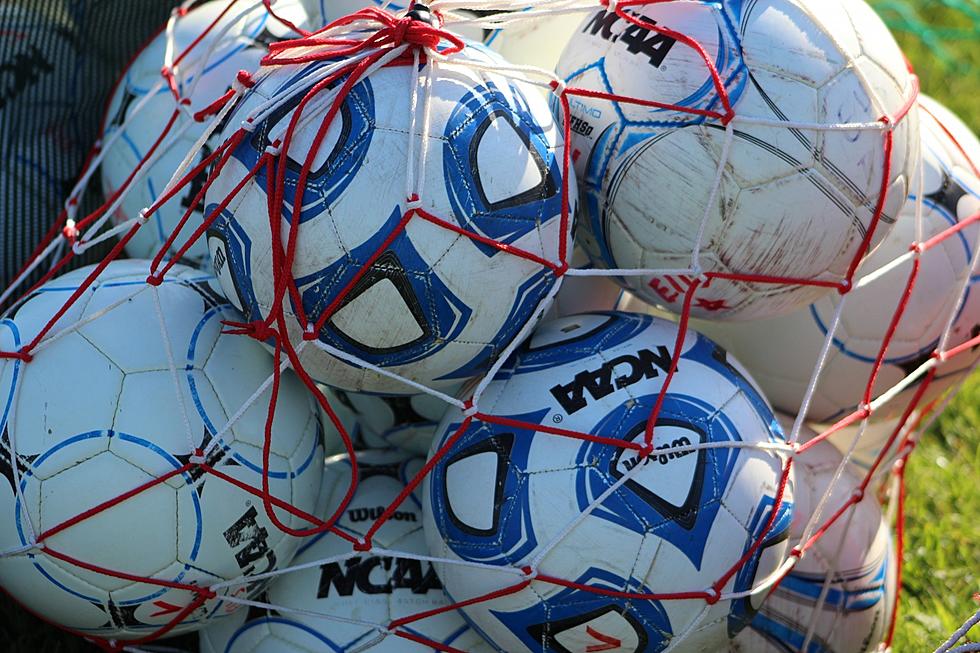 Ellsworth Girls Beat MDI 7-1
Photo Chris Popper
The Ellsworth Girls' Soccer Team beat the MDI Trojans 7-1, at Alumni Field in Bar Harbor on Wednesday, September 20th.
The Eagles led 3-1 at the end of the 1st Half.
Miah Coffin got the scoring started for the Eagles, scoring the 1st goal, assisted by Lizzie Boles with 28:39 left.
Then, Boles scored, unassisted with 24:42 left to make it 2-0.
MDI's Alexandra Hanley put the Trojans on the board, assisted by Elle Yarborough.
With just 59.8 seconds left in the 1st Half, Boles scored her 2nd goal of the game, assisted by Camryn Clough.
In the 2nd Half, Lily Bean scored with 3:29 gone, assisted by Lizzie Boles. Bean scored twice more in the 2nd Half, once at 29:53 and then again at 17:36, assisted by Boles.
Finally Boles scored her 3rd of the night, with 14:36 left.
Jayden Sullivan had 5 saves for the Eagles, while the MDI goalie was credited with 21 saves.
Ellsworth is now 4-2. The Eagles will play at John Bapst on Saturday, September 23rd at 12 noon.
MDI is 0-3. They will host Presque Isle on Thursday, September 21st at 4 p.m.
Thanks to Amy Boles and Marie Yarborough for the information.
In the JV game,  Ellsworth beat MDI 3-1
You can nominate a Maine High School Athlete for their accomplishments during the week September 18- 23 HERE by Sunday, September 24th. We will then put together the list, on Monday, and then you'll then be able to vote on the nominees September 25 - 28(11:59 p.m.) with the Fall  Week 4 Winner being announced on Friday, September 29th. You can vote ONCE per day, per device. Please let us know in the email why you are nominating someone. Try to be specific with goals, yardage, times etc..
Please report scores, with goal scorers, stat leaders, photos of the golf cards etc, by emailing chris.popper@townsquaremedia.com
More From WDEA Ellsworth Maine