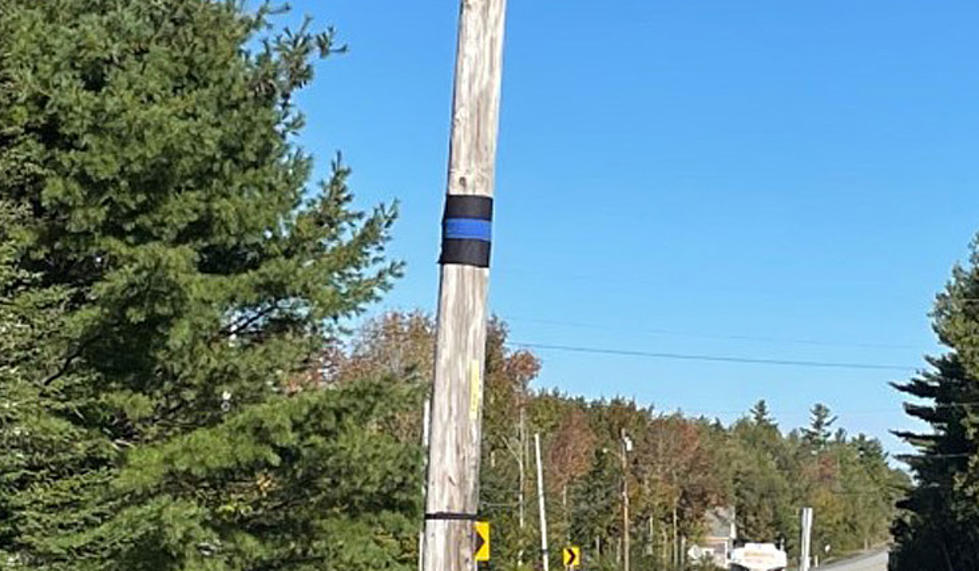 Thin Blue Line Markers Now Stretch Route 1A From Dedham To Ellsworth
TSM
It's a show of support and it can now be seen on one of eastern Maine's most traveled highways.
Over the past few days, thin blue line markers have appeared attached to numerous phone poles between Dedham and Ellsworth. The "thin blue line" is a show of support for those in law enforcement and to honor their fallen. It is used nationwide and most often as part of the American flag.
While some organizations across the country may use it as a symbol for other reasons, those in our area can pretty much be rest assured that it's our show of support to those that continue to protect and serve the residents of eastern Maine, and to honor Hancock County Sheriff's Deputy Luke Gross, who was killed in a horrible early morning accident on Route  3 in Trenton last week.
I came across a woman and her two young children on the way home from work Tuesday as the woman stood on a step ladder that was leaned on the side of a phone pole in Ellsworth. She was attaching one of the homemade thin blue line markers, and I thought about pulling over and asking her name and then inquiring as to why she was doing this.
Then I thought that the answer was obvious and that she probably didn't want to be identified, so I kept driving. But it's warming to know that as law enforcement personnel from all over eastern Maine travel to Bangor today for the funeral of Deputy Gross, they can be reassured that the population supports and thanks them for their continued service.
20 Maine News Stories that Have Shocked Us Since the Year 2000
These 20 news stories, from the past 21 years, had an impact felt around the state. Here are the stories that captured our attention are listed in no particular order.
More From WDEA Ellsworth Maine