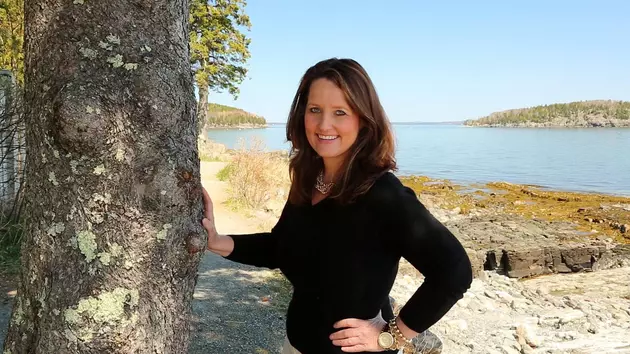 Swan – Chamber Cadillac Award Winner
Photo Kim Swan
The Bar Harbor Chamber of Commerce held their Annual Award Dinner at the Bar Harbor Club on Friday, October 20th. Most awards had already been announced, with the exception of two, the Cadillac Award and the President's Award. Both were a secret, with the recipients not even knowing they had won until it was announced at the dinner.
Kim Swan was presented with the Cadillac Award which is given to a person who epitomizes the virtues of leadership, service, sacrifice and the quest for personal excellence. Just think of all the things Kim has been involved in over in just the past couple of years!
She has developed and sold the immensely popular Love MDI and Home MDI stickers. The profit from the sale of those benefit local agencies including the Friends of Acadia, Bar Harbor Pet Food Pantry and Bar Harbor Historical Society.
She is the Executive Producer of "The Fire of '47", which has already played to two sold out shows at The Criterion Theatre in Bar Harbor, and has scheduled showings at The Grand in Ellsworth, and at the Jesup and will soon be available on DVD.  "The Fire of '47", a film commemorating the 70th Anniversary of the tragic fire that forever changed the face of Bar Harbor. Director Peter Logue interviewed over 20 community members with memories of that fall in 1947 and includes actual archival footage of the disaster. Narrated by Steve Zirnkilton, the voice of Law & Order.
Since 1994 Kim has been the President of The Swan Agency-Sotheby's international Realty, one of the leading real estate agencies on the Island. Since 2016 she has been the owner of Swan Hospitality Group which focuses on the business of making life more enjoyable for those who love experiencing and celebrating the Maine lifestyle. . Swan Hospitality is the interior design team behind inns and investment properties and is a creator, renovator and co-developer of hospitality properties in Maine.Swan Hospitality offers media, design and transition assistance to small inns and Bed & Breakfast properties in Maine
She is also Host and Executive Producer of "Living in Acadia TV" which is seen Sunday mornings on Channel 7 WVII at 9:30 AM and then shown on You Tube.
What is so fantastic, is that Kim Swan, who normally has her ear to the ground was kept totally in the dark about the award! Kim is a huge dog lover, and was lured to the event by Diana de los Santos from the SPCA of Hancock County who had told Kim that the Chamber wanted her to give a short talk on rescuing dogs from the floods and wildfires.
More From WDEA Ellsworth Maine