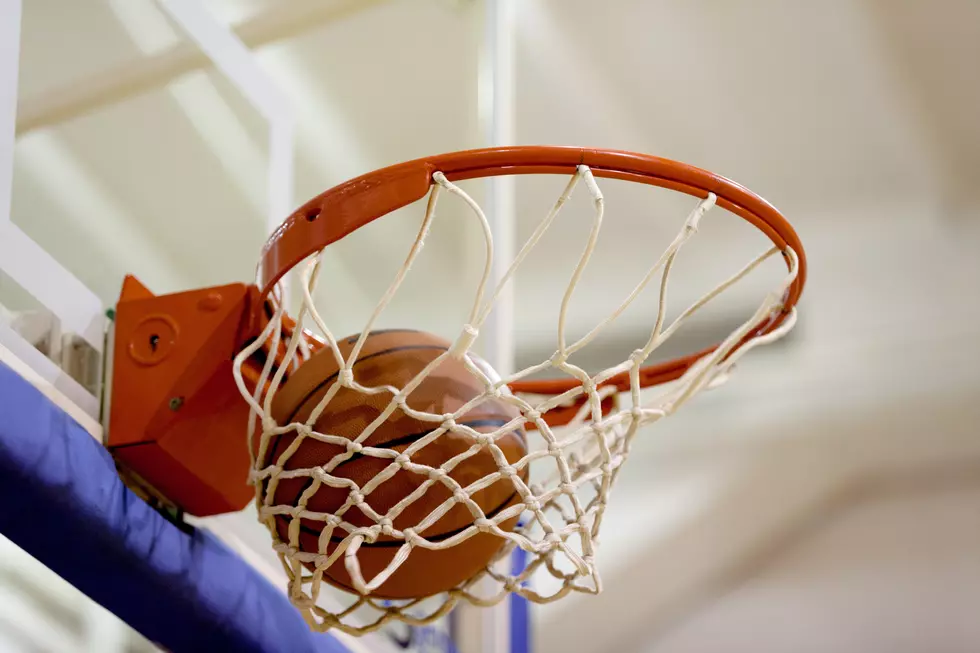 Sumner Boys Fall to Searsport 47-31 [STATS]
Getty Images/iStockphoto
The Sumner Boys Basketball team fell to the Searsport Vikings on Wednesday, February 1st, 47-31 in Searsport.
The Vikings led 12-8 at the end of the 1st Quarter but Sumner took the lead at the end of the 1st Half, 22-17, outscoring Searsport 14-5 in the 2nd Quarter. Searsport regained the lead in the 3rd Quarter 33-29, outscoring the Tigers 16-7.
Sumner was led by Ethan Chase and Angel Valencia with 6 points each. Valenicia had 2 3-pointers. Wray and Jacob Bagley each had 1 3-pointer. The Tigers were 2-6 from the free throw line.
Gage Ellis had 16 points to lead all scorers. Landon Economy had 15 points, including 2 3-pointers. The Vikings were 11-25 from the free throw line.
Sumner is now 11-5 with 2 games left in the regular season
Tuesday, February 7 at Mattanawcook Academy at 5 p.m.
Wednesday, February 8 at Deer Isle-Stonington at 6:30 p.m.
Searsport is now 7-10 with 1 game remaining in the regular season
Saturday, February 4th vs. Isleboro at 1:30 p.m.
Line Score
| | | | | | |
| --- | --- | --- | --- | --- | --- |
| | 1 | 2 | 3 | 4 | T |
| Sumner Boys | 8 | 14 | 7 | 2 | 31 |
| Searsport Boys | 12 | 5 | 16 | 14 | 47 |
Box Score
Sumner 
| | | | | | |
| --- | --- | --- | --- | --- | --- |
| Name | PTS | 2PM | 3PM | FTM | FTA |
| Dylan Piper | 0 | - | - | - | - |
| Jacob Bagley | 3 | - | 1 | - | - |
| Billy Wray | 3 | - | 1 | - | - |
| Nolan Christiansen | 4 | 2 | - | - | - |
| Ethan Chase | 6 | 2 | - | 2 | 4 |
| Logan Crowley | 0 | - | - | - | - |
| Ian Gatcomb | 3 | - | 1 | - | - |
| Aiden Griffin | 2 | 1 | - | - | 2 |
| Angel Valencia | 6 | - | 2 | - | - |
| Bryson Parritt | 2 | 1 | - | - | - |
| Matt Carney | 0 | - | - | - | - |
| Isaiah Rivers | 0 | - | - | - | - |
| Copelin Temple | 2 | 1 | - | - | - |
| Hector Orozco-Delgado | 0 | - | - | - | - |
| TEAM | 0 | - | - | - | - |
| TOTALS | 31 | 7 | 5 | 2 | 6 |
Searsport
| | | | | | |
| --- | --- | --- | --- | --- | --- |
| Gage Ellis | 16 | 7 | - | 2 | 2 |
| Julian Anderson | 0 | - | - | - | - |
| Oliver Carbisiero | 0 | - | - | - | - |
| Ashton Ellis | 4 | 1 | - | 2 | 4 |
| Kael Morrill | 0 | - | - | - | - |
| Charlie Lewis | 0 | - | - | - | - |
| Sean Paige | 4 | 2 | - | - | 2 |
| Alex Dakin | 0 | - | - | - | - |
| Cole Ellis | 0 | - | - | - | - |
| Landon Economy | 15 | 2 | 2 | 5 | 11 |
| Ramon Carbisiero | 1 | - | - | 1 | 2 |
| Robert Walker | 0 | - | - | - | - |
| Taenglek T | 0 | - | - | - | - |
| Tim Smith | 7 | 3 | - | 1 | 4 |
| TEAM | 0 | - | - | - | - |
| TOTALS | 47 | 15 | 2 | 11 | 25 |
| | | | | | |
More From WDEA Ellsworth Maine