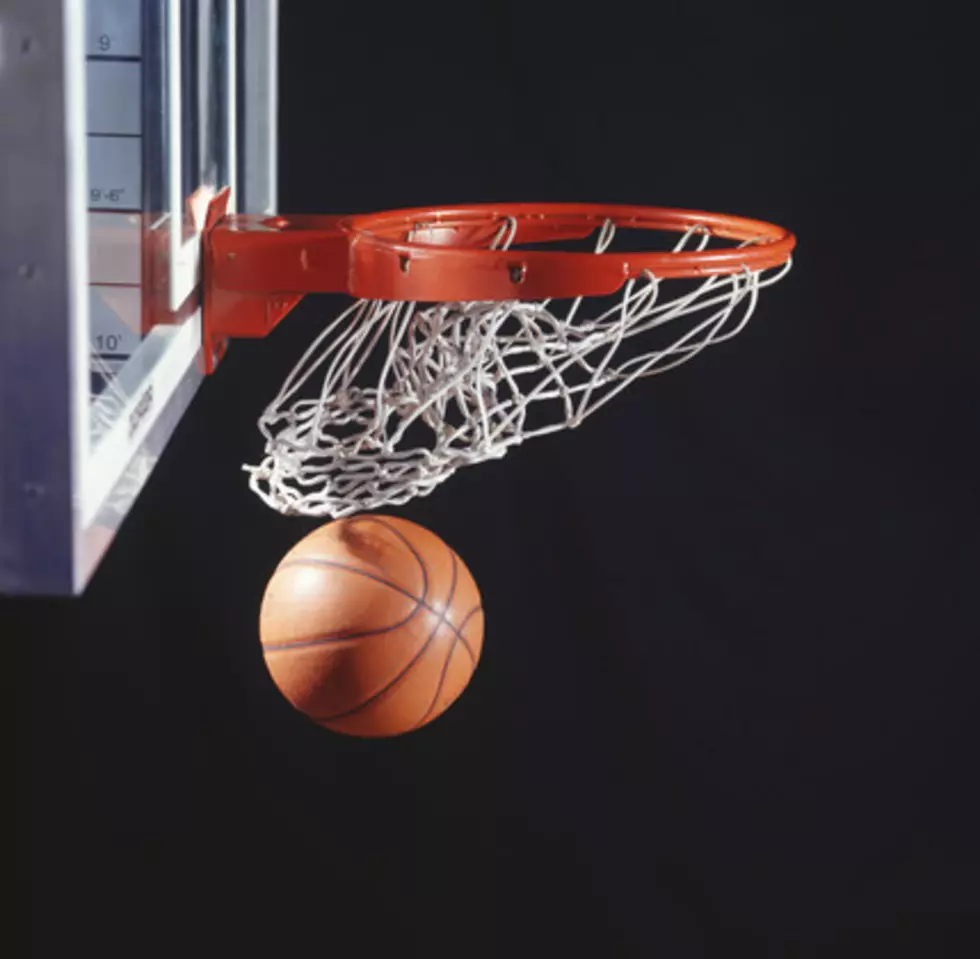 Sumner Boys Comeback to Beat Central Saturday 60-58
Ryan McVay via Thinkstock
The Sumner Boys led Central in East Corinth, on Saturday December 8th 32-20 at the end of the 1st Half, but Central outscored the Tigers 23-9 in the 3rd Quarter to take a 43-41 lead. However Sumner outscored Central 19-14 in the final Quarter to pick up the win in the 1st game of the season 60-58.
Sumner put 3 players in double figures, led by Colby McLean with 22 points. David Allen had 14 points and Ethan Young 13. McLean had 2 3-pointers, and Allen, Young and Dylan Bernier each had 1 3-pointer for the Tigers. Sumner was 9-16 from the free throw line.
Central was led by Bryce Burns and Alex Hewitt with 16 points each. James Doucette had 11 points. Hewitt had 3 3's, Burns 2 3's and Doucette 1 3-pointer. Central was 12-20 from the free throw line.
Sumner, 1-0, plays host to Bucksport on Tuesday, December 11th at 6:30PM
Central 0-1, plays at Mattanawcook Academy on Tuesday, December 11th at 7PM.
| | | | | | |
| --- | --- | --- | --- | --- | --- |
| | 1 | 2 | 3 | 4 | T |
| Sumner Boys | 17 | 15 | 9 | 19 | 60 |
| Central Boys | 12 | 8 | 23 | 15 | 58 |
| | | | | | | | | | |
| --- | --- | --- | --- | --- | --- | --- | --- | --- | --- |
| # | Name | G | PTS | FGM | 2PM | 3PM | FTM | FTA | PF |
| 5 | Dylan Bernier | 1 | 7 | 3 | 2 | 1 | 0 | 1 | 3 |
| 10 | Ethan Young | 1 | 13 | 5 | 4 | 1 | 2 | 4 | 2 |
| 12 | Kollin McLean | 1 | 0 | 0 | 0 | 0 | 0 | 0 | 0 |
| 15 | Michael Merchant | 1 | 0 | 0 | 0 | 0 | 0 | 0 | 0 |
| 22 | David Allen | 1 | 14 | 5 | 4 | 1 | 3 | 4 | 2 |
| 23 | Jacob Clark | 1 | 0 | 0 | 0 | 0 | 0 | 0 | 0 |
| 25 | Matt Correia | 1 | 0 | 0 | 0 | 0 | 0 | 0 | 0 |
| 33 | Colby McLean | 1 | 22 | 9 | 7 | 2 | 2 | 4 | 2 |
| 34 | Alex Rumill | 1 | 2 | 1 | 1 | 0 | 0 | 0 | 2 |
| 44 | Simon Torrey | 1 | 2 | 0 | 0 | 0 | 2 | 3 | 3 |
| | TOTALS | 1 | 60 | 23 | 18 | 5 | 9 | 16 | 14 |
| | | | | | | | | | |
| --- | --- | --- | --- | --- | --- | --- | --- | --- | --- |
| # | Name | G | PTS | FGM | 2PM | 3PM | FTM | FTA | PF |
| 0 | Chandler Willard | 1 | 0 | 0 | 0 | 0 | 0 | 0 | 1 |
| 2 | Dylan Ham | 1 | 7 | 2 | 2 | 0 | 3 | 7 | 3 |
| 3 | Zac Williams | 1 | 2 | 0 | 0 | 0 | 2 | 2 | 0 |
| 4 | Scott Ferrie | 1 | 4 | 2 | 2 | 0 | 0 | 1 | 1 |
| 5 | Will Libby | 1 | 0 | 0 | 0 | 0 | 0 | 0 | 0 |
| 14 | Tyler Collins | 1 | 0 | 0 | 0 | 0 | 0 | 0 | 0 |
| 15 | James Doucette | 1 | 11 | 4 | 3 | 1 | 2 | 2 | 4 |
| 20 | Alex Hewitt | 1 | 16 | 5 | 2 | 3 | 3 | 5 | 3 |
| 22 | Simon Allen | 1 | 0 | 0 | 0 | 0 | 0 | 0 | 0 |
| 23 | Malachi Miller | 1 | 0 | 0 | 0 | 0 | 0 | 0 | 0 |
| 30 | Bryce Burns | 1 | 16 | 6 | 4 | 2 | 2 | 3 | 1 |
| 32 | Jeffrey Macomber | 1 | 2 | 1 | 1 | 0 | 0 | 0 | 2 |
| | TOTALS | 1 | 58 | 20 | 14 | 6 | 12 | 20 | 15 |
More From WDEA Ellsworth Maine