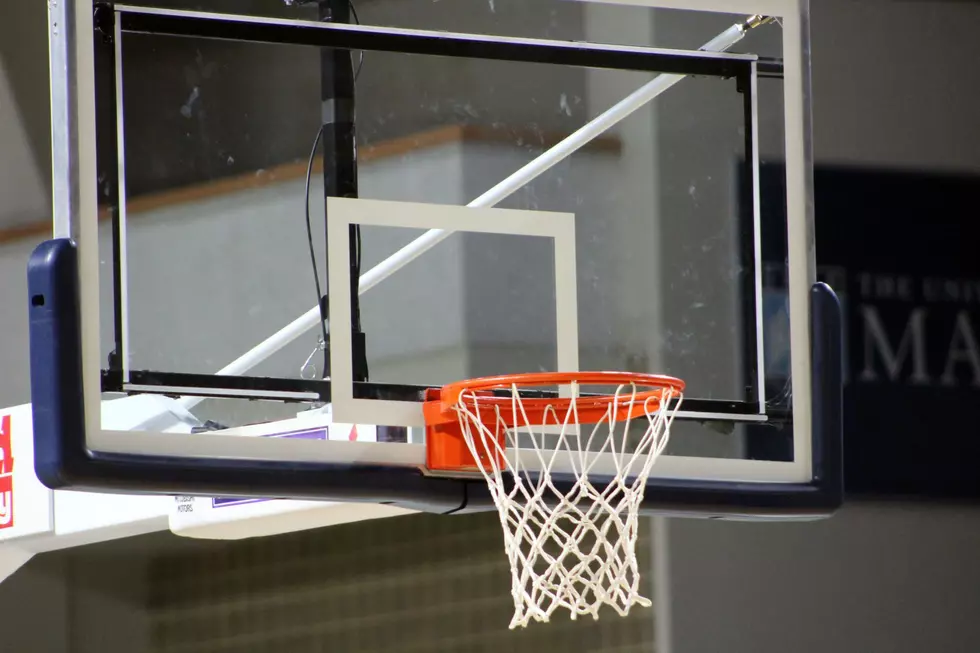 Sumner Boys Beat Jonesport-Beals 50-46 [STATS]
Photo Chris Popper
The Sumner Boys Basketball Team beat the Jonesport-Beals Roys 50-46 on Friday, December 30th, building a 39-27 at the end of the 3rd Quarter and withstanding the Royal's 4th Quarter charge.
Jonesport-Beals led 12-10 at the end of the 1st Quarter. Sumner took the lead in the 2nd Quarter, outscoring the Royals 15-7 to take a 25-19 lead at the Half.
Isaiah Rivers had 13 points to lead the Tigers. Nolan Christiansen had 10 points. Jacob Bagley had 3 3-pointers. Nolan Christiasen, Bryson Parritt and Angel Valencia each had a 3-pointer. The Tigers were 2-10 from the free throw line.
Jonesport-Beals was led by Damon Beal with 19 points, including 2 3-pointers. Brevan Kenney had 11 points., with 2 3-pointers. DJames Brasted added a 3-pointer. The Royals were 7-17 from the free throw line.
Sumner is now 4-1. They will play at George Stevens Academy on Wednesday, January 4th at 6:30 p.m.
Jonesport-Beals is 2-4. They play at Bangor Christian on Tuesday, January 3rd at 7 p.m.
You can nominate someone for the Winter Week 4 High School Athlete of the Week by emailing HERE. Please put High School Athlete of the Week in the subject. Nominations for games December 26th to December 31st need to be received by January 2nd. Then tell us why your nominee is deserving! Let us know specifics! How many goals did she/he score? How many points did she/he score? How fast did they run or throw in the indoor track meet? How fast did they swim in the swim meet? How did they do in the wrestling meet? We also want to know what school they go to! Please send them by Monday night!
Tuesday we will then compile the nominees and it will be your turn to choose the winner! You can then cast your votes, and voting will close Thursday night at 11:59 p.m. We will then announce the winner online and on air on Friday each week!
We are also looking for reports of High School Basketball,  Hockey, Swimming, Indoor Track and Field, and Wrestling results. If you can email them HERE we will write recaps nightly. We need the score, who scored the goal, and any highlights. You can even text the photo of the scoresheets to 207-469-8660.
Line Score
| | | | | | |
| --- | --- | --- | --- | --- | --- |
| | 1 | 2 | 3 | 4 | T |
| Sumner Boys | 10 | 15 | 14 | 11 | 50 |
| Jonesport-Beals Boys | 12 | 7 | 8 | 19 | 46 |
Box Score
Sumner
| | | | | | |
| --- | --- | --- | --- | --- | --- |
| Name | PTS | 2PM | 3PM | FTM | FTA |
| Dylan Piper | 0 | - | - | - | - |
| Jacob Bagley | 9 | - | 3 | - | 2 |
| Billy Wray | 4 | 2 | - | - | 1 |
| Nolan Christiansen | 10 | 3 | 1 | 1 | 3 |
| Ethan Chase | 4 | 2 | - | - | - |
| Logan Crowley | 0 | - | - | - | - |
| Ian Gatcomb | 2 | 1 | - | - | - |
| Aiden Griffin | 0 | - | - | - | - |
| Angel Valencia | 5 | 1 | 1 | - | - |
| Bryson Parritt | 3 | - | 1 | - | - |
| Matt Carney | 0 | - | - | - | - |
| Isaiah Rivers | 13 | 6 | - | 1 | 4 |
| Copelin Temple | 0 | - | - | - | - |
| Hector Orozco-Delgado | 0 | - | - | - | - |
| TEAM | 0 | - | - | - | - |
| TOTALS | 50 | 15 | 6 | 2 | 10 |
Jonesport-Beals
| | | | | | |
| --- | --- | --- | --- | --- | --- |
| Name | PTS | 2PM | 3PM | FTM | FTA |
| Damon Beal | 19 | 5 | 2 | 3 | 8 |
| Eli Peabody | 4 | 2 | - | - | - |
| Kaden Beal | 3 | 1 | - | 1 | 3 |
| Brevan Kenney | 11 | 2 | 2 | 1 | 2 |
| William Guptill | 3 | 1 | - | 1 | 2 |
| Josh Warnock | 0 | - | - | - | - |
| James Brasted | 4 | - | 1 | 1 | 2 |
| Garrett Libby | 2 | 1 | - | - | - |
| Owen Alley | 0 | - | - | - | - |
| Nathaniel Johnson | 0 | - | - | - | - |
| TEAM | 0 | - | - | - | - |
| TOTALS | 46 | 12 | 5 | 7 | 17 |
More From WDEA Ellsworth Maine