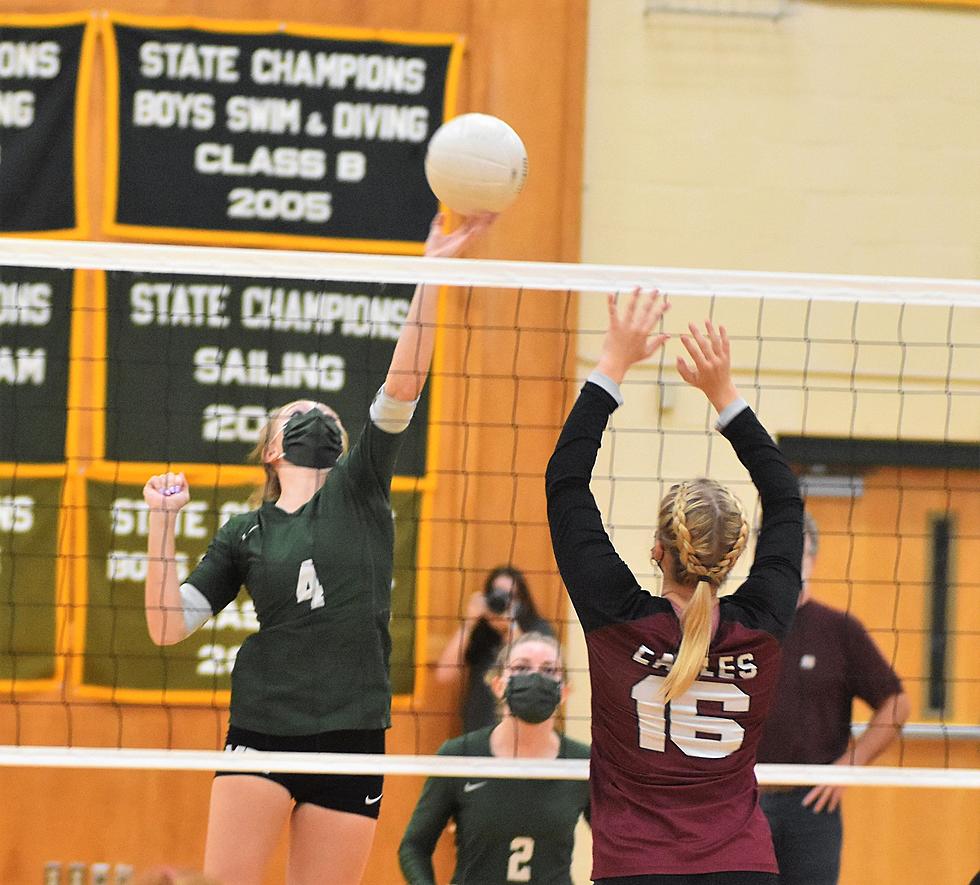 MDI Volleyball Sweeps Ellsworth 3-0
MDI-EHS Volleyball September 29, 2021 Photo Mike Mandell Ellsworth American/MDI Islander
The MDI Volleyball Team snapped Ellsworth's 2-game winning streak, sweeping the Eagles 3-0 at Bernard Parady Gymnasium on Wednesday night, September 29th. The individual set scores were 25-18, 25-15 and 25-13.
According to MDI Coach Corey Papadopoli
I think we did a good job of starting strong, playing with intensity, and carrying that all the way through.  We talked about limiting runs from the other team while working to score points in groups of 3 or more.  The team did a good job of that tonight and limited the streaks. We gave Ellsworth a few too many free balls but our defense withstood most of it.  Now we'll go back into the gym and gear up for what will be a busy week next week.
MDI Stat leaders were:
Bailey Goodell: 4 aces, 8 kills, 1 block, 4 digs
Addy Boyce: 10 aces, 2 kills, 1 block, 20 assists, 1 dig
Maddy Ford: 4 aces, 3 kills, 4 digs
Emma Giustini: 2 aces, 2 kills, 2 assists, 3 digs
Ellsworth Stat Leaders
Rachel Endre 7 service points, 5 aces, 1 kill, 4 digs

Olivia Harmon 5 assists

Jocelyn Jordan 7 service points, 3 kills

Skyler Clayton 9 digs, 1 assist
MDI is 5-3 and will play at Brewer on Tuesday, October 5th
Ellsworth is 5-5 and will host Hampden Academy on Tuesday, October 5th
More From WDEA Ellsworth Maine