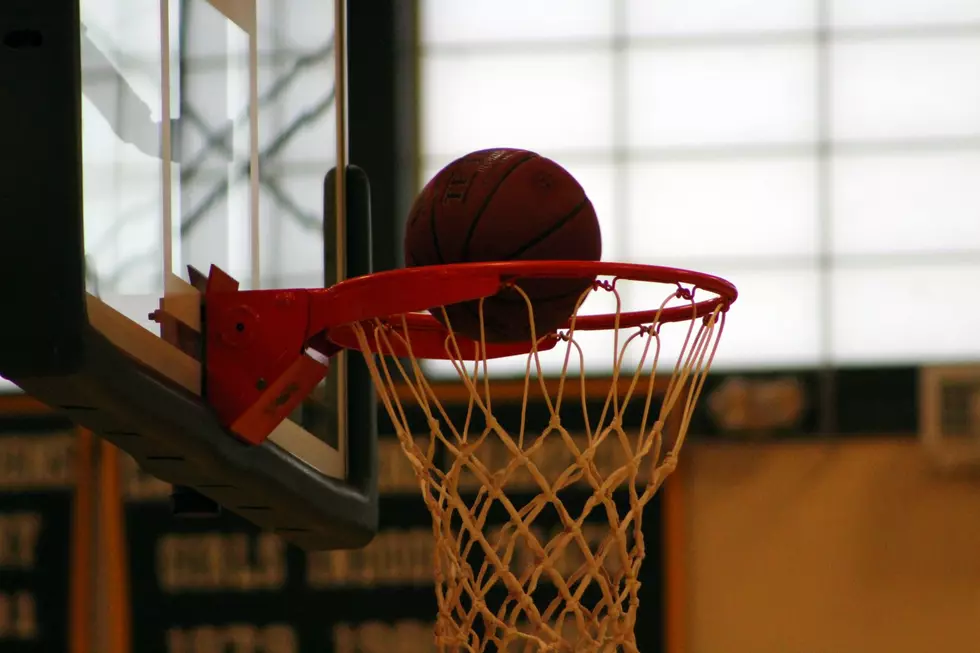 MDI Girls Double Up Old Town 51-25 [Box Score]
Photo Chris Popper
The MDI Girls Basketball Team started their 4 game week on a positive note, snapping their 2 game losing streak beating the Old Town Coyotes 51-25 at Bernard Parady Gymnasium on Monday, January 22nd.
MDI jumped out to a 16-7 lead at the end of the 1st Quarter, and led 36-15 at the end of the 1st Half. The Trojans outscored the Coyotes 11-1 in the 3rd Quarter to take a 47-16 lead.
MDI was led by Julia Watras with a game high 11 points and Emily Banks and Maddy Good each had 10 points. The Trojans sank 5 3-pointers with Lindsey McEachern draining 2, and Julia Watras, Maddy Good and Hannah Chamberlain each sank 1 3-pointer. The Trojans were 8-21 from the free throw line.
Old Town was led by Corrine Saucier with 6 points and Alivia Coulombe had 5 points. Mackenzie Folsom had a 3-pointer for the Coyotes and Old Town was 10-17 from the free throw line.
MDI 9-3, has 3 more game this week, all at home. They play Hermon on Wednesday, January 24th at 7 PM, then play host to Caribou on Friday, January 26th at 6 PM and then Presque Isle on Saturday, January 27th at 1 PM. All the games will be broadcast on on AM 1370 WDEA, WDEA Internet Radio, on our free downloadable APP and on any Alexa enabled device with the pregames starting 15 minutes before tip-off.
Old Town, 4-8 plays at Washington Academy on Wednesday, January 24th at 7PM.
| | | | | | |
| --- | --- | --- | --- | --- | --- |
| | 1 | 2 | 3 | 4 | T |
| Old Town Coyote Girls | 7 | 8 | 1 | 9 | 25 |
| MDI Girls | 16 | 20 | 11 | 4 | 51 |
| | | | | | | | | | |
| --- | --- | --- | --- | --- | --- | --- | --- | --- | --- |
| # | Name | G | FGM | 2PM | 3PM | FTM | FTA | PF | PTS |
| 2 | Jasmine Smith | 1 | 0 | 0 | 0 | 2 | 2 | 2 | 2 |
| 4 | Mackenzie Folsolm | 1 | 1 | 0 | 1 | 0 | 2 | 3 | 3 |
| 10 | Alivia  Coulombe | 1 | 0 | 0 | 0 | 5 | 6 | 1 | 5 |
| 12 | Hannah Richards | 1 | 0 | 0 | 0 | 0 | 1 | 3 | 0 |
| 14 | Jadeyn Cain | 1 | 0 | 0 | 0 | 1 | 2 | 1 | 1 |
| 20 | Janessa Brown | 1 | 0 | 0 | 0 | 0 | 0 | 0 | 0 |
| 22 | Corinne Saucier | 1 | 2 | 2 | 0 | 2 | 2 | 2 | 6 |
| 24 | Cassidy Holmes | 1 | 0 | 0 | 0 | 0 | 0 | 0 | 0 |
| 30 | Olivia Albert | 1 | 0 | 0 | 0 | 0 | 0 | 0 | 0 |
| 32 | Alexis Austin | 1 | 0 | 0 | 0 | 0 | 0 | 0 | 0 |
| 34 | Brittany King | 1 | 1 | 1 | 0 | 0 | 0 | 3 | 2 |
| 40 | Alanna Chavaree | 1 | 0 | 0 | 0 | 0 | 0 | 0 | 0 |
| 42 | Payton Cody | 1 | 1 | 1 | 0 | 0 | 2 | 0 | 2 |
| 52 | Claudia Damboise | 1 | 2 | 2 | 0 | 0 | 0 | 1 | 4 |
| | TOTALS | 1 | 7 | 6 | 1 | 10 | 17 | 16 | 25 |
| | | | | | | | | | |
| --- | --- | --- | --- | --- | --- | --- | --- | --- | --- |
| # | Name | G | FGM | 2PM | 3PM | FTM | FTA | PF | PTS |
| 3 | Lindsey McEachern | 1 | 2 | 0 | 2 | 0 | 0 | 0 | 6 |
| 5 | Julia Watras | 1 | 4 | 3 | 1 | 2 | 4 | 2 | 11 |
| 11 | Lily Cook | 1 | 0 | 0 | 0 | 0 | 0 | 2 | 0 |
| 13 | Emily Banks | 1 | 4 | 4 | 0 | 2 | 5 | 3 | 10 |
| 15 | Alexis Clarito | 1 | 0 | 0 | 0 | 1 | 2 | 0 | 1 |
| 21 | Maddy Good | 1 | 4 | 3 | 1 | 1 | 1 | 2 | 10 |
| 23 | Julia Link | 1 | 0 | 0 | 0 | 0 | 0 | 0 | 0 |
| 25 | Maddy Candage | 1 | 3 | 3 | 0 | 1 | 6 | 3 | 7 |
| 33 | Rachelle Swanson | 1 | 0 | 0 | 0 | 1 | 3 | 2 | 1 |
| 35 | Cassie Craig | 1 | 0 | 0 | 0 | 0 | 0 | 2 | 0 |
| 41 | Hannah Chamberlain | 1 | 2 | 1 | 1 | 0 | 0 | 1 | 5 |
| 43 | Alahna Mild | 1 | 0 | 0 | 0 | 0 | 0 | 2 | 0 |
| | TOTALS | 1 | 19 | 14 | 5 | 8 | 21 | 19 | 51 |
More From WDEA Ellsworth Maine