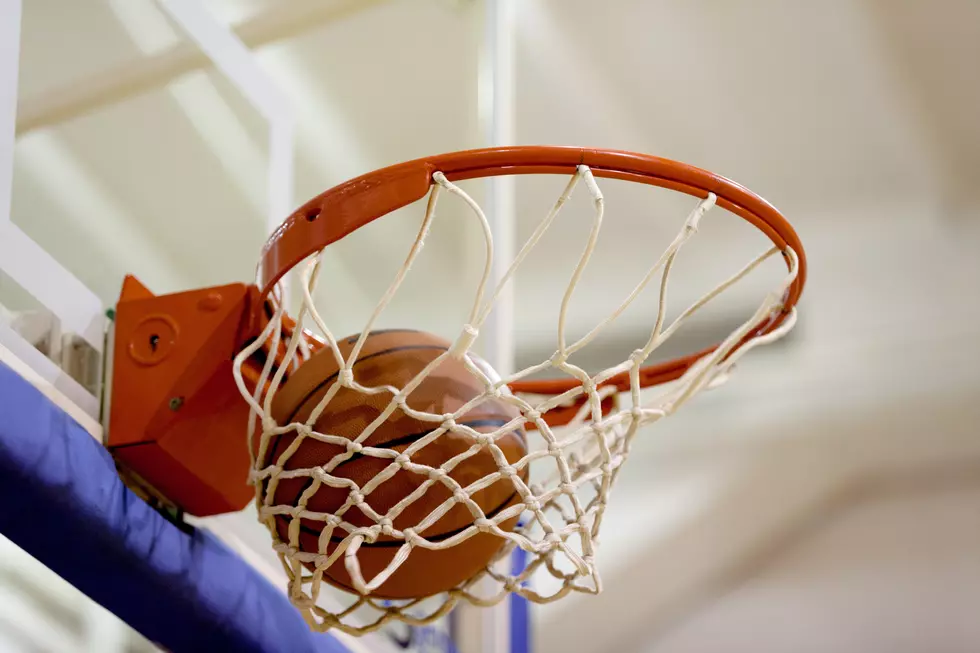 MDI Girls Beat Washington Academy 54-44 [STATS]
Getty Images/iStockphoto
The MDI Girls Basketball Team traveled to East Machias on Tuesday night, February 9th and came away with 54-44 victory over the Washington Academy Raiders.
Washington Academy led 14-11 at the end of the 1st Quarter, but MDI outscored the Raiders 14-7 in the 2nd Quarter to take a 25-21 lead at the end of the 1st Half. MDI used a 16-5 3rd Quarter to take a 41-26 lead. The Raiders outscored MDI 18-13 in the 4th Quarter.
MDI was led by Leah Carroll with 20 points. Elizabeth Jones had 12 points. The Trojans had 3 3-pointes, 2 by Elena Alderman and 1 by Olivia Gray. MDI was 7-17 from the free throw line.
Washington Academy was led by Raeanah Reynolds with 19 points. She had the Raiders' lone 3-pointer. Washington Academy was 9-20 from the free throw line.
MDI is back in action on Saturday, February 13th when they will play at Hampden Academy at 12:30. That game may be watched on the Hampden Academy NFHS Channel (subscription required)
Line Score
| | | | | | |
| --- | --- | --- | --- | --- | --- |
| | 1 | 2 | 3 | 4 | T |
| MDI Girls | 11 | 14 | 16 | 13 | 54 |
| Washington Academy Girls | 14 | 7 | 5 | 18 | 44 |
Box Score
MDI
| | | | | | | | | | |
| --- | --- | --- | --- | --- | --- | --- | --- | --- | --- |
| # | Name | G | PTS | FGM | 2PM | 3PM | FTM | FTA | PF |
| 3 | Molly  Ritter | 1 | 0 | 0 | 0 | 0 | 0 | 0 | 0 |
| 5 | Taber Allen | 1 | 0 | 0 | 0 | 0 | 0 | 0 | 0 |
| 11 | Elena Alderman | 1 | 8 | 3 | 1 | 2 | 0 | 0 | 1 |
| 13 | Emily Carter | 1 | 4 | 2 | 2 | 0 | 0 | 0 | 2 |
| 15 | Grace Witham | 1 | 0 | 0 | 0 | 0 | 0 | 0 | 1 |
| 21 | Sophia Brophy | 1 | 0 | 0 | 0 | 0 | 0 | 0 | 1 |
| 23 | Leah Carroll | 1 | 20 | 8 | 8 | 0 | 4 | 8 | 5 |
| 25 | Abbie Farley | 1 | 0 | 0 | 0 | 0 | 0 | 2 | 0 |
| 31 | Olivia Gray | 1 | 3 | 1 | 0 | 1 | 0 | 0 | 3 |
| 33 | Ella Joyce | 1 | 0 | 0 | 0 | 0 | 0 | 0 | 0 |
| 35 | Mollie Gray | 1 | 3 | 1 | 1 | 0 | 1 | 3 | 2 |
| 41 | Bella Brown | 1 | 4 | 2 | 2 | 0 | 0 | 0 | 2 |
| 43 | Elizabeth Jones | 1 | 12 | 5 | 5 | 0 | 2 | 4 | 3 |
| | TOTALS | 1 | 54 | 22 | 19 | 3 | 7 | 17 | 20 |
Washington Academy
| | | | | | | | | | |
| --- | --- | --- | --- | --- | --- | --- | --- | --- | --- |
| # | Name | G | PTS | FGM | 2PM | 3PM | FTM | FTA | PF |
| 5 | Chloe Dinsmore | 1 | 0 | 0 | 0 | 0 | 0 | 0 | 0 |
| 10 | Mackenzie Cates | 1 | 6 | 3 | 3 | 0 | 0 | 0 | 0 |
| 11 | Rachel Vose | 1 | 0 | 0 | 0 | 0 | 0 | 0 | 2 |
| 12 | Marissa Wood | 1 | 0 | 0 | 0 | 0 | 0 | 0 | 0 |
| 13 | Addie Williams | 1 | 1 | 0 | 0 | 0 | 1 | 2 | 0 |
| 14 | Izzy Crowley | 1 | 1 | 0 | 0 | 0 | 1 | 4 | 0 |
| 15 | Emma Griffin | 1 | 6 | 2 | 2 | 0 | 2 | 2 | 1 |
| 20 | Sarah Moulton | 1 | 0 | 0 | 0 | 0 | 0 | 0 | 0 |
| 21 | Raeanah Reynolds | 1 | 19 | 7 | 6 | 1 | 4 | 8 | 1 |
| 22 | Daniela Myers | 1 | 0 | 0 | 0 | 0 | 0 | 0 | 0 |
| 23 | Lucy Kilton | 1 | 4 | 2 | 2 | 0 | 0 | 1 | 1 |
| 24 | Kelci Williams | 1 | 7 | 3 | 3 | 0 | 1 | 3 | 3 |
| 25 | Gabrielle Morang | 1 | 0 | 0 | 0 | 0 | 0 | 0 | 2 |
| 33 | Marissa Cates | 1 | 0 | 0 | 0 | 0 | 0 | 0 | 0 |
| | TOTALS | 1 | 44 | 17 | 16 | 1 | 9 | 20 | 10 |
More From WDEA Ellsworth Maine