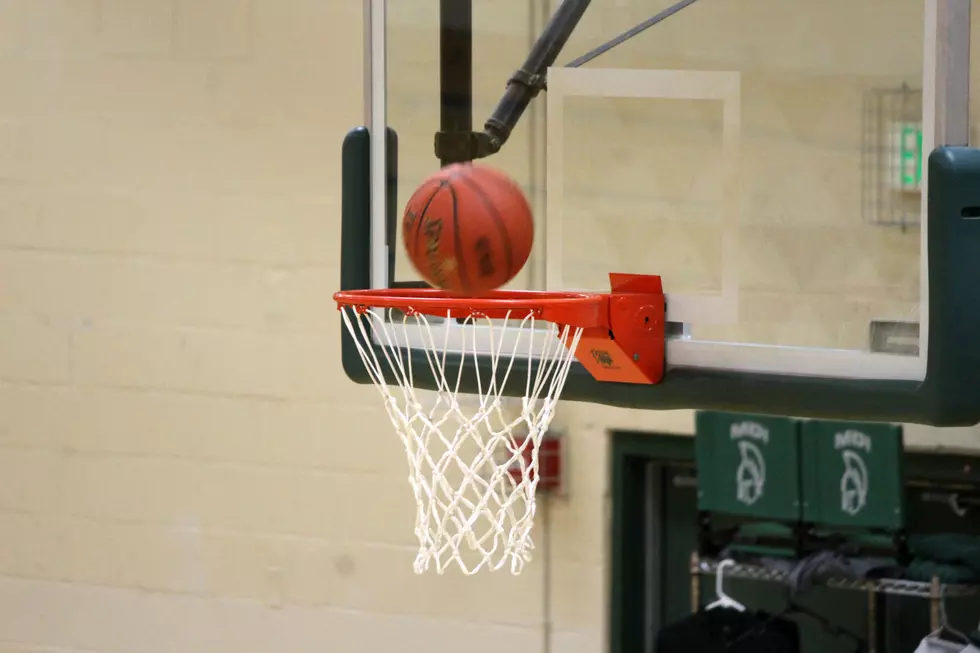 MDI Boys Too Much for Bucksport 57-46 [STATS]
Photo Chris Popper
The MDI Boys Basketball Team beat the Bucksport Golden Bucks 57-46 at Bernard Parady Gymnasium in Bar Harbor on Wednesday evening, February 17th.
MDI led 11-9 at the end of the 1st Quarter and 26-23 at the end of the 1st Half. It was 38-33 at the end of the 3rd Quarter before MDI outscored Bucksport 19-11 in the 4th Quarter.
MDI was led by Porter Isaacs with 16 points while Brady Renault had 11 points. The Trojans had 5 3-pointers, with Grady Wellman-Webster draining 2, and Maddox Laurendeau, Brady Renault and Spencer Laurendeau each hitting 1. MDI was 4-4 from the free throw line.
Bucksport was led by Ty Giberson with a game high 20 points. Logan Stanley had 9 points. The Golden Bucks had 8 3-pointes. Ty Giberson had 4 3's, Stanley had 3 3's, and Evan Donnell had Bucksport's other 3-pointer. Bucksport was 6-10 from the free throw line.
MDI is back in action on Thursday, February 18th when they travel to Blue Hill to play the George Stevens Academy Eagles at 7 p.m. That game will be live-streamed on the GSA NFHS Network (subscription required)
Line Score
| | | | | | |
| --- | --- | --- | --- | --- | --- |
| | 1 | 2 | 3 | 4 | T |
| Bucksport Boys | 9 | 14 | 12 | 11 | 46 |
| MDI Boys | 11 | 15 | 12 | 19 | 57 |
Box Score
Bucksport
| | | | | | | | | | |
| --- | --- | --- | --- | --- | --- | --- | --- | --- | --- |
| # | Name | G | PTS | FGM | 2PM | 3PM | FTM | FTA | PF |
| 0 | William Bissonette | 1 | 0 | 0 | 0 | 0 | 0 | 0 | 0 |
| 1 | Gunther Cyr | 1 | 0 | 0 | 0 | 0 | 0 | 0 | 0 |
| 2 | Caden Blackwood | 1 | 2 | 1 | 1 | 0 | 0 | 2 | 1 |
| 3 | Brandon Elden | 1 | 0 | 0 | 0 | 0 | 0 | 0 | 0 |
| 4 | Logan Stanley | 1 | 9 | 3 | 0 | 3 | 0 | 0 | 1 |
| 5 | Jacob Brezovsky | 1 | 0 | 0 | 0 | 0 | 0 | 0 | 0 |
| 10 | Kai Brown | 1 | 0 | 0 | 0 | 0 | 0 | 0 | 0 |
| 12 | Jake Williams | 1 | 0 | 0 | 0 | 0 | 0 | 0 | 0 |
| 15 | Evan Donnell | 1 | 7 | 2 | 1 | 1 | 2 | 2 | 0 |
| 22 | Ty Giberson | 1 | 20 | 7 | 3 | 4 | 2 | 2 | 0 |
| 24 | Tyler Hallett | 1 | 3 | 1 | 1 | 0 | 1 | 2 | 0 |
| 25 | Owen Sherwood | 1 | 1 | 0 | 0 | 0 | 1 | 2 | 0 |
| 32 | Kamryn Webber | 1 | 0 | 0 | 0 | 0 | 0 | 0 | 0 |
| 33 | Colin Simpson | 1 | 4 | 2 | 2 | 0 | 0 | 0 | 3 |
| 40 | Sione Taungatua | 1 | 0 | 0 | 0 | 0 | 0 | 0 | 0 |
| 50 | Xavier Morrison | 1 | 0 | 0 | 0 | 0 | 0 | 0 | 0 |
| | TOTALS | 1 | 46 | 16 | 8 | 8 | 6 | 10 | 5 |
MDI
| | | | | | | | | | |
| --- | --- | --- | --- | --- | --- | --- | --- | --- | --- |
| # | Name | G | PTS | FGM | 2PM | 3PM | FTM | FTA | PF |
| 10 | Ethan Merchant | 1 | 2 | 1 | 1 | 0 | 0 | 0 | 1 |
| 12 | Joey Minutolo | 1 | 0 | 0 | 0 | 0 | 0 | 0 | 0 |
| 14 | Henry Lester | 1 | 0 | 0 | 0 | 0 | 0 | 0 | 0 |
| 20 | Maddox Laurendeau | 1 | 9 | 3 | 2 | 1 | 2 | 2 | 0 |
| 22 | Brady Renault | 1 | 11 | 4 | 3 | 1 | 2 | 2 | 2 |
| 24 | Grady Wellman-Webster | 1 | 8 | 3 | 1 | 2 | 0 | 0 | 1 |
| 30 | Charlie Parker | 1 | 2 | 1 | 1 | 0 | 0 | 0 | 3 |
| 32 | Walker St. Germain | 1 | 4 | 2 | 2 | 0 | 0 | 0 | 1 |
| 34 | Kadin Reed | 1 | 0 | 0 | 0 | 0 | 0 | 0 | 0 |
| 40 | Spencer Laurendau | 1 | 3 | 1 | 0 | 1 | 0 | 0 | 2 |
| 42 | Tucker James | 1 | 0 | 0 | 0 | 0 | 0 | 0 | 0 |
| 44 | Alex Gray | 1 | 2 | 1 | 1 | 0 | 0 | 0 | 0 |
| 54 | Porter Isaacs | 1 | 16 | 8 | 8 | 0 | 0 | 0 | 1 |
| | TOTALS | 1 | 57 | 24 | 19 | 5 | 4 | 4 | 11 |
More From WDEA Ellsworth Maine