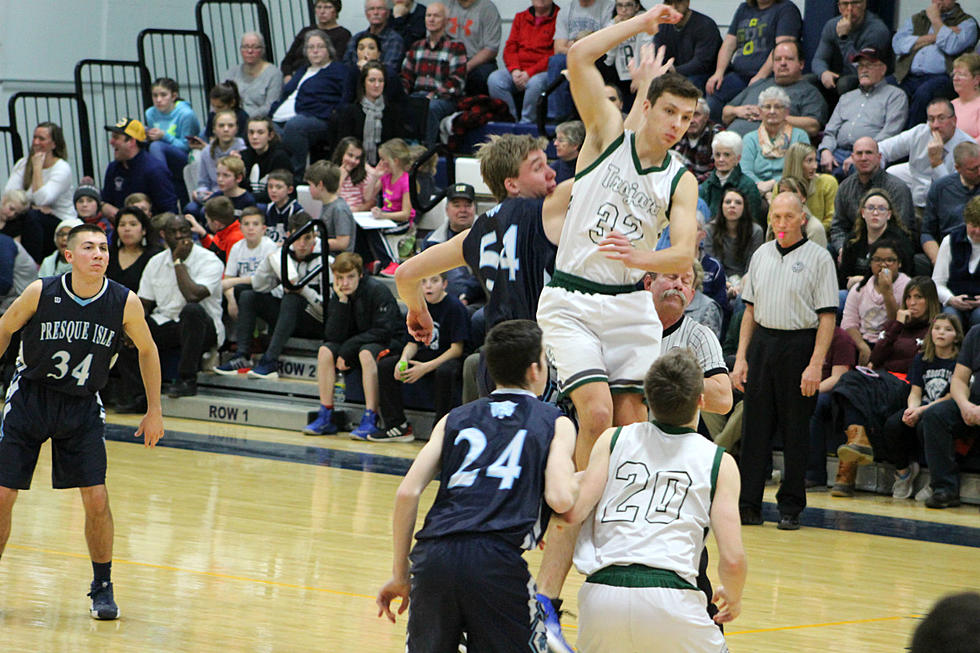 MDI Boys Tame Presque Isle 53-40
Photo Chris Popper
After being beaten on Friday night by Caribou, the MDI Boys came out firing, led by Derek Collin, beating the Presque Isle Wildcats 53-40 on Saturday afternoon, January 26th.
MDI jumped out to a 18-4 lead in the 1st Quarter, scoring more than they did the entire first Half in Caribou, Friday night. Collin had 13 points with a 3-pointer, Steven Pierce had a 3-pointer and Erik Merchant 2 points for the Trojans. Sam Beaulieu and Jonah Hudson had 2 points each for the Wildcats.
In the 2nd Quarter both MDI and Presque Isle scored 16 points each, and the Trojans led 30-16 at the end of the 1st Half. Charlie Parker had a 3-pointer for MDI, Eli Parady 3 points, Drew Shea 2 points and Collin and Pierce each had 2 more points. For Presque Isle, Hudson had 5 points with a 3-pointer, Trace Cyr 4 points and Caleb Wheaton a 3-pointer.
Both teams scored 12 points in the 3rd Quarter, and MDI's lead stayed at 14 points, 42-28. Collin had 4 more points for MDI, and Cadin Lunt, Shea, Parady and Porter Isaacs each had 2 points for MDI. Wheaton had 5 points for Presque Isle with a 3-pointer, Cyr 4 points and Cole Paterson a 3-pointer.
In the 4th Quarter, Derek Collin led the way for MDI, scoring 7 points and Brett Duley and Eli Parady had 2 points each. For the Wildcats Wheaton had 5 points with a 3-pointer, Cyr 4 points and Hudson 3 points.
MDI was led by Derek Collin with a game high 27 points and Eli Parady had 7 points. MDI was 6-12 from the free throw line.
Presque Isle was led by Caleb Wheaton with 13 points, Trace Cyr had 12 points and Jonah Hudson 10 points. Presque Isle was 7-10 from the free throw line.
Presque Isle is 8-8 with 2 games remaining, at Hermon on Saturday, February 2nd at 4:30 and then at Caribou on Thursday, February 7th at 7PM.
| | | | | | |
| --- | --- | --- | --- | --- | --- |
| | 1 | 2 | 3 | 4 | T |
| MDI Boys | 18 | 12 | 12 | 11 | 53 |
| Presque Isle Boys | 4 | 12 | 12 | 12 | 40 |
| | | | | | | | | | |
| --- | --- | --- | --- | --- | --- | --- | --- | --- | --- |
| # | Name | G | PTS | FGM | 2PM | 3PM | FTM | FTA | PF |
| 10 | Ethan Merchant | 1 | 0 | 0 | 0 | 0 | 0 | 0 | 0 |
| 12 | Kyle Nicholson | 1 | 0 | 0 | 0 | 0 | 0 | 0 | 0 |
| 14 | Cadin Lunt | 1 | 2 | 1 | 1 | 0 | 0 | 0 | 0 |
| 20 | Brett Duley | 1 | 2 | 1 | 1 | 0 | 0 | 0 | 4 |
| 22 | Brady Renault | 1 | 0 | 0 | 0 | 0 | 0 | 0 | 0 |
| 24 | Erik Merchant | 1 | 2 | 1 | 1 | 0 | 0 | 0 | 3 |
| 30 | Charlie Parker | 1 | 3 | 1 | 0 | 1 | 0 | 0 | 0 |
| 32 | Derek Collin | 1 | 26 | 10 | 9 | 1 | 5 | 8 | 4 |
| 34 | Lukas Keene | 1 | 0 | 0 | 0 | 0 | 0 | 0 | 0 |
| 40 | Jack DaCorte | 1 | 0 | 0 | 0 | 0 | 0 | 0 | 0 |
| 42 | Brennan Hubbard | 1 | 0 | 0 | 0 | 0 | 0 | 0 | 0 |
| 44 | Drew Shea | 1 | 4 | 2 | 2 | 0 | 0 | 1 | 3 |
| 50 | Eli Parady | 1 | 7 | 3 | 3 | 0 | 1 | 3 | 1 |
| 52 | Porter Isaacs | 1 | 2 | 1 | 1 | 0 | 0 | 0 | 0 |
| 54 | Steven Pierce | 1 | 5 | 2 | 1 | 1 | 0 | 0 | 0 |
| | TOTALS | 1 | 53 | 22 | 19 | 3 | 6 | 12 | 15 |
| | | | | | | | | | |
| | | | | | | | | | |
| --- | --- | --- | --- | --- | --- | --- | --- | --- | --- |
| # | Name | G | PTS | FGM | 2PM | 3PM | FTM | FTA | PF |
| 10 | William Bridges | 1 | 0 | 0 | 0 | 0 | 0 | 0 | 0 |
| 12 | Sam Beaulieu | 1 | 2 | 1 | 1 | 0 | 0 | 0 | 0 |
| 20 | Carter Rice | 1 | 0 | 0 | 0 | 0 | 0 | 0 | 0 |
| 22 | Jacob Sjoberg | 1 | 0 | 0 | 0 | 0 | 0 | 0 | 3 |
| 24 | Caleb Wheaton | 1 | 13 | 4 | 1 | 3 | 2 | 2 | 3 |
| 30 | Cole Paterson | 1 | 3 | 1 | 0 | 1 | 0 | 0 | 0 |
| 32 | Noah Flynn | 1 | 0 | 0 | 0 | 0 | 0 | 0 | 0 |
| 34 | Jonah Hudson | 1 | 10 | 4 | 3 | 1 | 1 | 2 | 4 |
| 40 | Ty Schneider | 1 | 0 | 0 | 0 | 0 | 0 | 0 | 0 |
| 42 | Jason Dumais | 1 | 0 | 0 | 0 | 0 | 0 | 0 | 0 |
| 44 | Nathan Willett | 1 | 0 | 0 | 0 | 0 | 0 | 0 | 0 |
| 52 | Nagoo Morey | 1 | 0 | 0 | 0 | 0 | 0 | 0 | 0 |
| 54 | Trace Cyr | 1 | 12 | 4 | 4 | 0 | 4 | 6 | 3 |
| | TOTALS | 1 | 40 | 14 | 9 | 5 | 7 | 10 | 13 |
More From WDEA Ellsworth Maine