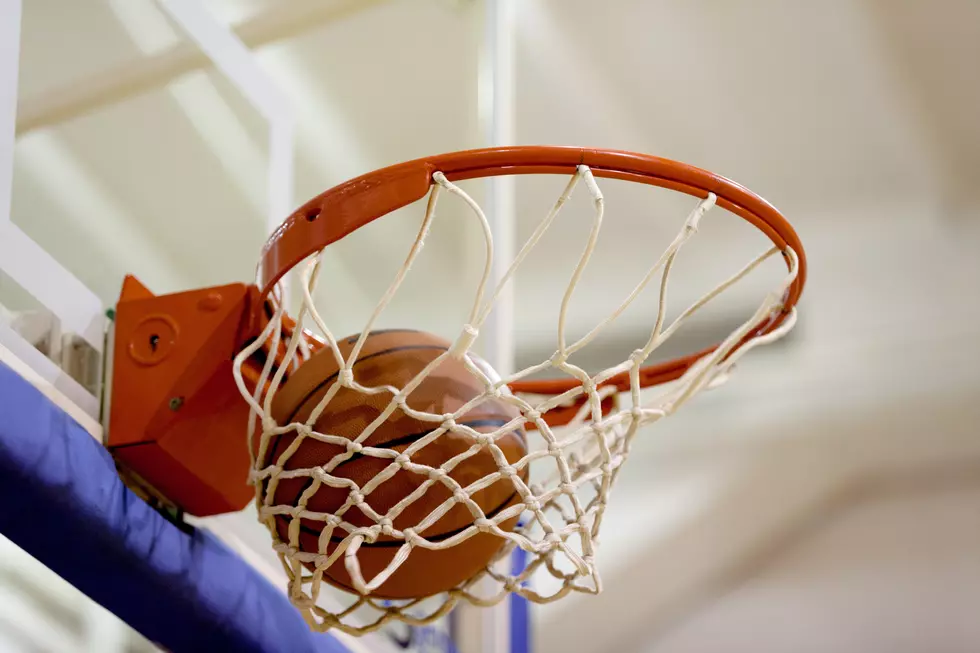 MDI Boys Rebound Past Orono 54-31
Getty Images/iStockphoto
The game couldn't have started more ominously for MDI on Thursday, January 30th as Orono started off on fire sinking 3 3-'s and outrebounding MDI, taking a 13-6 lead. But from there MDI outscored Orono 48-18 to win 54-31 in Orono
In the 1st Quarter Willem Crane, Ellis Spaulding and Jason each hit a 3-pointer and Zack Dill and Javier Santiago each had 2 points for the Red Riots. For MDI Will Hodgdon, Nate Philbrook and Maddox Laurendeau each had 2 points.
In the 2nd Quarter MDI outscored Orono 16-8 to take a 22-21 lead. Cadin Lunt had 6 points for the Trojans with a 3-pointer. Brady Renault had a 3-pointer. Erik Merchant had 3 points and Jack DaCorte and Porter Isaacs chipped in with 2 points each. For Orono Desisto had 6 of Orono's 8 points with Shea Hines having the other 2 points.
In the 3rd Quarter MDI increased their lead outscoring Orono 15-7 to make it 37-28. Nate Philbrook exploded for 10 points for MDI. Hodgdon and Isaacs each added 2 points and DaCorte was 1-2 from the free throw line. For the Red Riots Santiago had 4 points with Crane having 2 points and Jordan Cota 1-2 from the free throw line.
In the 4th Quarter Cadin Lunt had 5 points wiht his 2nd 3-pointer of the game. Isaacs had 4 points. DaCorte, Philbrook, Jeremy French and Grady Wellman-Webster each added 2 points. For the Red Riots Crane had 2 points and Desisto 1 point.
MDI wa led by Nate Philbrook with 14 points while Cadin Lunt had 11 points. The Trojans were 5-9 from the free throw line.
Orono was led by Jason Desisto with 10 points. The Red Riots were 4-6 from the free throw line.
MDI is now 7-9 with 2 games remaining. They are at Hermon on Tuesday February 4th at 7 p.m. and then close out the regular season at home against Ellsworth on Senior Recognition Night on Thursday, February 6th at 7 p.m. Both games will be broadcast on AM 1370 WDEA, on WDEA Internet Radio, on our free downloadable APP and on any Alexa enabled device.
Orono is 6-9 and plays at Houlton on Saturday, February 1st at 5 p.m.
| | | | | | |
| --- | --- | --- | --- | --- | --- |
| | 1 | 2 | 3 | 4 | T |
| MDI Boys | 6 | 16 | 15 | 17 | 54 |
| Orono Boys | 13 | 8 | 7 | 3 | 31 |
| | | | | | | | | | |
| --- | --- | --- | --- | --- | --- | --- | --- | --- | --- |
| # | Name | G | PTS | FGM | 2PM | 3PM | FTM | FTA | PF |
| 10 | Ethan Merchant | 1 | 0 | 0 | 0 | 0 | 0 | 0 | 1 |
| 12 | Brady Renault | 1 | 3 | 1 | 0 | 1 | 0 | 0 | 2 |
| 14 | Cadin Lunt | 1 | 11 | 4 | 2 | 2 | 1 | 1 | 1 |
| 20 | Maddox Laurendeau | 1 | 2 | 0 | 0 | 0 | 2 | 2 | 0 |
| 22 | Jack DaCorte | 1 | 5 | 2 | 2 | 0 | 1 | 2 | 4 |
| 24 | Erik Merchant | 1 | 3 | 1 | 1 | 0 | 1 | 1 | 1 |
| 30 | Charlie Parker | 1 | 0 | 0 | 0 | 0 | 0 | 0 | 1 |
| 34 | Nate Philbrook | 1 | 14 | 7 | 7 | 0 | 0 | 0 | 0 |
| 40 | Jeremy French | 1 | 2 | 1 | 1 | 0 | 0 | 1 | 0 |
| 42 | Grady Wellman-Webster | 1 | 2 | 1 | 1 | 0 | 0 | 0 | 0 |
| 44 | Will Hodgdon | 1 | 4 | 2 | 2 | 0 | 0 | 0 | 0 |
| 54 | Porter Isaacs | 1 | 8 | 4 | 4 | 0 | 0 | 2 | 1 |
| | TOTALS | 1 | 54 | 23 | 20 | 3 | 5 | 9 | 11 |
| | | | | | | | | | |
| --- | --- | --- | --- | --- | --- | --- | --- | --- | --- |
| # | Name | G | PTS | FGM | 2PM | 3PM | FTM | FTA | PF |
| 10 | Matt Tozer | 1 | 0 | 0 | 0 | 0 | 0 | 0 | 1 |
| 12 | Zack Dill | 1 | 2 | 1 | 1 | 0 | 0 | 0 | 2 |
| 14 | Hunter Hews | 1 | 0 | 0 | 0 | 0 | 0 | 0 | 0 |
| 20 | Willem Crane | 1 | 7 | 3 | 2 | 1 | 0 | 0 | 0 |
| 22 | Ellis Spaulding | 1 | 3 | 1 | 0 | 1 | 0 | 0 | 0 |
| 24 | Jason Desisto | 1 | 10 | 4 | 3 | 1 | 1 | 2 | 2 |
| 30 | Javier Santiago | 1 | 6 | 2 | 2 | 0 | 2 | 2 | 2 |
| 34 | Jordan Cota | 1 | 1 | 0 | 0 | 0 | 1 | 2 | 0 |
| 40 | Andrew Melanson | 1 | 0 | 0 | 0 | 0 | 0 | 0 | 0 |
| 44 | Lucas Allen | 1 | 0 | 0 | 0 | 0 | 0 | 0 | 0 |
| 50 | Shea Hines | 1 | 2 | 1 | 1 | 0 | 0 | 0 | 2 |
| | TOTALS | 1 | 31 | 12 | 9 | 3 | 4 | 6 | 9 |
More From WDEA Ellsworth Maine