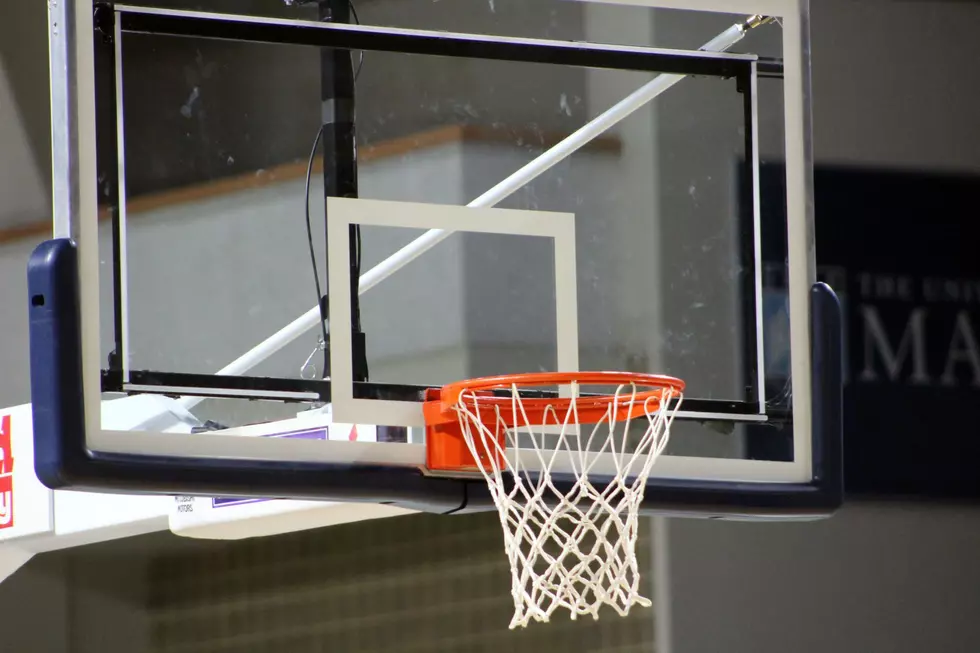 MDI Boys Lose to Washington Academy 61-34 [STATS]
Photo Chris Popper
On a good night, it's a long drive from Bar Harbor to East Machias. On a night when you lose, it's an even longer drive. Unfortunately for the MDI Trojans Boys Basketball Team it was a long, long drive as they lost to Washington Academy 61-34 on Tuesday, February 9th.
Washington Academy came out flying leading 17-10 at the end of the 1st Quarter, and then outscored MDI in the 2nd Quarter 22-6 to take a 39-16 at the end of the 1st Half. In the 3rd Quarter the Raiders increased their lead 51-25.
MDI was led by Porter Isaacs with 13 points while Brady Renault had 11 points. The Trojans sank 2 3-pointers, one by Ethan Merchant, the other by Renault. MDI was 10-15 from the free throw line.
Washington Academy was led by Andon Wood with a game high 22 points while Jax Lin finished with 15 points. The Raiders sank 5 3-pointers; 2 by Evan Ackley, 1 by Lin, 1 by Wood and the other by Ayden Wannemacher. WA was 10-13 from the free throw line.
MDI is back in action on Thursday, February 11th when they play host to Ellsworth with a tip-of of 7 p.m. That game will be broadcast on AM 1370 WDEA, on WDEA Internet Radio, on our free downloadable APP and on any Alexa enabled device. That game will also be live-streamed on the MDI High School NFHS Channel (subscription required)
Line Score
| | | | | | |
| --- | --- | --- | --- | --- | --- |
| | 1 | 2 | 3 | 4 | T |
| MDI Boys | 10 | 6 | 9 | 9 | 34 |
| Washington Academy Boys | 17 | 22 | 12 | 10 | 61 |
Box Score
MDI
| | | | | | | | | | |
| --- | --- | --- | --- | --- | --- | --- | --- | --- | --- |
| # | Name | G | PTS | FGM | 2PM | 3PM | FTM | FTA | PF |
| 10 | Ethan Merchant | 1 | 3 | 1 | 0 | 1 | 0 | 0 | 2 |
| 12 | Joey Minutolo | 1 | 0 | 0 | 0 | 0 | 0 | 0 | 1 |
| 14 | Henry Lester | 1 | 0 | 0 | 0 | 0 | 0 | 0 | 0 |
| 20 | Maddox Laurendeau | 1 | 0 | 0 | 0 | 0 | 0 | 0 | 2 |
| 22 | Brady Renault | 1 | 11 | 3 | 2 | 1 | 4 | 4 | 1 |
| 24 | Grady Wellman-Webster | 1 | 2 | 1 | 1 | 0 | 0 | 0 | 2 |
| 30 | Charlie Parker | 1 | 0 | 0 | 0 | 0 | 0 | 0 | 3 |
| 32 | Walker St. Germain | 1 | 0 | 0 | 0 | 0 | 0 | 1 | 1 |
| 34 | Kadin Reed | 1 | 2 | 1 | 1 | 0 | 0 | 0 | 0 |
| 40 | Spencer Laurendau | 1 | 3 | 1 | 1 | 0 | 1 | 2 | 1 |
| 42 | Tucker James | 1 | 0 | 0 | 0 | 0 | 0 | 0 | 0 |
| 44 | Alex Gray | 1 | 0 | 0 | 0 | 0 | 0 | 2 | 1 |
| 54 | Porter Isaacs | 1 | 13 | 4 | 4 | 0 | 5 | 6 | 0 |
| | TOTALS | 1 | 34 | 11 | 9 | 2 | 10 | 15 | 14 |
Washington Academy
| | | | | | | | | | |
| --- | --- | --- | --- | --- | --- | --- | --- | --- | --- |
| # | Name | G | PTS | FGM | 2PM | 3PM | FTM | FTA | PF |
| 0 | Andon Wood | 1 | 22 | 7 | 6 | 1 | 7 | 8 | 2 |
| 1 | Jax Lin | 1 | 15 | 6 | 5 | 1 | 2 | 3 | 3 |
| 5 | Daniel Huang | 1 | 4 | 2 | 2 | 0 | 0 | 0 | 4 |
| 10 | Ezekiel Olivares | 1 | 0 | 0 | 0 | 0 | 0 | 0 | 2 |
| 12 | Logan Robinson | 1 | 0 | 0 | 0 | 0 | 0 | 0 | 0 |
| 14 | Evan Ackley | 1 | 6 | 2 | 0 | 2 | 0 | 0 | 2 |
| 22 | Cecil Gray | 1 | 9 | 4 | 4 | 0 | 1 | 2 | 4 |
| 23 | Ethan Hicks | 1 | 0 | 0 | 0 | 0 | 0 | 0 | 0 |
| 33 | Dillan Dow | 1 | 0 | 0 | 0 | 0 | 0 | 0 | 0 |
| 34 | Ayden Wannemacher | 1 | 5 | 2 | 1 | 1 | 0 | 0 | 1 |
| 42 | Brandon Porter | 1 | 0 | 0 | 0 | 0 | 0 | 0 | 0 |
| 44 | Logan Lyons | 1 | 0 | 0 | 0 | 0 | 0 | 0 | 0 |
| | TOTALS | 1 | 61 | 23 | 18 | 5 | 10 | 13 | 18 |
More From WDEA Ellsworth Maine