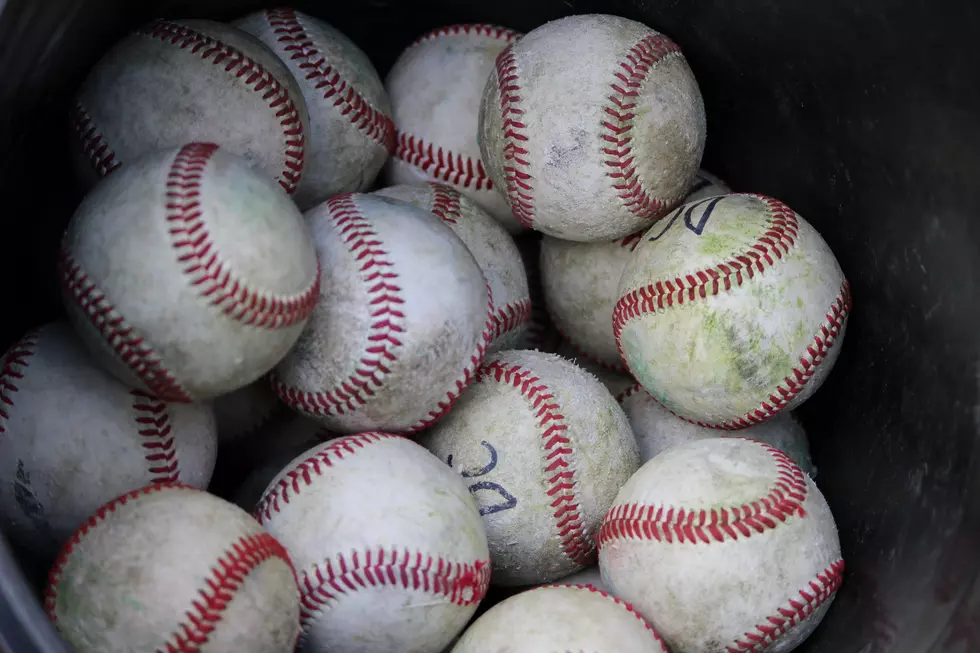 MDI Baseball Season Comes to an End in Old Town Saturday with 7-6 Walk-Off Loss
Photo Chris Popper
The MDI Baseball Team's season came to a heart-wrenching end on Saturday afternoon, in Old Town, when Old Town won 7-6 on a walk-off error in the Class B North semi-finals.
Old Town scored first in the bottom fo the first, when with 2 outs, Tanner Evans homered to left field to put the Coyotes up 1-0.
MDI answered with 4 runs in the top of the 2nd. Grady Wellman-Webster doubled to left field. With 2 out Stevie Gilbert singled scoring Wellman-Webster and advanced to 2nd base of the throw. Aiden Grant singled, scoring Gilbert to make the score 2-1. Jay Haney then tripled to left scoring Grant. Finally Quentin Pileggi singled, scoring Haney to put MDI up 4-1.
In the top of the 3rd inning, Porter Isaacs led off with a double. Wellman-Webster singled, and Isaacs moved to 3rd. Sam Mitchell then singled driving in Isaacs to make the score 5-1
Old Town scored 3 runs in the bottom of the 3rd to make the score 5-4 MDI. Isaac Hayes doubled to start the inning, and Gabe Gifford walked. Matthew Seymour singled to load the bases. Evans than hit a sacrifice fly, scoring Hayes, with Gifford moving to 3rd and Seymour to 2nd base.Casey Downs then singled to score Gifford and Seymour to make the score 5-4
Old Town tied the score 5-5 in the bottom of the 5th inning. Seymour walked with 1 out. With 2 outs Downs singled, scoring Seymour
MDI took the lead in the top of the 6th inning 6-5. Brady Renault started the inning with a walk. Stevie Gilbert grounded out, with Renault advancing to 2nd base. With 2 outs, Jay Haney reached on an error, with Renault scoring to give the Trojans the lead.
The score stayed 6-5 until the bottom of the 7th. Matthew Seymour started the inning with a walk and then with 1 out, Casey Downs reach on an error, moving Seymour to 3rd. Peyton Vose then walked to load the bases. Noah Thibodeau then walked, scoring Seymour to tie the game at 6-6. That brought Seth Haverlock to the plate who hit a ground ball to the 3rd, and reached on an error, with Downs scoring the winning run
For MDI Sam Mitchell started on the mound and went 6.1 innings, allowing 8 hits and 7 runs. He struck out 5 and walked 4. Porter Isaacs was on the mound in the 7th, striking out 1 and walking 1.
For Old Town, Matthew Seymour started and went 3.0 innings allowing 9 hits and 5 runs. He struck out 3. Tanner Evans pitched the final 4 innings, allowing 1 run and no hits. He struck out 2 and walked 1
For MDI Grady Wellman-Webster had a double and single. Jay Haney had a triple. Porter Isaacs had a double. Quentin Pileggi, Sam Mitchell, Brady Renault, Stevie Gilbert and Aidan Grant all had a single.
For Old Town Tanner Evans had a home run and Isaac Hayes had a double. Matt Seymour had 2 singles, as did Casey Downs. Peyton Vose and Seth Haverlock singled.
Old Town the top seed with take on Ellsworth Wednesday night, June 16th at 6:30 at Mansfield Stadium in the Class B North Regional Finals. That game will be broadcast on WDEA Internet Radio, on our free downloadable APP and on any Alexa enabled device starting at 6:15.
More From WDEA Ellsworth Maine