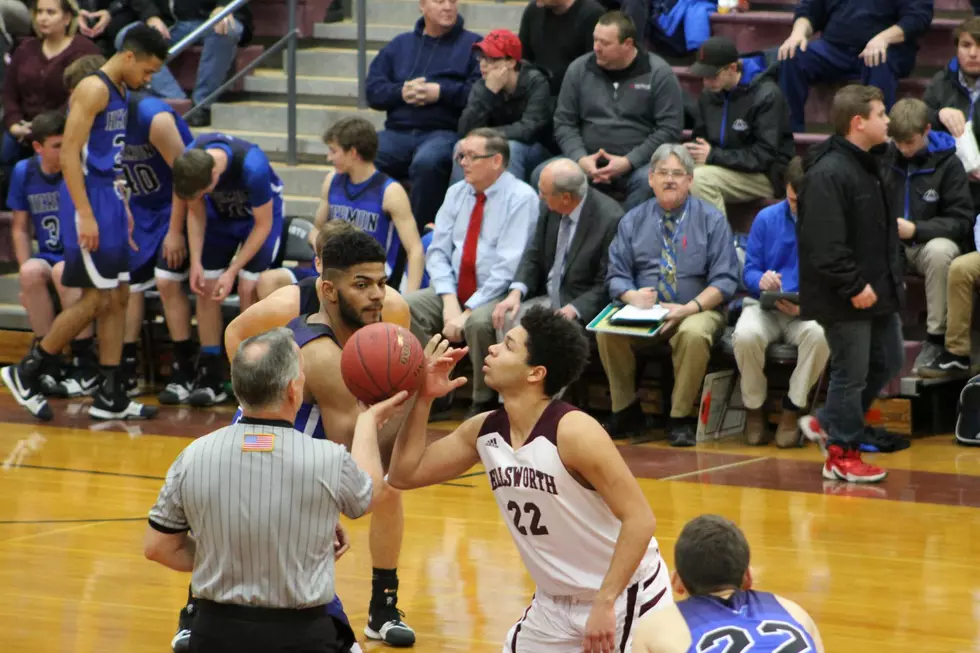 Hawks Ground Eagles 49-24 [BOX SCORE/RECAP/PHOTOS]
Hermon-Ellsworth Boys Basketball Saturday January 6, 2018 Photo Chris Popper
The Ellsworth Eagles Boys Basketball Team fell to the Hermon Hawks on Saturday night, January 6th at Katsiaficas Gymnasium in Ellsworth in their lone regular season meeting.
Ellsworth had a good game plan, try to limit the scoring, keep the game close and hit their outside shots, but Hermon was quick on defense, pressuring Ellsworth's shooters and not letting them have the time to catch and shoot from beyond the 3-point arc. Ellsworth only managed 3 3-pointers in the contest.
Hermon led 11-8 at the end of the 1st Quarter. Jacob Godfrey had 6 points, Isaac Varney a 3-pointer and Jordan Bishop added 2 points for the Hawks. For Ellsworth Zack Harris had 5 points with a 3-pointer and Connor Crawford had a 3-pointer.
Hermon increased their lead to 9 points at the end of the 1st Half, 19-11, as Ellsworth had difficulty getting shots off, and when they did, they didn't fall. Keenan Marseille had 4 points for Hermon, Jordan Bishop 3 points and Godfrey 1 point. For Ellsworth Dylan Taplin had 2 points and Javon Williams was 1-2 from the free throw line.
Ellsworth had a chance to close the lead to single digits at the end of the 3rd but was unable, and Hermon led 27-17 after 3 Quarters. Williams, Jackson Curtis and Harris all had 2 points for Ellsworth while Bishop was 4-4 from the free throw line for Hermon and Godfrey and Marseille added 2 points each.
In the 4th Quarter Hermon was finally able to run the court, with Godfrey having 6 points, including 2 big dunks. Kent Johnson had 5 points with a 3-pointer, Marseille sank a 3-pointer and Tyler Hawes, Garrett Trask and Connor Patten each chipping in 2 points.
Ellsworth was led by Zach Harris with 12 points. The Eagles were 5-7 from the free throw line.
Hermon was led by Jacob Godfrey with a game high 15 points and Keenan Marseille and Jordan Bishop each had 9 points. Hermon was 6-8 from the free throw line.
Hermon, undefeated at 7-0 plays host to John Bapst on Tuesday, January 9th at 7 PM.
| | | | | | |
| --- | --- | --- | --- | --- | --- |
| | 1 | 2 | 3 | 4 | T |
| Hermon Hawks Boys | 11 | 8 | 8 | 22 | 49 |
| Ellsworth Boys | 8 | 3 | 6 | 7 | 24 |
| | | | | | | | | | |
| --- | --- | --- | --- | --- | --- | --- | --- | --- | --- |
| # | Name | G | FGM | 2PM | 3PM | FTM | FTA | PF | PTS |
| 4 | Jacob Godfrey | 1 | 7 | 7 | 0 | 1 | 2 | 2 | 15 |
| 10 | Kent Johnson | 1 | 2 | 1 | 1 | 0 | 0 | 0 | 5 |
| 14 | Wyatt Michaud | 1 | 0 | 0 | 0 | 0 | 0 | 1 | 0 |
| 20 | Tyler Hawes | 1 | 1 | 1 | 0 | 0 | 0 | 0 | 2 |
| 22 | Cody Hawes | 1 | 0 | 0 | 0 | 0 | 0 | 3 | 0 |
| 23 | Keenan Marseille | 1 | 4 | 3 | 1 | 0 | 0 | 1 | 9 |
| 24 | Wyatt Gogan | 1 | 0 | 0 | 0 | 0 | 0 | 0 | 0 |
| 30 | Isaac Varney | 1 | 1 | 0 | 1 | 0 | 0 | 4 | 3 |
| 32 | Jordan Bishop | 1 | 2 | 2 | 0 | 5 | 5 | 1 | 9 |
| 33 | Garret Trask | 1 | 1 | 1 | 0 | 0 | 0 | 1 | 2 |
| 34 | Joel Bergeron | 1 | 0 | 0 | 0 | 0 | 0 | 1 | 0 |
| 40 | Dylan Leighton | 1 | 0 | 0 | 0 | 0 | 0 | 0 | 0 |
| 44 | Eli Reed | 1 | 1 | 1 | 0 | 0 | 0 | 0 | 2 |
| 50 | Connor Patten | 1 | 1 | 1 | 0 | 0 | 1 | 0 | 2 |
| 54 | Zach Tubbs | 1 | 0 | 0 | 0 | 0 | 0 | 0 | 0 |
| | TOTALS | 1 | 20 | 17 | 3 | 6 | 8 | 14 | 49 |
| | | | | | | | | | |
| --- | --- | --- | --- | --- | --- | --- | --- | --- | --- |
| # | Name | G | FGM | 2PM | 3PM | FTM | FTA | PF | PTS |
| 3 | Devin Grindle | 1 | 0 | 0 | 0 | 0 | 0 | 1 | 0 |
| 4 | Bradly Smith | 1 | 0 | 0 | 0 | 0 | 0 | 0 | 0 |
| 5 | Dylan Taplin | 1 | 1 | 1 | 0 | 0 | 0 | 2 | 2 |
| 10 | Zach Harris | 1 | 4 | 2 | 2 | 2 | 2 | 0 | 12 |
| 11 | Austin Harris | 1 | 0 | 0 | 0 | 2 | 3 | 0 | 2 |
| 12 | Sam Giffin | 1 | 0 | 0 | 0 | 0 | 0 | 3 | 0 |
| 15 | Andrew McCullough | 1 | 0 | 0 | 0 | 0 | 0 | 1 | 0 |
| 20 | Darby Barry | 1 | 0 | 0 | 0 | 0 | 0 | 0 | 0 |
| 21 | Jared Hamilton | 1 | 0 | 0 | 0 | 0 | 0 | 0 | 0 |
| 22 | Javon Williams | 1 | 1 | 1 | 0 | 1 | 2 | 3 | 3 |
| 23 | Connor Crawford | 1 | 1 | 0 | 1 | 0 | 0 | 1 | 3 |
| 32 | Jackson Curtis | 1 | 1 | 1 | 0 | 0 | 0 | 1 | 2 |
| 33 | Damian Carter | 1 | 0 | 0 | 0 | 0 | 0 | 0 | 0 |
| | TOTALS | 1 | 8 | 5 | 3 | 5 | 7 | 12 | 24 |
More From WDEA Ellsworth Maine