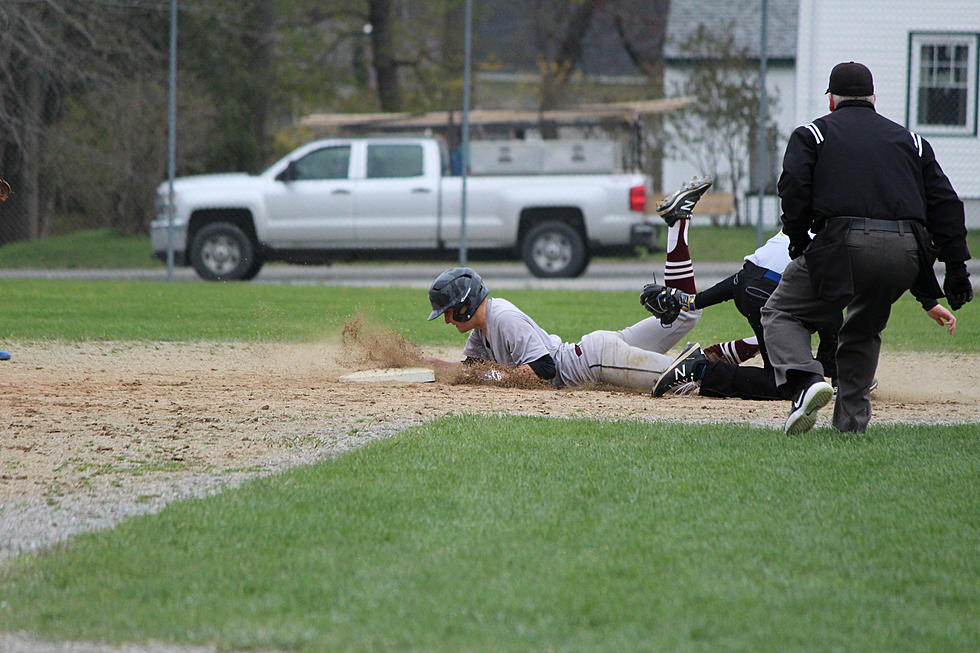 Ellsworth's Curtis No-Hits Hermon, Ellsworth Wins 9-1 [PHOTOS]
Ellsworth-Hermon Baseball May 8, 2021 Photo Chris Popper
Ellsworth's Hunter Curtis threw a no-hitter Saturday afternoon and the Ellsworth Eagles beat the Hermon Hawks in Ellsworth 9-1.
Ellsworth-Hermon Baseball May 8, 2021
Only 2 Hawks reached base all afternoon, 1 via a walk in the 1st inning, and then 1 via an error in the 6th inning. Curtis faced only 23 batters, striking out 5 and walking 1.
After Hermon took a 1-0 lead in the top of the 1st, when Parker Foley, walked, advanced to 2nd on a wild pitch and scored on an error, Ellsworth scored 3 runs in the bottom of the 1st. Brett Bragdon started the inning with a walk, and then David Baugh and Hunter Curtis singled. Peter Keblinsky cleared the bases with a double to make it 3-1.
Ellsworth added a run in the bottom of the 3rd, 2 runs in the bottom of the 4th and 3 runs in the bottom of the 6th inning.
Ellsworth had 11 hits on the cold afternoon. David Baugh had 3 singles. Nathan Smith had a double and 2 singles. Hunter Curtis had 2 singles. Peter Keblinsky had a double and single. Craig Burnett had a single
Eli Reed started for Hermon, going 4 innings before Daniel England came on in relief for the final 2 innings.
Ellsworth is now 5-2 and will host MDI on Tuesday, May 11th at 4 p.m.
Hermon is 3-3 and plays at Foxcroft Academy on Tuesday, May 11th.
More From WDEA Ellsworth Maine