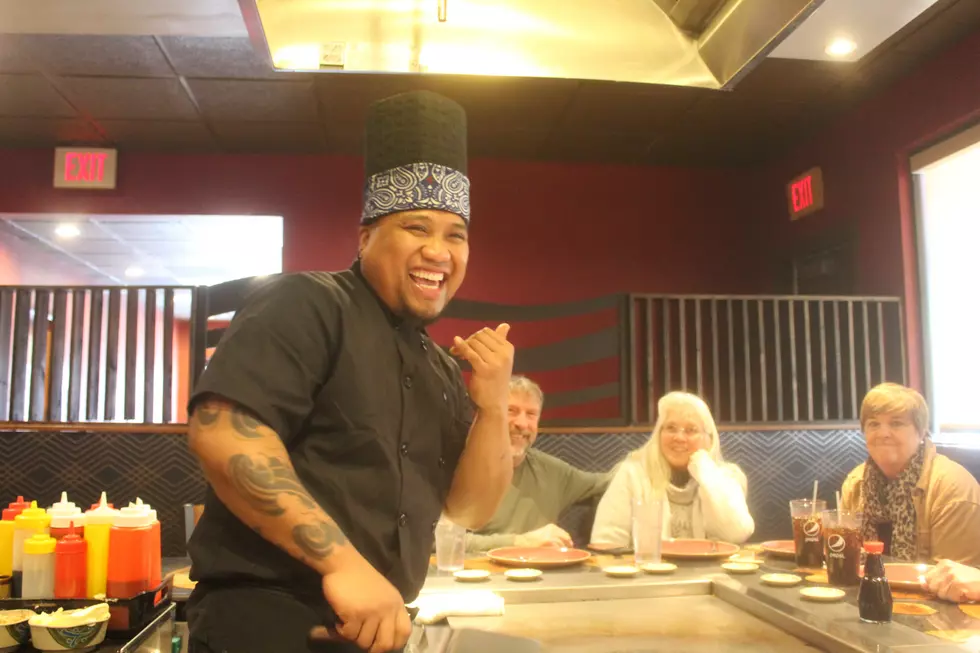 Ellsworth's Crazy Sumo Opens January 23 [PHOTOS]
Crazy Sumo January 22, 2023 Photo Chris Popper
Crazy Sumo, opens to the public in the old Denny's in Ellsworth on Monday January 23rd! We were invited in for a sneak peek and meal on Sunday, and it was delicious!
The change in the restaurant from Denny's to Crazy Sumo is extensive! We sat at 1 of the 6 hibachi grill tabletops. Each one seats 10 and Chef Happy put on a show! If you're going to sit at a hibachi grill plan on a hour and fifteen minutes from start to finish, but we were laughing and eating the entire time!
The hibachi meal includes miso soup, salad, 2 shrimp cooked on the hibachi grill, fried rice, vegetables and noodles. The rice, vegetables, noodles and whatever you order for a protein is prepared in front of you!
There is a full bar. For those not wanting to eat with others, there is 1 whole side devoted to tables with food prepared in the kitchen.
At the hibachi tables expect lots of flames, lots of jokes and laughing, flying food and sake being squirted at you!
Crazy Sumo will be open Monday-Thursday 11 a.m.-2:30 p.m. and 4:30 to 9 p.m. Fridays they will be open 11 a.m. to 2:30 p.m. and 4:30 to 10 p.m. Saturdays they will be open 11 a.m. to 10 p.m. and Sundays they will be open 11 a.m. to 8 p.m.
And in case anyone is wondering, we paid for our meals
Crazy Sumo
Crazy Sumo on High Street in Ellsworth is opening to the public on January 23rd. Check out photos from our dining experience the day before it officially opened.
More From WDEA Ellsworth Maine