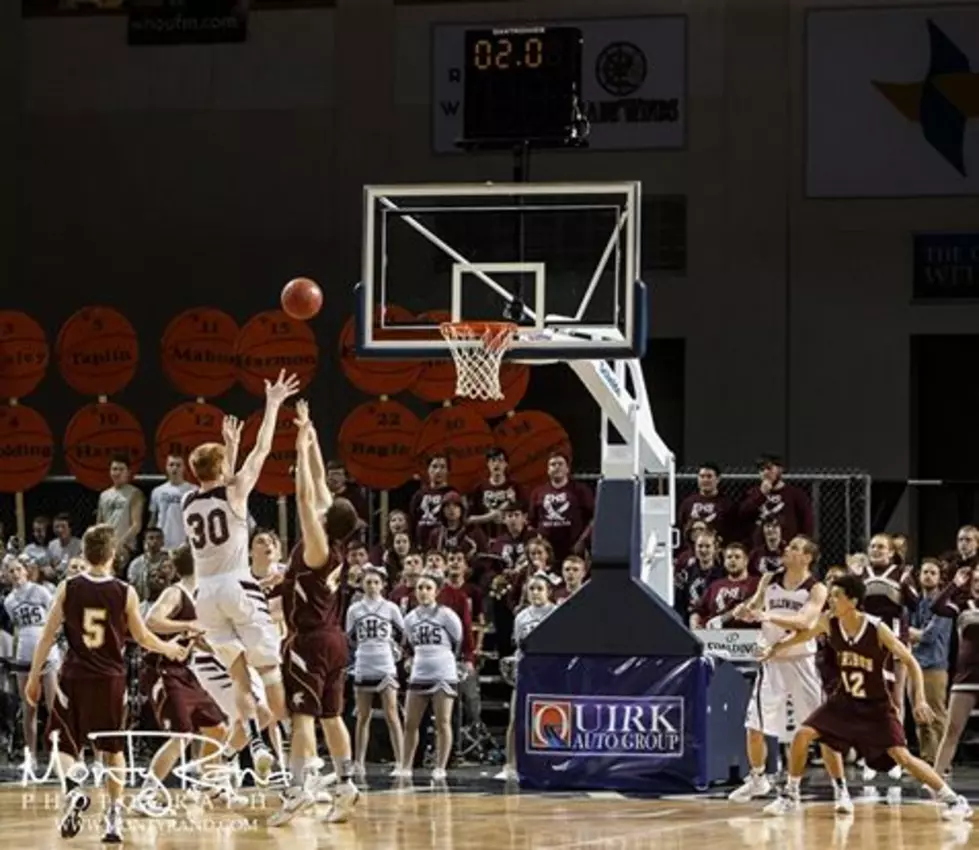 Ellsworth Wins In Overtime 42-40 [VIDEO]
Photo Courtesy Monty J. Rand
The Ellsworth Eagles defeated the Caribou Vikings 42-40 in overtime on Wednesday, February 17th, and will now play Orono in the Class B North Finals on Saturday, February 20th at approximately 3:40 in a game that will be broadcast on AM 1370 and WDEA Internet Radio.
Here's the audio of the game tying shot and the winning shot
The game never would have gone to overtime without some very heady moves in the 4th Quarter. Nick Bagley set his feet and allowed Caribou's Donovan Savage to charge into him, and an offensive foul was called on Savage. Bruce St. Peter missed two free throws in the final minutes of regulation, but thanks to a Caribou playing stepping over the line, he was able to take another free throw and sank it. Then there was Bryce Harmon's game tying 3 point shot from just over half court with 1.3 second left!
Then the winning shot by Bruce St. Peter with the lone basket in overtime!
Caribou had a 6-5 lead after the 1st Quarter as they played deliberately. Donovan Savage had 4 points and Gabe Massey had 2 points for the Vikings. Nick Bagley scored all of Ellsworth's points, including a 3-pointer.
Ellsworth had a 17-16 lead at the half. Bryce Harmon had a 3-pointer, Bagley had another 3-pointer and Kyle Golding, Bruce St. Peter and Cooper Henderson each had 2 points for the Eagles. For the Vikings, Savage had 4 points and Andre Rossingol, Nicholas Allen and Austin Findlen each had 2 points.
Ellsworth extended their lead to 27-21 in the 3rd Quarter. Bagley had 2 more 3-pointers for 6 points, and Harmon and St. Peter each had 2 points for the Eagles. For Caribou, Rossignol and Allen each had 2 points and Savage had 1 point.
In the 4th Quarter Caribou outscored Ellsworth 19-13 before Harmon's heroics at the buzzer. Savage had 9 points for Caribou, Ricky Sheldon had 6 points and Allen and Massey had 2 points for the Vikings. For Ellsworth, Golding had 6 points, going 4-4 from the free throw line, St. Peter had 4 points and Harmon had the game tying 3-pointer.
In the overtime period, Bruce St. Peter had the lone basket, to propel Ellsworth to the finals on Saturday against Orono.
For Ellsworth, they were led by Nick Bagley with 14 points while Bruce St. Peter had 10 points and Bryce Harmon had 8 points. The Eagles were 8-10 from the free throw line.
Caribou was led by Donovan Savage with a game high 18 points while Richard Sheldon and Nicholas Allen each had 6 points. The Vikings were 7-8 from the free throw line.
| | | | | | | |
| --- | --- | --- | --- | --- | --- | --- |
| |    1 |    2 |    3 |    4 | OT1 | T |
| Caribou Vikings Boys | 6 | 10 | 5 | 19 | 0 | 40 |
| Ellsworth Boys | 5 | 12 | 10 | 13 | 2 | 42 |
| | | | | | | | | |
| --- | --- | --- | --- | --- | --- | --- | --- | --- |
| # | Name | FGM | 2PM | 3PM | FTM | FTA | PF | PTS |
| 5 | Donovan Savage | 5 | 4 | 1 | 7 | 8 | 0 | 18 |
| 10 | Andre Rossignol | 2 | 2 | 0 | 0 | 0 | 2 | 4 |
| 12 | Nicholas Allen | 3 | 3 | 0 | 0 | 0 | 1 | 6 |
| 20 | Caleb Trombley | 0 | 0 | 0 | 0 | 0 | 0 | 0 |
| 22 | Bailey Griffeth | 0 | 0 | 0 | 0 | 0 | 0 | 0 |
| 24 | Zach Wright | 0 | 0 | 0 | 0 | 0 | 0 | 0 |
| 30 | Jordan Bevins | 0 | 0 | 0 | 0 | 0 | 0 | 0 |
| 32 | Gabe Massey | 2 | 2 | 0 | 0 | 0 | 1 | 4 |
| 34 | Austin Findlen | 1 | 1 | 0 | 0 | 0 | 2 | 2 |
| 40 | Brandon Manter | 0 | 0 | 0 | 0 | 0 | 0 | 0 |
| 42 | Richard Sheldon | 3 | 3 | 0 | 0 | 0 | 1 | 6 |
| 52 | Gunnar Bondeson | 0 | 0 | 0 | 0 | 0 | 2 | 0 |
| | TEAM | 0 | 0 | 0 | 0 | 0 | 0 | 0 |
| | TOTALS | 16 | 15 | 1 | 7 | 8 | 9 | 40 |
| | | | | | | | | |
| | | | | | | | | |
| --- | --- | --- | --- | --- | --- | --- | --- | --- |
| # | Name | FGM | 2PM | 3PM | FTM | FTA | PF | PTS |
| 3 | Alex Braley | 0 | 0 | 0 | 0 | 0 | 0 | 0 |
| 4 | Kyle Golding | 1 | 1 | 0 | 6 | 6 | 0 | 8 |
| 5 | Dylan Taplin | 0 | 0 | 0 | 0 | 0 | 0 | 0 |
| 10 | Zac Harris | 0 | 0 | 0 | 0 | 0 | 2 | 0 |
| 11 | Trent Mahon | 0 | 0 | 0 | 0 | 0 | 0 | 0 |
| 12 | Jared Brown | 0 | 0 | 0 | 0 | 0 | 0 | 0 |
| 15 | Bryce Harmon | 3 | 1 | 2 | 0 | 0 | 4 | 8 |
| 20 | Aaron Boumil | 0 | 0 | 0 | 0 | 0 | 0 | 0 |
| 21 | Jared Hamilton | 0 | 0 | 0 | 0 | 0 | 0 | 0 |
| 22 | Nick Bagley | 5 | 1 | 4 | 0 | 0 | 2 | 14 |
| 23 | Charlie Libbey | 0 | 0 | 0 | 0 | 0 | 0 | 0 |
| 30 | Bruce St.Peter | 4 | 4 | 0 | 2 | 4 | 0 | 10 |
| 32 | Dylan Kelley | 0 | 0 | 0 | 0 | 0 | 0 | 0 |
| 34 | Cooper Henderson | 1 | 1 | 0 | 0 | 0 | 4 | 2 |
| | TEAM | 0 | 0 | 0 | 0 | 0 | 0 | 0 |
| | TOTALS | 14 | 8 | 6 | 8 | 10 | 12 | 42 |
| | | | | | | | | |
More From WDEA Ellsworth Maine