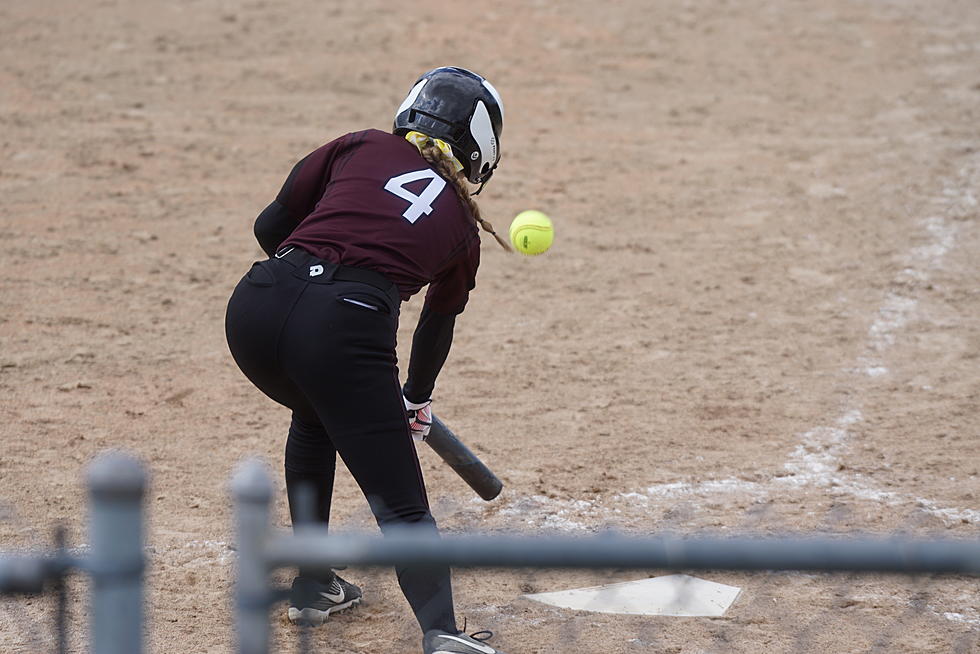 Ellsworth Softball Sweeps Presque Isle 9-0 and 7-5 [PHOTOS]
Ellsworth-Presque Isle Doubleheder April 22, 2022 Photo Chris Popper
The Ellsworth Eagles Softball Team swept Presque Isle on a blustery cold day, 9-0 and 7-5 to start the 2022 regular season.
In Game 1 Tyler Hellum 1 hit the Wildcats, throwing a complete game. She allowed just 1 walk while striking out 9.
Morgan House pitched a complete  7 inning game for the Wildcats. She allowed  9 hits, 8 walks and struck out 3.
Batting stars for Ellsworth - Tyler Hellum - Single and Double. Alex Bivins had 2 Singles and Sophia Lynch had a Single and drove in 3 runs.
Emily Straetz had Presque Isle's lone hit.
In Game 2  Hannah Wagstaff started in the circle for Ellsworth. She went 5.1 innings, allowing 3 hits, striking out 4 and walked 2. Tyler Hellum finished the game pitching the final 1.2 innings, walking 1 and striking out 2.
Morgan Duhaime, Tyler Hellum, and Alicia Havey all had a single and Sophia Lynch had a RBI for the Eagles.
For Presque Isle Kane had 2 singles, Myah Bragdon 1 single and a RBI
Emily Straetz pitched 4 innings for the Wildcats allowing 3 hits and walked 12. Morgan House pitched the final 3 innings and didn't allow a hit while walking 1.
Ellsworth is 2-0. They will play John Bapst on Tuesday, April 26th at 4:30 p.m.
Presque Isle is 0-2. They play at Fort Kent on Wednesday, April 27th at 4:15 p.m.
Check out photos from Game 2
Ellsworth-Presque Isle Softball
The Ellsworth Eagles opened the 2022 season hosting a doubleheader with the Presque Isle Wildcats
More From WDEA Ellsworth Maine