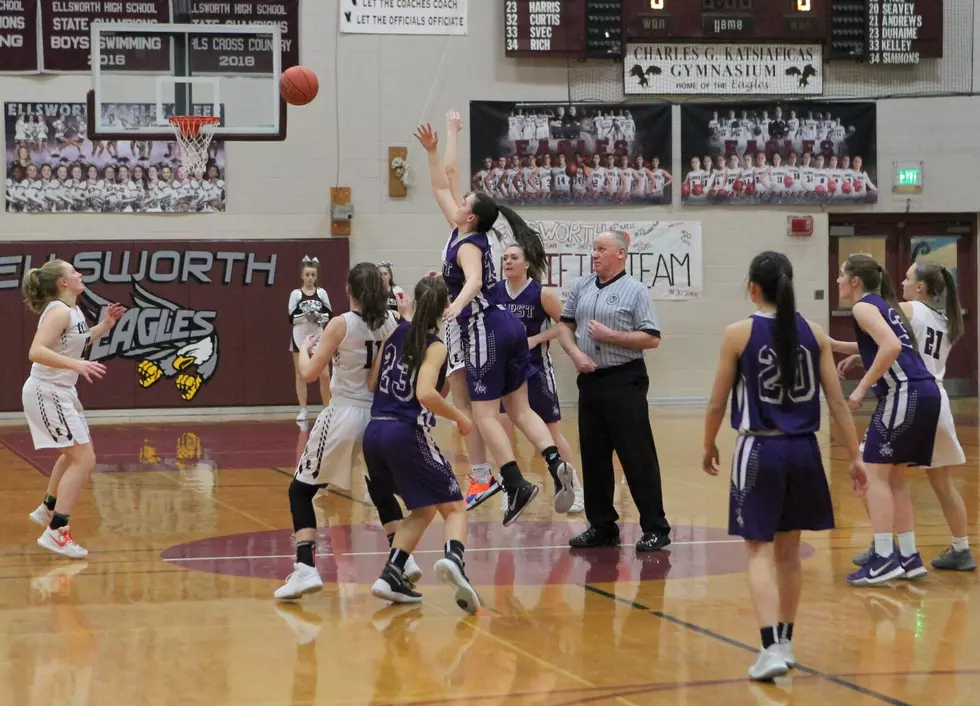 Ellsworth Girls Upset by John Bapst 34-27 In Class B North Prelim Game [PHOTOS]
Ellsworth-John Bapst Girls Northern Maine Prelim Game February 12, 2019 Photo Walter Churchill
The Ellsworth Girls Basketball Team's season came to an end on Tuesday, February 12th, after they lost to John Bapst 34-27 in a Class B North Prelim Game, played at Katsiaficas Gymnasium in Ellsworth.
The Ellsworth Girl's shooting was as cold as the North wind, and John Bapst jumped out to a 11-2 lead in the 1st Quarter. Ellsworth didn't score until there 3:04 left in the 1st Quarter, when Kayla Duhaime scored. John Bapst received 5 points from Lacey Scanlon with a 3-pointer, and 2 points each from Jamey Satterfield, Tiana Cyr and Sydney Ellis.
The lead was still 9 points at the end of the 2nd Quarter, 19-9. In the 2nd Quarter Samantha Carter had a 3-pointer for Ellsworth, Sara Shea had 2 points and Trinity Montigny was 2-4 from the free throw line, while Sierra Andrews was 1-2. For the Crusaders Cyr had 4 points, Jayda Smith a 3-pointer and Lacey Scanlon was 1-3 from the free throw line.
The lead was 11 points at the end of the 3rd Quarter, 27-16, as John Bapst outscored Ellsworth 9-6. For Elllsworth Montigny had 4 points while Kylie Robidoux was 1-2 from the free throw line and Samantha Carter was 1-1. For John Bapst Tiana Cyr and Lacey Scanlon each had a 3-pointer and Adelaide Valley had 2 points.
In the 4th Quarter, Ellsworth chipped away at the lead, but could never get closer than 7 points. Montigny had 5 points with a 3-pointer. Sara Shea had a 3-pointer. Kylie Robidoux had 2 points before fouling out and Jocelyn Jordan was 1-2 from the free throw line.  Doe John Bapst Jayda Smith had 4 points and Tiana Cyr had 3 points
Ellsworth was led by Trinity Montigny with 11 points while Sara Shea had 5 points. The Eagles were 6-12 from the free throw line.
John Bapst was led by Tiana Cyr with a game high 12 points while Lacey Scanlon had 9 points. The Crusaders were 2-12 from the free throw line.
Ellsworth's season comes to an end with a final record of 13-6
John Bapst advances to the Cross Insurance Center with a record of 7-12 and will play undefeated Waterville on Friday night, February 15th at 8PM. Waterville defeated John Bapst twice previously this season.
Thanks to Walter Churchill for the photos.
| | | | | | |
| --- | --- | --- | --- | --- | --- |
| | 1 | 2 | 3 | 4 | T |
| John Bapst Crusaders Girls | 11 | 8 | 8 | 7 | 34 |
| Ellsworth Girls 2018-19 | 2 | 8 | 6 | 11 | 27 |
| | | | | | | | | | |
| --- | --- | --- | --- | --- | --- | --- | --- | --- | --- |
| # | Name | G | PTS | FGM | 2PM | 3PM | FTM | FTA | PF |
| 4 | Kate Harriman | 1 | 0 | 0 | 0 | 0 | 0 | 0 | 0 |
| 5 | Savannah Libby | 1 | 0 | 0 | 0 | 0 | 0 | 0 | 0 |
| 10 | Jamey Satterfield | 1 | 2 | 1 | 1 | 0 | 0 | 0 | 0 |
| 12 | Olivia Harriman | 1 | 0 | 0 | 0 | 0 | 0 | 0 | 0 |
| 14 | Jamie McQuarrie | 1 | 0 | 0 | 0 | 0 | 0 | 0 | 0 |
| 20 | Tiana Cyr | 1 | 12 | 5 | 4 | 1 | 1 | 7 | 2 |
| 22 | Sydney Ellis | 1 | 2 | 1 | 1 | 0 | 0 | 0 | 2 |
| 23 | Adelaide Valley | 1 | 2 | 1 | 1 | 0 | 0 | 1 | 1 |
| 24 | Jayda Smith | 1 | 7 | 3 | 2 | 1 | 0 | 1 | 3 |
| 30 | Asia Dube | 1 | 0 | 0 | 0 | 0 | 0 | 0 | 0 |
| 32 | Brogan Prince | 1 | 0 | 0 | 0 | 0 | 0 | 0 | 0 |
| 33 | Emily Mock | 1 | 0 | 0 | 0 | 0 | 0 | 0 | 1 |
| 34 | Lacey Scanlon | 1 | 9 | 3 | 1 | 2 | 1 | 3 | 3 |
| 40 | Kendra Fournier | 1 | 0 | 0 | 0 | 0 | 0 | 0 | 0 |
| | TOTALS | 1 | 34 | 14 | 10 | 4 | 2 | 12 | 12 |
| | | | | | | | | | |
| --- | --- | --- | --- | --- | --- | --- | --- | --- | --- |
| # | Name | G | PTS | FGM | 2PM | 3PM | FTM | FTA | PF |
| 3 | Ella Hubbard | 1 | 0 | 0 | 0 | 0 | 0 | 0 | 0 |
| 4 | Kylie Robidoux | 1 | 3 | 1 | 1 | 0 | 1 | 3 | 5 |
| 5 | Jocelyn Jordan | 1 | 1 | 0 | 0 | 0 | 1 | 2 | 0 |
| 10 | Samantha Higgins | 1 | 0 | 0 | 0 | 0 | 0 | 0 | 0 |
| 11 | Trinity Montigny | 1 | 11 | 4 | 3 | 1 | 2 | 4 | 4 |
| 12 | Sara Shea | 1 | 5 | 2 | 1 | 1 | 0 | 0 | 1 |
| 14 | Samantha Carter | 1 | 4 | 1 | 0 | 1 | 1 | 1 | 2 |
| 15 | Autumn Paul | 1 | 0 | 0 | 0 | 0 | 0 | 0 | 0 |
| 20 | Adreanna  Seavey | 1 | 0 | 0 | 0 | 0 | 0 | 0 | 0 |
| 21 | Sierra Andrews | 1 | 1 | 0 | 0 | 0 | 1 | 2 | 2 |
| 23 | Kayla Duhaime | 1 | 2 | 1 | 1 | 0 | 0 | 0 | 1 |
| 30 | Amber Rae Pesek | 1 | 0 | 0 | 0 | 0 | 0 | 0 | 0 |
| 33 | Alicia Kelley | 1 | 0 | 0 | 0 | 0 | 0 | 0 | 3 |
| 34 | Samantha Simmons | 1 | 0 | 0 | 0 | 0 | 0 | 0 | 0 |
| | TOTALS | 1 | 27 | 9 | 6 | 3 | 6 | 12 | 18 |
More From WDEA Ellsworth Maine