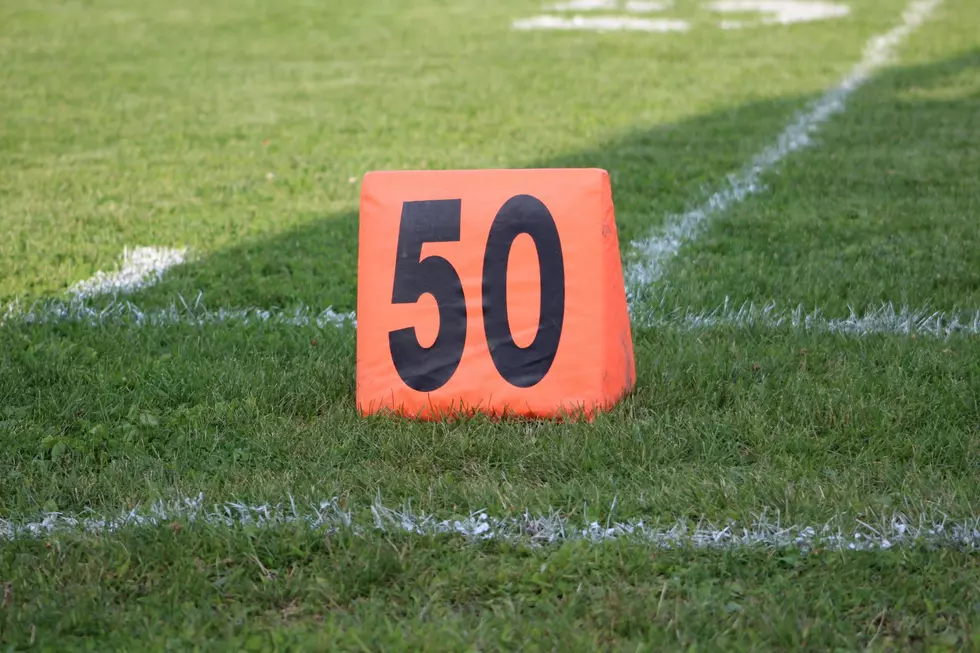 Ellsworth Football Stats from 52-30 Loss to Mattanawcook Academy on Friday
Photo Chris Popper
The Ellsworth Eagles lost to the Mattanawcook Academy Lynx 52-30 on Friday, September 22nd, although they led at the end of the 1st Half 22-12.
Thanks to having the HUDL stats forwarded we can share them with you.
Ellsworth ran a total of 70 plays as opposed to Mattanawcook Academy.'s 62 plays from the line of scrimmage.
Ellsworth outgained Mattanawcook Academy in the air 186 to 3 yards, but the Lynx outgained Ellsworth on the ground 372 to 104 yards.
The Eagles gained 15 1st Downs, while the Lynx had 20.
Ellsworth turned the ball over 4 times, compared to Mattanawcook Academy's 2 turnovers.
Ellsworth's Offensive Stats
Passing
Thomas Jude 12-21 162 yards, 2 Touchdowns, 1 Interception
Oliver Wood 1-1 17 yards
W. Renwick 1-2 7 yards, 1 interception
Rushing
Mason Grindle 1 carry, 55 yards, 1 Touchdown
Dan Carter 13 carries 26 yards
Cameron Conners 8 carries 23 yards
Oliver Wood 3 carries 10 yards
Riley Duhaime 6 carries 7 yards
Thomas Jude 6 carries Minus 6 yards
W. Renwick 1 carry Minus 11 yards
Receiving
Isiah Corson 5 receptions 98 yards 2 Touchdowns
Dan Carter 5 receptions 44 yards
Andy Herrick 3 receptions 27 yards
Tyler Parson 1 receptions 17 yards
Defensive Stats
Riley Duhaime 10 tackles, 1 assist
Carmeron Coners 6 tackles, 7 assists, 1 fumble recovery
Thomas Jude 5 tackles, 5 assists
Reese Carter 5 tackles, 3 assists
Andy Herrick 2 tackles, 1 assist
Isiah Corson 2 tackles, 2 assists, 1 fumble recovery
Tyler Parsons 2 tackles
Dylan Kerns 1 tackle 4 assists
Mason Grindle 1 tackle
Ryan Gross 1 tackle
Dawson Hunt 1 tackle
Eli King 1 assist
Ellsworth Scoring
1st Quarter Cameron Conners 5 yard Touchdown run, 2 point conversion failed
2nd Quarter Isiah Corson on a 5 yard pass from Thomas Jude. The 2-point conversion was good as Corson caught Jude's pass
2nd Quarter Isiah Corson on a 25 yard pass from Thomas Jude. The 2-point conversion was good as Dan Carter caught Jude's pass.
4th Quarter Mason Grindle ran in for a 55 yard touchdown. He then ran in for the 2-point conversion.
Ellsworth is home this Friday, September 29th when they will play Stearns, with the kickoff at 7 p.m.
More From WDEA Ellsworth Maine