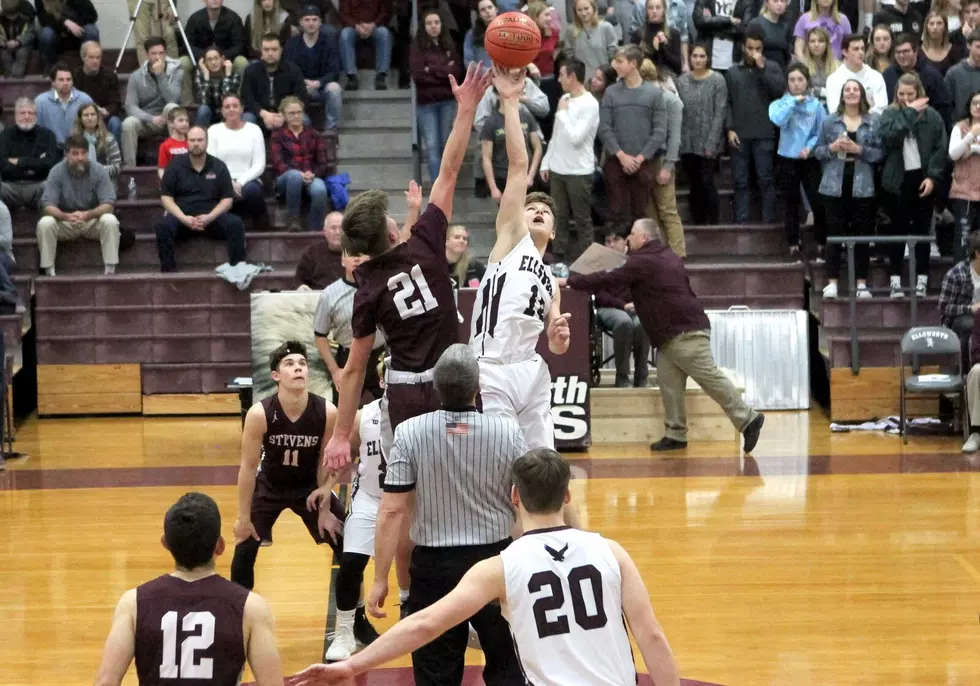 Ellsworth Boys Defeat GSA 65-36 [PHOTOS]
Ellsworth-GSA Boys Basketball December 14, 2018 Photo Walter Churchill
For the 1st time since the Ellsworth Boys Basketball Team went to the State Finals in 2015-16, the Ellsworth Boys defeated GSA, winning handily 65-36 on Friday, December 14th at Katsiaficas Gymnasium in Ellsworth.
Ellsworth jumped out to a 15--7 lead in the 1st Quarter. Hunter Curtis and Jackson Curtis paced Ellsworth with 6 points each and Darby Barry drained a 3-pointer. For GSA Percy Zent had 3 points and Andrew Swez and Isaac Wardwell each had 2 points.
In the 2nd Quarter, Ellsworth had a 10 point lead, but GSA fought back and brought the lead down to 3 points, but that would be the closest they would get the rest of the night, as Ellsworth outscored GSA 16-14 to take a 31-21 lead at the Half. Barry had 7 points for Ellsworth, including another 3-pointer. Jackson Curtis had 5 points, while Hunter Curtis and Norman Jodrey each chipped in with 2 points.  For GSA Zentz had 7 points, going 5-7 from the free throw line. Caden Mattson had 5 points including a 3-pointer and Michael Moon was 2-2 from the free throw line.
In the 3rd Quarter Ellsworth outscored GSA 19-13 to take a 50-34 lead. Barry had 8 points including his 3rd and 4th 3-pointer of the night. Jackson Curtis had 6 points and Hunter Curtis had 5 points including a 3-pointer. GSA was paced by Zentz with 4 points and Mattson had another 3-pointer. Eric Mote, Isaac Wardwell and Andrew Swez each added 2 points.
In the 4th Quarter, Ellsworth limited GSA to just 2 points, while scoring 15. Brett Bragdon scored his first Varsity points, draining 2 3-pointers for 6 points. Jackson Curtis had 4 points, Connor Crawford a 3-pointer and Devin Grindle 2 points. GSA's lone points came from Michael Moon.
Ellsworth was led by Jackson Curtis with 21 points. Darby Barry had 18 points on the strength of 4 3's, and Hunter Curtis had 13 points. Ellsworth was 5-7 from the free throw line
GSA was led by Percy Zentz with 14 points. GSA was 10-13 from the free throw line.
Ellsworth now 2-1 is off until Saturday, December 22nd when they will play host to Belfast at 2:30 in a game that will be broadcast on AM 1370 WDEA, on WDEA Internet Radio, on our free downloadable APP and on any Alexa enabled device.
GSA now 2-1, plays host to Bucksport on Tuesday, December 18th at 7PM.
Thanks to Walter Churchill for the photos!
| | | | | | |
| --- | --- | --- | --- | --- | --- |
| | 1 | 2 | 3 | 4 | T |
| George Stevens Academy Boys | 7 | 14 | 13 | 2 | 36 |
| Ellsworth Boys | 15 | 16 | 19 | 15 | 65 |
| | | | | | | | | | |
| --- | --- | --- | --- | --- | --- | --- | --- | --- | --- |
| | | | | | | | | | |
| # | Name | G | PTS | FGM | 2PM | 3PM | FTM | FTA | PF |
| 3 | Michael Moon | 1 | 4 | 1 | 1 | 0 | 2 | 2 | 1 |
| 5 | Austin Snow | 1 | 0 | 0 | 0 | 0 | 0 | 0 | 0 |
| 11 | Caden Mattson | 1 | 8 | 3 | 1 | 2 | 0 | 0 | 1 |
| 12 | Eric Mote | 1 | 2 | 1 | 1 | 0 | 0 | 0 | 2 |
| 13 | Isaac Wardwell | 1 | 4 | 2 | 2 | 0 | 0 | 3 | 5 |
| 21 | Andrew Swez | 1 | 4 | 2 | 2 | 0 | 0 | 1 | 1 |
| 31 | Reece Dannenberg | 1 | 0 | 0 | 0 | 0 | 0 | 0 | 0 |
| 33 | Percy Zentz | 1 | 14 | 4 | 4 | 0 | 6 | 7 | 1 |
| 35 | Tanner Ashley | 1 | 0 | 0 | 0 | 0 | 0 | 0 | 0 |
| 41 | Teague Smallidge | 1 | 0 | 0 | 0 | 0 | 0 | 0 | 0 |
| 43 | Daniel Li | 1 | 0 | 0 | 0 | 0 | 0 | 0 | 0 |
| | TOTALS | 1 | 36 | 13 | 11 | 2 | 8 | 13 | 11 |
| | | | | | | | | | |
| --- | --- | --- | --- | --- | --- | --- | --- | --- | --- |
| # | Name | G | PTS | FGM | 2PM | 3PM | FTM | FTA | PF |
| 3 | Devin Grindle | 1 | 2 | 1 | 1 | 0 | 0 | 0 | 3 |
| 4 | Connor Crawford | 1 | 3 | 1 | 0 | 1 | 0 | 0 | 1 |
| 10 | Hunter Curtis | 1 | 13 | 6 | 5 | 1 | 0 | 1 | 1 |
| 11 | Brett Bragdon | 1 | 6 | 2 | 0 | 2 | 0 | 0 | 0 |
| 12 | Colin Lacasse | 1 | 0 | 0 | 0 | 0 | 0 | 0 | 0 |
| 14 | Norman Jodrey | 1 | 2 | 1 | 1 | 0 | 0 | 0 | 2 |
| 15 | Noah Neleski | 1 | 0 | 0 | 0 | 0 | 0 | 0 | 1 |
| 20 | Darby Barry | 1 | 18 | 5 | 1 | 4 | 4 | 4 | 1 |
| 23 | Austin Harris | 1 | 0 | 0 | 0 | 0 | 0 | 0 | 3 |
| 32 | Jackson Curtis | 1 | 21 | 10 | 10 | 0 | 1 | 2 | 2 |
| 33 | Malcolm Svec | 1 | 0 | 0 | 0 | 0 | 0 | 0 | 4 |
| 34 | Dean Rich | 1 | 0 | 0 | 0 | 0 | 0 | 0 | 0 |
| | TOTALS | 1 | 65 | 26 | 18 | 8 | 5 | 7 | 18 |
More From WDEA Ellsworth Maine