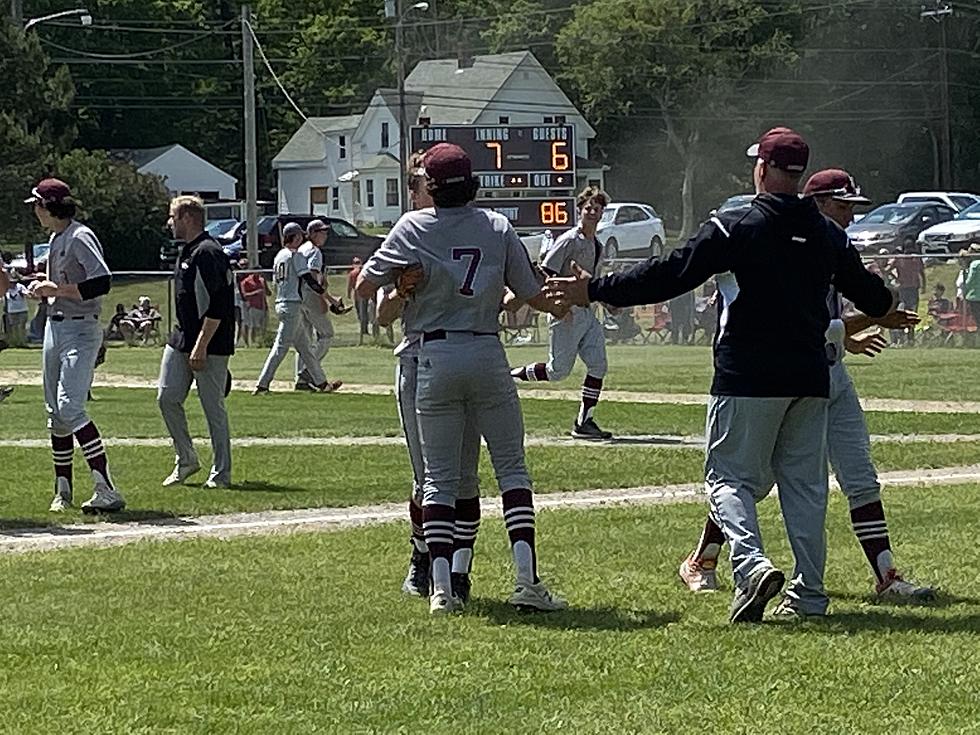 Ellsworth Baseball Wins on Walk-Off Beats Caribou 7-6
Ellsworth Celebrates their Walk-off Win vs. Caribou June 12, 2021 Photo Chris Popper
Trailing 6-4 in the bottom of the 7th inning, the Ellsworth Eagles scored 3 runs in the bottom of the 7th with Michael Palmer driving Brody Mercier in from 3rd with 1 out, to give the Eagles a hard fought 7-6 victory over Caribou on Saturday afternoon, June 12th. The win sets up a #2 Ellsworth vs. #1 Old Town for the Class B Northern Maine title Wednesday night, June 16th, 6:30 p.m. at Mansfield Stadium in Bangor.
Trailing 6-4 the inning started with a single by David Baugh. Hunter Curtis followed with a single moving Baugh to 3rd. Curtis then stole 2nd  and Peter Keblinsky singled. Brody Mercier than ran for Keblinsky. Craig Burnett was intentionally walked to load the bases. Nate Smith then lined out the left, scoring Curtis. Then with 1 out and  a 2-2 count, Palmer sent the Eagles to the Regional Finals.
Caribou had taken a 2-0 lead in the top of the 2nd, before Ellsworth scored 2 in the bottom of the 2nd. Ellsworth took a 4-2 lead at the end of 3 innings, before Caribou scored 4 runs to take a 6-4 lead.
Hunter Curtis went into the 6th inning before David Baugh came on in relief and pick up the win.
Caleb Espling pitched for the Vikings
Ellsworth batting - Every batter had at least 1 hit
Brett Bragdon - 1 single
David Baugh - 2 singles
Hunter Curtis - 2 singles
Peter Keblinsky - 1 single
Craig Burnett - 1 double and 1 single
Nathan Smith - 1 single
Michael Palmer - 1 single
Reece Jagels - 1 double
Matt Reid - 2 singles
Caribou batting -
Carter Quist - 1 single
Griffin McNeal - 1 double and 1 single
The Ellsworth-Old Town game will take place at 6:30 p.m. at Mansfield. Admission is $10.00, $5.00 for students and seniors(65+) . We hope to broadcast the game on WDEA Internet Radio, on our Free Downloadable APP and on any Alexa enabled device with the pregame beginning at 6:15 with the introduction of line-ups, National Anthem etc.
More From WDEA Ellsworth Maine