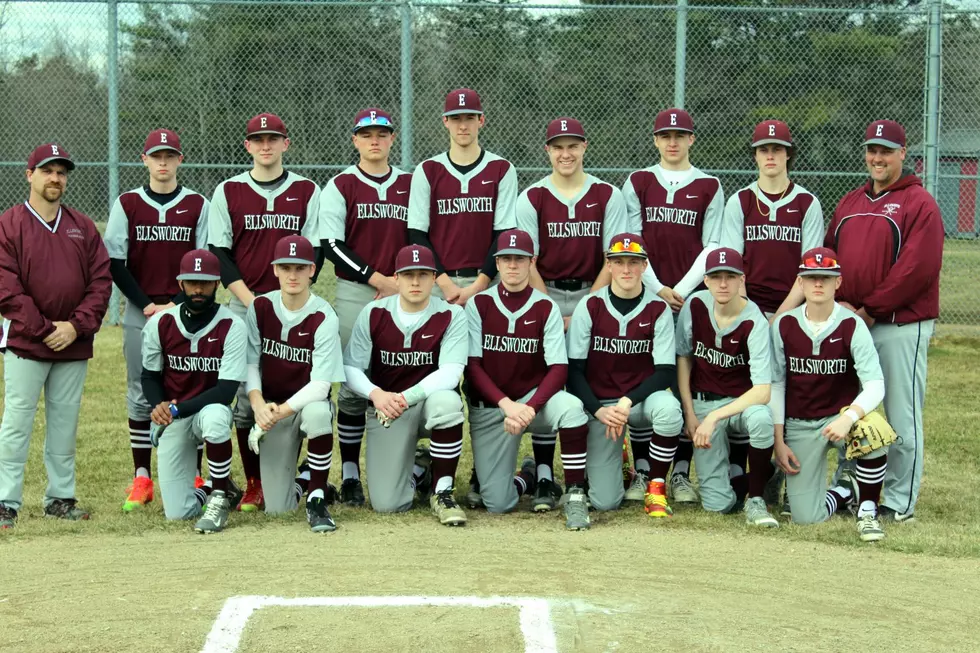 2017 Ellsworth High School Baseball Team Photo Chris Popper
Make it two in a row for the Ellsworth Eagles, as the Ellsworth Eagles beat the Washington Academy Raiders 16-6 on Friday, May 5th in Ellsworth. It was the second consecutive game that the Ellsworth Eagles beat their opponent by 10 runs.
Matt Burnett threw the first 3 innings for the Eagles, allowing 6 runs, 4 of which were earned on 3 hits, striking out 4 and walking 5. Brad Smith pitched the last 2 innings, picking up the win, allowing 2 hits and striking out 4.
For the Eagles Chris Barnes had 3 singles, Brad Smith had a double and single, Jared Hamilton and Jackson Curtis had 2 singles each. Chris Fickett had a double and Troy Folmer had a single.
Damon Barker took the loss for Washington Academy. He threw 4 innings allowing 12 runs, 2 of which were earned. He gave up 8 hits and walked 2. Kade Feeney pitched the final inning, allowing 4 runs, all earned, giving up 3 hits, walking 3 and striking out 1.
For Washington Academy Lukas McDonald was 3-3 with 3 singles. Nevin Rhodes and Kade Feeney each had a single.
Ellsworth, now 3-2 and was scheduled to play Hermon on Saturday, May 6th, but that game has been moved to Monday, May 8th at 4:30 PM.
Washington Academy is now 1-4 and is slated to host a doubleheader on Saturday, May 6th against Orono, subject to the rain.
More From WDEA Ellsworth Maine