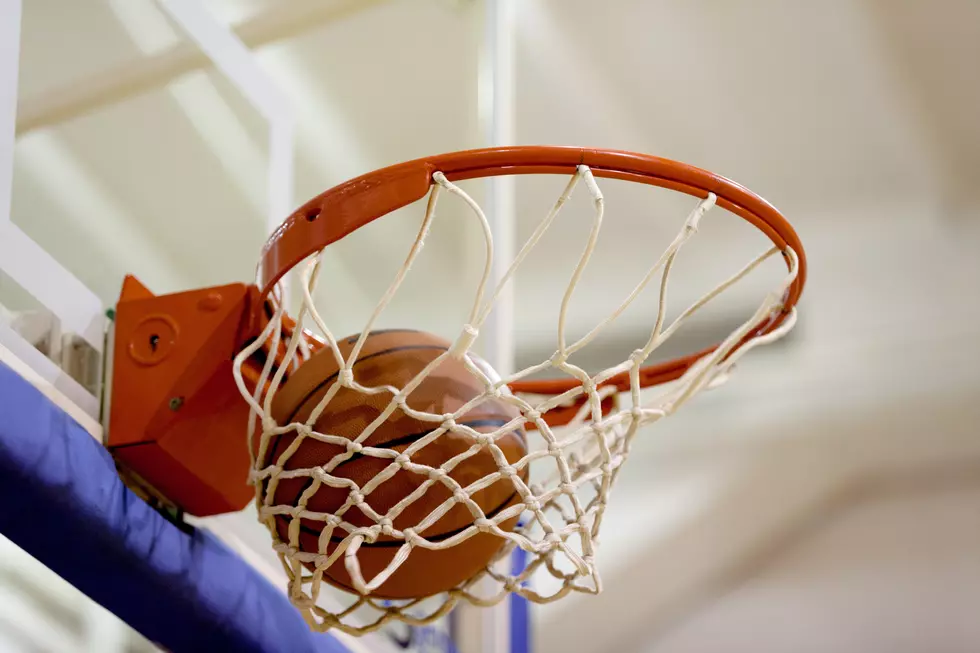 Washington Academy Girls Win 7th, Beat Narraguagus 53-39 [STATS]
Getty Images/iStockphoto
The Washington Academy Girls Basketball Team won their 7th game of the season, beating the Narraguagus Knights 53-39 in East Machias on Tuesday, January 3rd.
W.A. jumped out to a 16-11 lead at the end of the 1st Quarter but 'Guagus tied the scored at halftime 18-18 outscoring the Raiders 7-2 in the 2nd Quarter. Washington Academy took control in the 3rd Quarter, with a 20-11 run, to take a 38-29 lead.
Washington Academy was led by Addie Williams with 14 points including a 3-pointer. Kristen Smith had 10 points. Chloe Dinsmore had 2 3's and Avery Kates had a 3-pointer. The Raiders were 7-19 from the free throw line.
Narraguagus is 4-4. They travel to Woodland on Thursday, January 5th at 5 p.m.
Washington Academy is 7-1. They travel up to Aroostook County to play the Presque Isle Wildcats on Saturday, January 7th at 3 p.m.
Thanks to Coach Josh Cates for the stats.
You can vote for the Week 4 High School Athlete of the Week HERE. Voting ends Thursday, January 5th at 11:59 p.m.
You can nominate someone for the Winter Week 5 High School Athlete of the Week by emailing HERE. Please put High School Athlete of the Week in the subject. Nominations for games January 1 - 7 need to be received by January 9th. Then tell us why your nominee is deserving! Let us know specifics! How many goals did she/he score? How many points did she/he score? How fast did they run or throw in the indoor track meet? How fast did they swim in the swim meet? How did they do in the wrestling meet? We also want to know what school they go to! Please send them by Monday night!
Tuesday we will then compile the nominees and it will be your turn to choose the winner! You can then cast your votes, and voting will close Thursday night at 11:59 p.m. We will then announce the winner online and on air on Friday each week!
We are also looking for reports of High School Basketball,  Hockey, Swimming, Indoor Track and Field, and Wrestling results. If you can email them HERE we will write recaps nightly. We need the score, who scored the goal, and any highlights. You can even text the photo of the scoresheets to 207-469-8660
Line Score
| | | | | | |
| --- | --- | --- | --- | --- | --- |
| | 1 | 2 | 3 | 4 | T |
| Narraguagus Girls | 11 | 7 | 11 | 10 | 39 |
| Washington Academy Girls | 16 | 2 | 20 | 15 | 53 |
Box Score
Narraguagus
| | | | | | |
| --- | --- | --- | --- | --- | --- |
| Name | PTS | 2PM | 3PM | FTM | FTA |
| Eden Fraser | 10 | 4 | - | 2 | 6 |
| Lydia McCarthy | 0 | - | - | - | 1 |
| Emma Parker | 0 | - | - | - | - |
| Katrina Hatt | 2 | - | - | 2 | 2 |
| Paidyn Cashman | 0 | - | - | - | - |
| Nevaeh Schoppee | 9 | 1 | 1 | 4 | 6 |
| Autumn Peterson | 15 | 2 | 3 | 2 | 2 |
| Laney Oliver | 0 | - | - | - | - |
| Natalie Stanwood | 1 | - | - | 1 | 2 |
| Emma Moores | 2 | 1 | - | - | - |
| Trinity Morris | 0 | - | - | - | - |
| TEAM | 0 | - | - | - | - |
| TOTALS | 39 | 8 | 4 | 11 | 19 |
Washington Academy
| | | | | | |
| --- | --- | --- | --- | --- | --- |
| Name | PTS | 2PM | 3PM | FTM | FTA |
| Chloe Kilton | 0 | - | - | - | - |
| Addie Williams | 14 | 4 | 1 | 3 | 5 |
| Miranda Cheney | 1 | - | - | 1 | 4 |
| Sarah Moulton | 0 | - | - | - | - |
| Chloe Dinsmore | 7 | - | 2 | 1 | 2 |
| Savannah Crowley | 4 | 2 | - | - | - |
| Avery Kates | 4 | - | 1 | 1 | 2 |
| Kristen Smith | 10 | 5 | - | - | - |
| Grace Gray | 4 | 2 | - | - | - |
| Marissa Cates | 0 | - | - | - | 2 |
| Reese Crosman | 9 | 4 | - | 1 | 3 |
| Daniela Myers | 0 | - | - | - | - |
| Meadow Rohde | 0 | - | - | - | 1 |
| Yagmor Boluraski | 0 | - | - | - | - |
| TEAM | 0 | - | - | - | - |
| TOTALS | 53 | 17 | 4 | 7 | 19 |
More From WDEA Ellsworth Maine