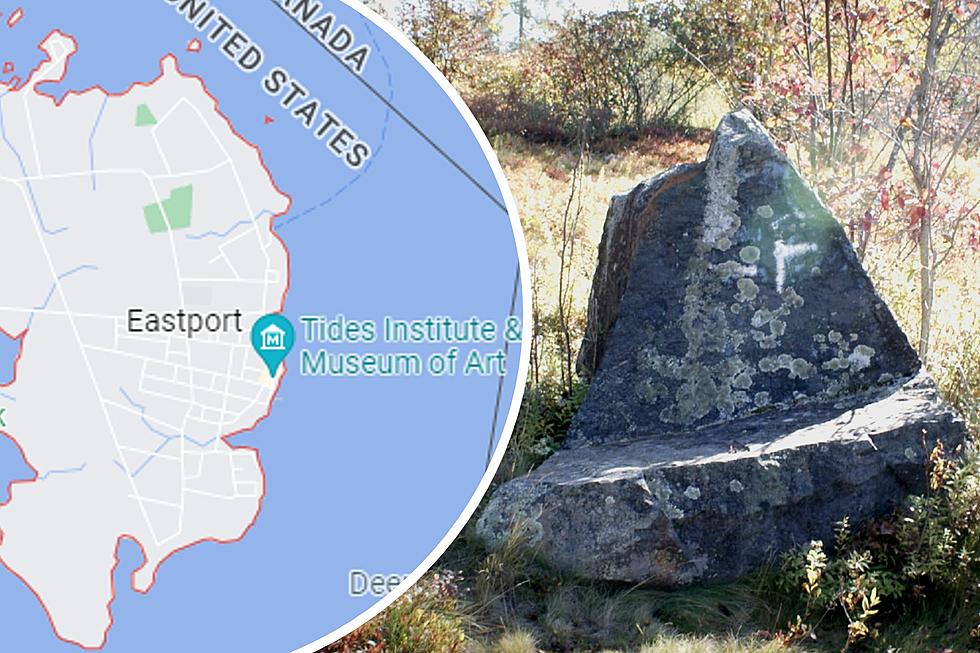 The Maine Urban Legend of Eastport's 'Devil's Chair'
Photo: Keane Dannon; Map: Google
Many legends and folktales are in Maine that make the hairs on the back of the neck stand up straight. But, one legend in the most eastern town in the United States possibly takes the cake when it comes to scary legends.
A local of Eastport went to the 'Unexplained Maine' Facebook group recently to share a picture of one spot in the seaside town that as a child was a place that struck fear in the heart of locals.
The picture shows a strange-looking rock that seems to have a ledge to sit comfortably on paired with a back that you could easily rest back on while taking a seat. While the picture shared looks benign, the story of this rock, known as The Devil's Chair, gives you a different impression that might give you a chill.
Eastport's 'Devil's Chair'
Hillside Cemetary is where Eastport's 'Devil's Chair' is nearby, which makes this legend even more creepy. A path off of the cemetery leads you to this rock where legend has it the devil will meet you at midnight to strike a deal. The contributor states 'As kids we always dared each other to walk the path and go there, but none of us ever dared go there at midnight.'
And, frankly, I don't blame them.
The Devil's Chair Urban Legend
Apparently this urban legend stems from actual cemetery 'mourning chairs' of the 1800's that were stone seats for visitors to sit on at a cemetery. The Devil's Chair is an urban legend used just about everywhere and is so popular that a movie used it for it's title in 2007.
Would you visit Eastport's Devil's Chair at midnight?
So, would you dare visit the Devil's Chair of Eastport? Maybe the daylight picture makes this rock not so spooky but once the sunsets, my courage would be gone. Here's a little photoshop magic to see what that would be like...
These Are Maine's Wildest Urban Legends That You Probably Didn't Know
Who knew that in our own backyards lies myths of brutal hauntings and legends of terror beyond our wildest imaginations? Let us begin.
30 Haunted Places in Maine
Most of the locations on the list share a little about what has been claimed as paranormal happenings for these locations, which can include seeing apparitions, hearing strange noises, or maybe even spookier experiences involving unexplained conditions of vehicles, shaking beds, or flying dishes. Here are 30 haunted places in Maine.
How Many in America: From Guns to Ghost Towns
Can you take a guess as to how many public schools are in the U.S.? Do you have any clue as to how many billionaires might be residing there? Read on to find out—and learn a thing or two about each of these selection's cultural significance and legacy along the way.
More From WDEA Ellsworth Maine