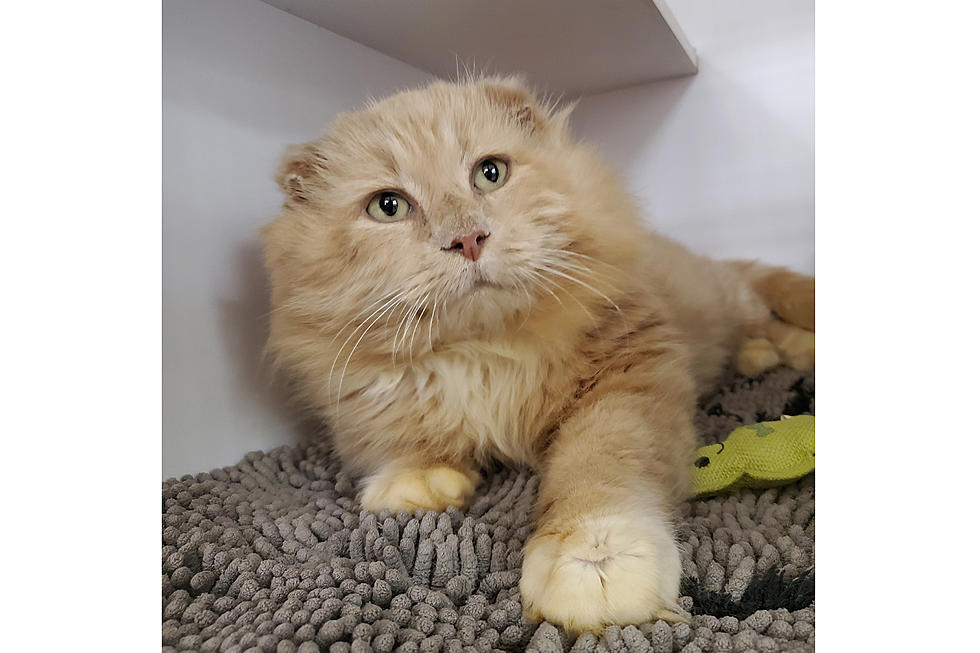 SPCA of Hancock County Pet of the Week Is Like A Miniature Lion
Bam Bam/SPCA of Hancock Coiunty
Long-haired Bam Bam is like a miniature lion, and if he were the King of the Forest every animal at the SPCA of Hancock County would have a forever home.
His gorgeous golden-fawn coat and tiny curled ears are enough to make the resemblance complete, but then add to that the fact he's a big boy at more than 12 pounds, and Bam Bam is uniquely stunning.
There's a sadness to his yellow-green eyes, though - Bam Bam has a troubled history where people weren't always kind to him, and he still needs a gentle and loving companion to help him ease out of his shell.
He is 10 years old and is FIV positive, which simply means he needs a little extra care when it comes to kitty colds and such, and he should be kept indoors only. Bam Bam is extremely sweet and gentle despite his rough start, but the folks at the SPCA of Hancock County think he would be happiest in a home with older, respectful children. While he does not seem to like dogs much, he may be able to coexist with another mellow cat.
Bam Bam would love to start meeting people so he can learn about our good side, and hopefully find his forever family soon. We hope that you have an interest in Bam Bam and hope that you'll make an appointment to meet with him soon!
The SPCA of Hancock County serves Ellsworth, Mount Desert Island and beyond, and is still operating by appointment only for the safety of the animals, as well as visitors and staff. If you are looking to adopt, please check their website where they have an adoption application and the available animals listed. For general inquiries, please call them at 207-667-8088, email info@spcahancockcounty.org, or send them a Facebook message. The shelter is located on Route 3 in Trenton.
Peek Inside This $2 Million Property for Sale on Main Street in Bar Harbor
Many have always dreamed of owning a store, restaurant, or take-out in the middle of Maine's premier resort town, or living right where the action is during the warm summer months.
Here's your chance at a little piece of Eden. The property is currently listed for sale at $2 million on
Zillow.com
by SVN The Masiello Group.
Walk Through These Photos Of The Famous Bar Harbor Shore Path
It's probably one of the more picturesque walks within any small coastal town in New England, and if you haven't strolled the 3/4 of a mile pathway yet, you really should take the time to do so.
The famous Bar Harbor Shore Path was created in 1881, and one can only imagine the famous and successful individuals of the past who have walked it throughout the years. Let's go ahead and join them.
More From WDEA Ellsworth Maine