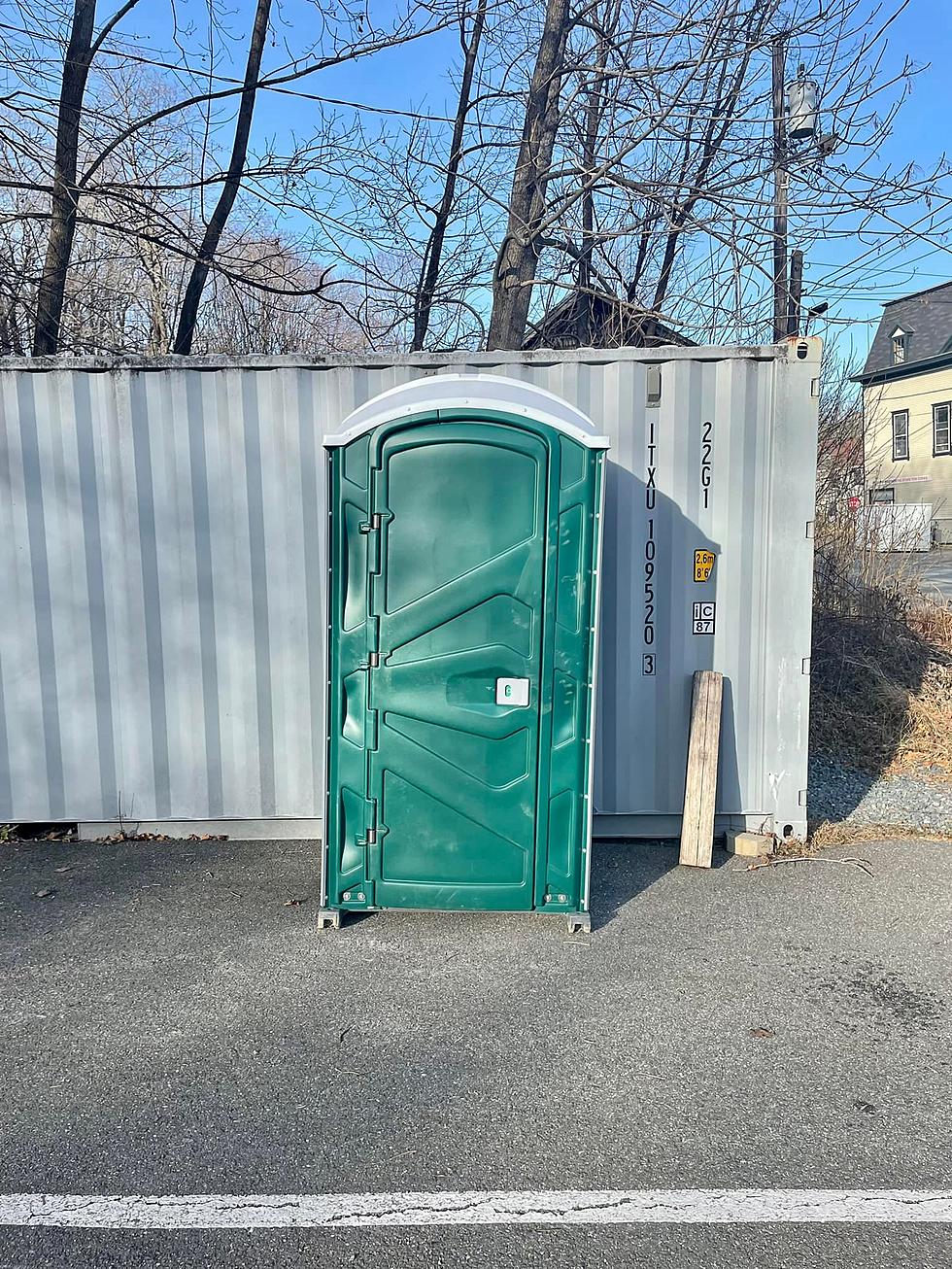 Porta Potty Predicament; "Whose Potty Is This?" Ellsworth Man Wants To Know.
Porta-potty predicament 2, Brian Langley via Facebook
What kind of a present is this?
That's the question long-time Ellsworth resident, Brian Langley, asked himself earlier this week.
Langley, who owns the Union River Lobster Pot restaurant on South Street in Ellsworth, was working from a makeshift office in a nearby Air B&B Tuesday. On his way home that evening, he noticed an unusual "gift" had been delivered to his driveway.
"It's like 5'oclock and I'm walking from here to my house to kind of go home for supper and I say 'What's that?' I see the little white roof. It's pitch dark, and I go over and it's a Porta Potty. 'What the [heck]?' And I open it up and I look around. There are no letters or anything on it. I never saw it delivered. It just kind of showed up across the street from the restaurant."
Naturally, Langley thought it must have been dropped off either with the purpose of being used by some sort of construction crew or perhaps even by mistake.
"I'm thinking maybe there's some construction going to be going on, but at least somebody should have asked. I'm kind of looking at my restaurant phone but I didn't see anything...But nobody asked. They just dropped one off there. Right in my parking lot."
Langley, who is also the Executive Director of the Bridge Academy Maine, and is a former Maine Legislator, is quite well known in the Downeast community. But as connected as he is, there were no real leads as to why or how the potty ended up at his place.
So he did what any of us would do in this day and age, he took to Facebook and made a post about it.
"Reward for Information That Helps Me Find Who Put a Porta Potty in My Driveway Yesterday! I wonder if someone else was expecting a delivery yesterday….(reward is a porta potty)"
The comments that followed are nothing short of Facebook Gold!
"Crappy gift," wrote one person.
"Hope you get to the bottom of it," wrote another.
"Urine business now!" someone suggested.
My favorite one, aside from "Downeast Tollbooth" has to be the fella who wrote "Maybe it was the 2 turdle doves that left it!
Langley has no idea where the thing came from but admits he hasn't had much time to call around yet.
"I have been busy in meetings since I woke up. I haven't taken the time to call the plumbing companies yet. But there are no markings on it. At this point, it's kind of been more fun to have this mysterious porta potty there. You know, a little bit of comic relief from it. "
He did think, at one point yesterday, that he had solved the mystery.
"So yesterday, I'm sitting here, and I look down the river and I see this 'Lucas Tree Company' go by and I said 'Oh, that's gotta be who the porta potty is for. Maybe it's a new union rule, you know?' Because I see these trees marked with orange ribbons, all along my street to be cut down, right?"
"So they're out there putting the work area signs up so I go out and talk to these two guys. And I said 'By any chance would they have delivered a porta potty for you guys?' And they're like 'What?! No! Nobody would ever do that for us!' And I said 'Well, it just appeared here the day before yesterday. Hey, it's nice and clean in there. Feel free to use it if you need it.' It's mine now, I think."
If you have any tips about the mysterious porta potty (maybe you're missing this one?) Langley says you can call The Union River Lobster Pot line at (207) 667-5077 and leave a message.
In the meantime, he's been getting a good chuckle out of the entire situation and hopes others are finding the humor in it, as well.
"I tend not to pile on to the negativity that floats around in there. But...Oh my God, it's been so funny. The levity, you know? As things are really just so serious and people are so tense and wound up, I thought it would just be kind of fun."
The Best Restaurants in Downeast Maine for Lobster
So when your hungry out-of-state relatives or friends come to our great state, where do you take them for a mouth-watering lobster dinner?
The answer to that often asked question will be top of mind for a lot of Mainers this season, as thousands of tourists, relatives, and friends drive hundreds if not thousands of miles to take in the sights and eat what our state is most famous for, lobster.
Whether it's a lobster salad, in a hot dog roll, a broiled tail, thrown into a pot of boiling sea water, or god forbid, made into a lobster poutine, people near and far crave it, and as soon as they make it into this neck of the woods it'll be what they have for dinner that night.
While each of us already have a few favorite snack bars, take-outs, and restaurants in mind, it would be wrong of this author to pass along those personal suggestions. So, we're going to
rely on the reviews
of TripAdvisor to point our visitors in the right directions. We've focused on the Ellsworth and Mount Desert Island area, and here is what we found as we count our way up to the #1 most recommended place for lobster Downeast.
See How Much Ellsworth's Population Has Grown Over The Years
While Ellsworth is the biggest city in the state when it comes to land, measuring in at almost 93 square miles, its current population of 8,399 residents ranks it #34, right behind Cumberland and before Buxton.
Here's a look at how the population in Ellsworth has grown over the past 221 years.
Top 10 Worst Ellsworth Intersections For Crashes
Here are the 10 worst intersections for motor vehicle crashes in Ellsworth, Maine.
More From WDEA Ellsworth Maine