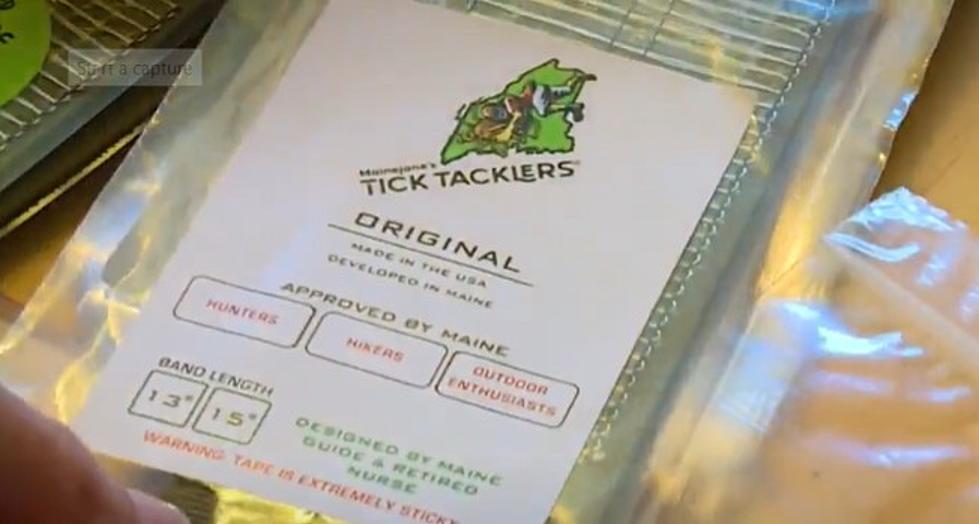 A Maine Woman's Simple New Device Is A Big Time Tick Slayer
WMTW via YouTube
Reflecting on this past winrer, there's only one honestly good thing about snow.
Unless you're a snow sports person, of course. But otherwise, about the only good thing about snow is that it pretty much means not having to check my dog and myself over for ticks, every time we come in the house from a walk. Above and beyond that, I don't have a lot of use for winter.
Granted, we do get the little mid-season respite from ticks during the summer. There definitely seems to be an ebb and a flow. But if you're an outdoorsy person year-round, there aren't a lot of great ways to keep ticks off you or the dog. But Mainer Jane Gower, came up with a simply brilliant strategy for killing the stupid little jerks.
Her new product is face-palmingly simple.
According to WMTW, Gower started her own small company called Mainejane's Tick Tacklers. Going into it, she wanted it to be as simple as simple gets, and she nailed it. Basically, it's a small velcro strap that goes around your ankle, and that small strap is covered in super sticky tape. The ticks crawl up your leg, hit the tape, and basically die. As it should be.
Jane Gower came up with a simply brilliant strategy for killing the stupid little jerks.
Otherwise, your options usually include crazy chemicals. Either in some sort of spray or infused into clothing, like permethrin socks. But sticky tape on a strap will likely do a waaaaay better job. And now that warm weather is on the way, these will probably be huge. You can go right to Mainejane's Facebook page and order your own right here.
For real, I'm open to anything that might make tick season a bit more bearable. When you pull a couple dozen ticks off you and your dog, only having to count the ones on the dog seems like a godsend. Hopefully tick season can be a bit easier with this cool invention. Yankee ingenuity right there, folks...
Check them out for yourself right here in this video....
KEEP SCROLLING FOR TOWN NAMES THAT WILL ROCK ANY TOURIST'S WORLD TRYING TO SAY...
Maine Towns That Are Either Surprisingly Easy, Or Pointlessly Hard To Pronounce
Maine towns that look like they should be hard to say, but aren't. Or, towns that are impossible to say unless you grew up there.
Wild Edible Mushrooms Here In Maine
Tasty fungi from the Maine woods. But, remember, never eat a wild mushroom without positive identification.
These Are The Most Fun Street Names In the Bangor Area
A bunch of Bangor area streets and roads that are just darned fun to say out loud.
More From WDEA Ellsworth Maine