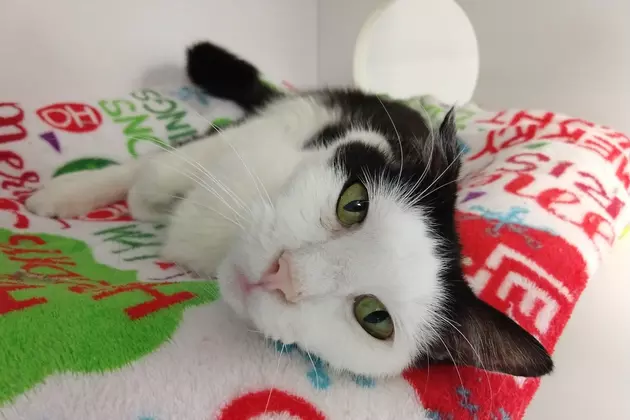 Furball Simon Is The SPCA Of Hancock County Pet Of The Week
SPCA of Hancock County photo
A cat with a cute pink nose and bright green eyes is watching you!
His face is white and he has a black cap on his head. He always has one ear crinkled over to the side.
His name is Simon, and he's a first-rate lap cat! Simon has ten years of experience sitting on laps, so you know he's qualified for the job. Simon says,
"Help!" He's having a hard time finding a home, because he's a cat of "mature years," and is on medication for hyperthyroidism. This condition is easily managed, and is fairly common for cats of this age to develop.
Would you like a cuddly companion who wants little more than your attention and a cosy bed? Simon says, "Come adopt me!"
The SPCA of Hancock County now has a blog! It's called the 4-Paw Post, and it's located on their website under News and Info. They post on Tuesdays, Thursdays, and Saturdays. So, if people are looking for more information about the Pet of the Week or what's going on, check it out!
The SPCA of Hancock County is a no-kill facility, and currently has many cats and dogs vailable for adoption.  It's located at 141 Bar Harbor Road in Trenton.  It's open Wednesdays, Thursdays and Sundays between 11 AM – 5 PM.  Fridays and Saturdays between 11 AM – 6 PM.  Closed Monday and Tuesday.
More From WDEA Ellsworth Maine