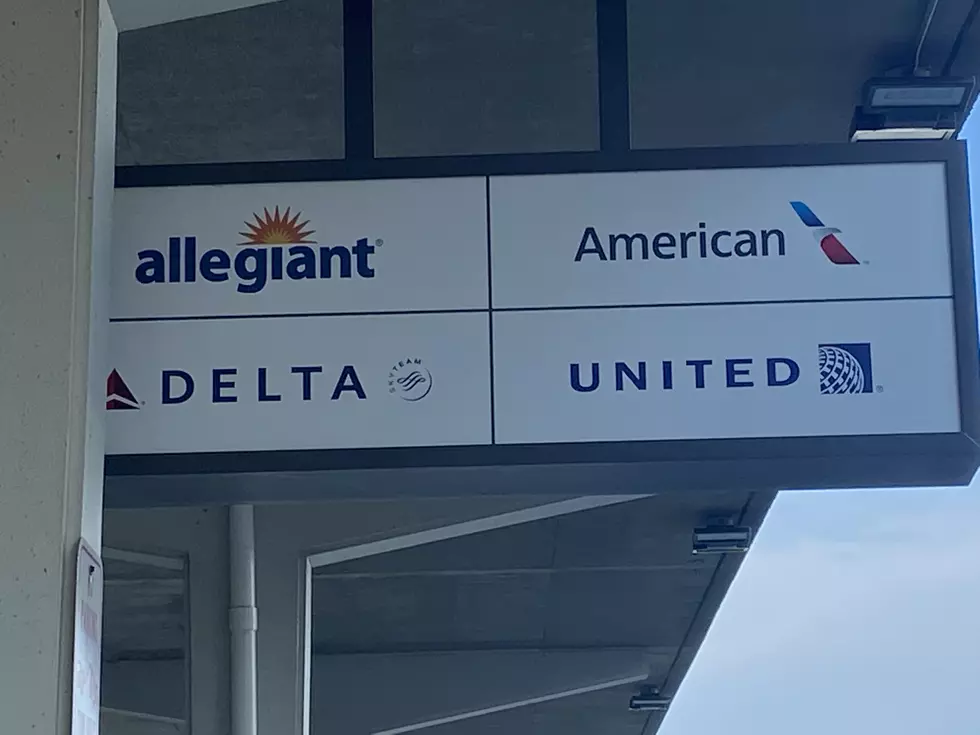 Flying the "Friendly Skies" – How I Almost Flew From Bangor Twice This Week
Photo Chris Popper
I know living in Bangor can be challenging, especially trying to fly, but there is Bangor International Airport and Hancock County Airport in Bar Harbor, which normally allow plenty of opportunities to fly, and connect to other destinations. I had plans to fly down from Bangor to visit with my mother, near Sarasota, Florida.
Now, I was pretty particular with my flight requests. I wanted to fly from Bangor, and I wanted to land at Sarasota, so my mother didn't have far to drive to pick me up. I could have originally gone to Fort Meyers, but that was 2 plus hours away rather then 40 minutes away. I also wanted to leave Bangor on July 11th, Monday, and return on Thursday, July 14th.
So I booked the flight. Monday's flight was going to go to Philadelphia, and then to Sarasota. I needed to be at the airport on Monday at 4:30 to allow time to get through TSA and begin boarding at 5:30 a.m.
Monday morning, around 2:30 a.m., I got a text saying that the flight was canceled but they had rebooked me to fly down there on Wednesday, July 13th. That was crazy, because I would have flown down and back the next day for over $500. I was eventually able to rebook the flight to leave Tuesday, July 12th Bangor to Reagan International then to Sarasota.
I woke up this morning at 2:30 to a text saying the flight was on time! Psyched, I got to the airport at 4:30 a.m. and joined the crowd trying to get through TSA. There were 3 flights leaving all around 6 a.m and the planes were all near capacity, so there were quite a few people trying to get through.
I finally got through, and sat down at the gate. I saw the Philadelphia plane leave, the one that I was scheduled to be on yesterday. We started to board and finally we were all on board. Then the infamous voice of the captain! We had a slight maintenance issue, there were some screws loose, but maintenance was on their way, and it was just a matter of tightening them, clearing the paperwork and we'd be on our way... 20 minutes tops!
About 20 minutes later the captain came back on and apologized. There was a misunderstanding, no one had alerted maintenance but they were coming over shortly. No worries, we should be departing soon.
After 1 hour and change the captain came over the intercom to give us an update. We should be leaving shortly, and if all was good we'd arrive at Reagan around 8:40 a.m. and they'd work with us to rebook us on flights if we missed our connections and thanks for your patience.
The problem I had was that my flight from Reagan International to Sarasota left at 8:40 a.m. Never mind deplaning, and getting to the next gate. I'd probably be arriving as my next connection departed. Checking departures, that was the ONLY flight from Reagan to Sarasota all day! So if I left Bangor, there was a great chance I would be stuck in Washington DC somehow trying to fly back to Bangor, or getting to Sarasota tomorrow.
So I deplaned and am now working to get my plane fare refunded. I obviously wasn't meant to fly to Sarasota.
What did I learn? It's good to work with a travel professional to book your flights so they can help you when there are issues. There's no sense losing your temper and coming off like a jerk. (Pleased to say I didn't!) People are more inclined to help you if you are polite rather than being rude. Flying these days is challenging, and it will either go totally right or be royally screwed up! There's no middle ground.
Mom.. we'll Facetime! It's not the same as being there, but unfortunately, as you said, it just wasn't meant to be.
21 Maine Restaurants That Have Been Featured on Travel Channel's Food Paradise
This is a list of the Maine restaurants that have been featured on the Travel Channel show, 'Food Paradise.' This is quite a representation for a state that's relatively small in stature.
More From WDEA Ellsworth Maine