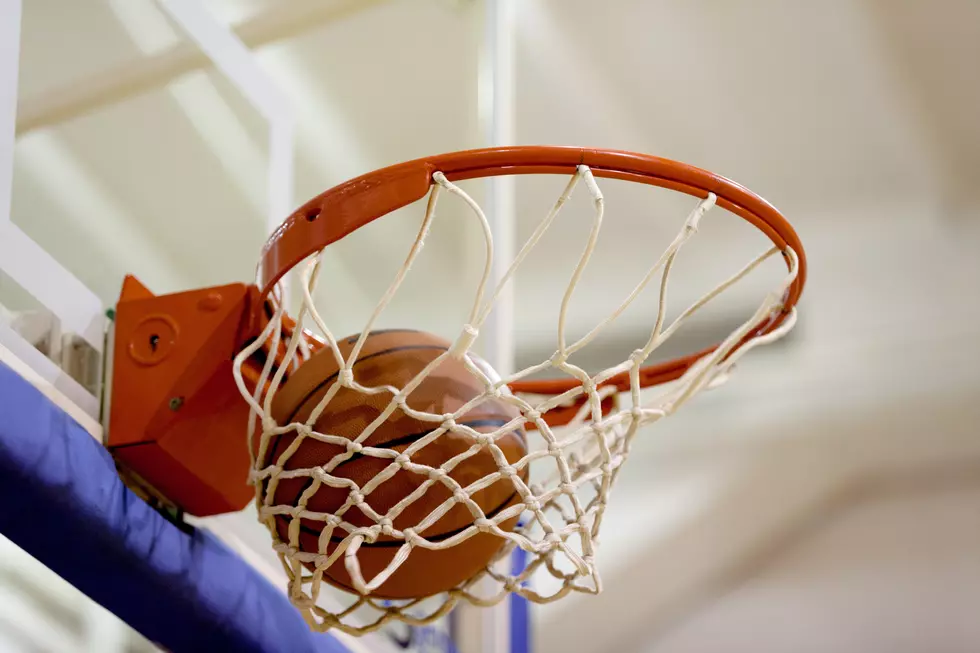 Ellsworth Girls Fall to Old Town 49-18
Getty Images/iStockphoto
The Ellsworth Girls Basketball Team fell to the Old Town Coyotes 49-18 at Mackenzie Gymnasium in Old Town on Saturday, January 4th.
Old Town jumped out to a 16-6 lead at the end of the 1st Quarter. Madelyn Emerson hit 3 3-pointers for the Coyotes, for 9 points. Lexi Thibodeau had 5 points and Hannah Richards 2 points.  For Ellsworth Trinity Montigny, Kylie Robidoux and Autumn Paul each had 2 points for the Eagles.
In the 2nd Quarter, Ellsworth outscored Old Town 5-3 to cut the lead to 19-11. Trinity Montigny had 3 points for Ellsworth while Kayla Duhaime added 2 points. For Old Town Emerson had 2 points and Thibodeau 1 point.
In the 3rd Quarter Old Town exploded for 18 points while holding Ellsworth to just 2 points to take a 37-13 lead. Madelyn Emerson had 2 more 3-pointers. Hannah Richards had 6 points. Maddy Arsenault had a 3-pointer and Lexi Thibodeau added 3 points. Trinity Montigny had Ellsworth's lone points, coming from the free throw line.
In the 4th Quarter Old Town outpaced Ellsworth 12-5. Alexis Austin had a 3-pointer. Thibodeau had 3 points and Emerson, Sydney Loring and Payton Cody all chipped in with 2 points. For Ellsworth Montigny went 3-4 from the free throw line and Casey Carter had 2 points.
Ellsworth was led by Trinity Montigny with 10 points. The Eagles were 8-10 from the free throw line.
Old Town was led by Madelyn Emerson with 19 points including 5 3's. Lexi Thibodeau had 12 points. The Coyotes were 6-13 from the free throw line.
Ellsworth is now 4-3 and plays at Washington Academy on Tuesday, January 7th at 6:30 p.m.
Old Town is now 5-3 and plays host to John Bapst on Wednesday, January 8th at 7 p.m.
| | | | | | |
| --- | --- | --- | --- | --- | --- |
| | 1 | 2 | 3 | 4 | T |
| Ellsworth Girls | 6 | 5 | 2 | 5 | 18 |
| Old Town Girls | 16 | 3 | 18 | 12 | 49 |
| | | | | | | | | | |
| --- | --- | --- | --- | --- | --- | --- | --- | --- | --- |
| # | Name | G | PTS | FGM | 2PM | 3PM | FTM | FTA | PF |
| 3 | Morgan Clifford | 1 | 0 | 0 | 0 | 0 | 0 | 0 | 1 |
| 4 | Jocelyn Jordan | 1 | 0 | 0 | 0 | 0 | 0 | 0 | 0 |
| 5 | Casey Carter | 1 | 2 | 1 | 1 | 0 | 0 | 0 | 0 |
| 10 | Samantha Higgins | 1 | 0 | 0 | 0 | 0 | 0 | 0 | 3 |
| 11 | Trinity Montigny | 1 | 10 | 2 | 2 | 0 | 6 | 8 | 2 |
| 12 | Sara Shea | 1 | 0 | 0 | 0 | 0 | 0 | 0 | 1 |
| 14 | Samantha Carter | 1 | 0 | 0 | 0 | 0 | 0 | 0 | 1 |
| 15 | Kylie Robidoux | 1 | 2 | 0 | 0 | 0 | 2 | 2 | 2 |
| 21 | Sierra Andrews | 1 | 0 | 0 | 0 | 0 | 0 | 0 | 1 |
| 23 | Kayla Duhaime | 1 | 2 | 1 | 1 | 0 | 0 | 0 | 1 |
| 33 | Amber-Rae Pesek | 1 | 0 | 0 | 0 | 0 | 0 | 0 | 0 |
| 34 | Alicia Kelley | 1 | 0 | 0 | 0 | 0 | 0 | 0 | 0 |
| 50 | Autumn Paul | 1 | 2 | 1 | 1 | 0 | 0 | 0 | 0 |
| | TOTALS | 1 | 18 | 5 | 5 | - | 8 | 10 | 12 |
| | | | | | | | | | |
| | | | | | | | | | |
| --- | --- | --- | --- | --- | --- | --- | --- | --- | --- |
| # | Name | G | PTS | FGM | 2PM | 3PM | FTM | FTA | PF |
| 2 | Maddy Arsenault | 1 | 3 | 1 | 0 | 1 | 0 | 0 | 0 |
| 4 | Madelyn Emerson | 1 | 19 | 7 | 2 | 5 | 0 | 0 | 3 |
| 10 | Alivia  Coulombe | 1 | 0 | 0 | 0 | 0 | 0 | 0 | 1 |
| 12 | Hannah Richards | 1 | 8 | 3 | 3 | 0 | 2 | 5 | 3 |
| 20 | Kilee Bradeen | 1 | 0 | 0 | 0 | 0 | 0 | 0 | 0 |
| 22 | Lexi Thibodeau | 1 | 12 | 4 | 4 | 0 | 4 | 8 | 1 |
| 24 | Logan Gardner | 1 | 0 | 0 | 0 | 0 | 0 | 0 | 0 |
| 30 | Gabrielle Cody | 1 | 0 | 0 | 0 | 0 | 0 | 0 | 0 |
| 32 | Alexis Austin | 1 | 3 | 1 | 0 | 1 | 0 | 0 | 0 |
| 40 | Sydney Loring | 1 | 2 | 1 | 1 | 0 | 0 | 0 | 3 |
| 42 | Payton Cody | 1 | 2 | 1 | 1 | 0 | 0 | 0 | 0 |
| 52 | Claudia Damboise | 1 | 0 | 0 | 0 | 0 | 0 | 0 | 0 |
| | TOTALS | 1 | 49 | 18 | 11 | 7 | 6 | 13 | 11 |