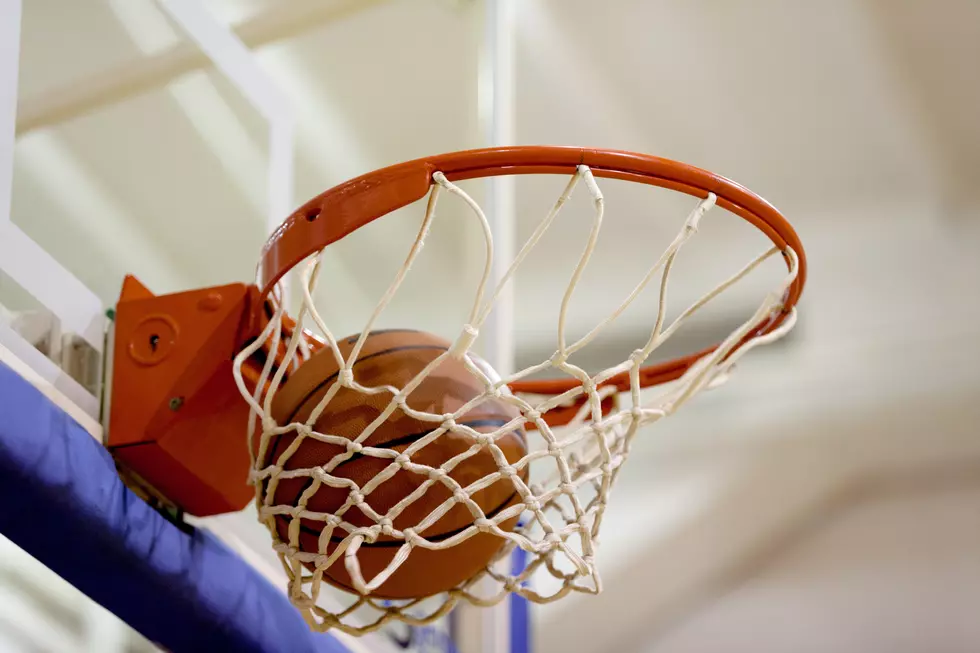 Ellsworth Girls Defeat Orono 61-33 [STATS]
Getty Images/iStockphoto
The Ellsworth Girls Basketball Team traveled to Orono Thursday night, February 4th and came away with a 61-33 victory over the Red Riots.
Ellsworth led 15-10 at the end of the 1st Quarter, and 36-20 at the end of the 1st Half. After outscoring Orono 13-4 in the 3rd Quarter it was 49-24 at the end of the 3rd Quarter.
Ellsworth was led by Casey Carter with a game high 17 points. Ella Hubbard had 9 points and Sierra Andrews 8 points. The Eagle drained 8 3-pointers on the night, with Carter and Hubbard having 3 each. Morgan Clifford scored the other 2 3-pointers. The Eagles were 5-7 from the free throw line.
Orono was led by Ellie Pierce with 12 points while Lauryn Brown had 8 points. The Red Riots were 17-22 from the free throw line
Ellsworth will play host to MDI on Monday, February 8th with the tip-off at 6:15 p.m. That game will be broadcast on AM 1370 WDEA, on WDEA Internet Radio, on our free downloadable APP and on any Alexa enabled device. That game will also be live-streamed on the Ellsworth High School You Tube Channel
| | | | | | |
| --- | --- | --- | --- | --- | --- |
| | 1 | 2 | 3 | 4 | T |
| EHS Girls | 15 | 21 | 13 | 12 | 61 |
| Orono Girls | 10 | 10 | 4 | 9 | 33 |
Box Score
Ellsworth
| | | | | | | | | |
| --- | --- | --- | --- | --- | --- | --- | --- | --- |
| # | Name | G | PTS | FGM | 2PM | 3PM | FTM | FTA |
| 3 | Ella Hubbard | 1 | 9 | 3 | 0 | 3 | 0 | 0 |
| 4 | Jocelyn Jordan | 1 | 6 | 3 | 3 | 0 | 0 | 0 |
| 5 | Casey Carter | 1 | 17 | 7 | 4 | 3 | 0 | 0 |
| 10 | Samantha Higgins | 1 | 1 | 0 | 0 | 0 | 1 | 2 |
| 11 | Morgan Clifford | 1 | 6 | 2 | 0 | 2 | 0 | 0 |
| 14 | Samantha Carter | 1 | 6 | 3 | 3 | 0 | 0 | 0 |
| 15 | Kylie Robidoux | 1 | 2 | 0 | 0 | 0 | 2 | 2 |
| 21 | Sierra Andrews | 1 | 8 | 3 | 3 | 0 | 2 | 3 |
| 33 | Amber-Rae Pesek | 1 | 0 | 0 | 0 | 0 | 0 | 0 |
| 50 | Autumn Paul | 1 | 6 | 3 | 3 | 0 | 0 | 0 |
| | TOTALS | 1 | 61 | 24 | 16 | 8 | 5 | 7 |
Orono
| | | | | | | | | |
| --- | --- | --- | --- | --- | --- | --- | --- | --- |
| # | Name | G | PTS | FGM | 2PM | 3PM | FTM | FTA |
| 3 | Clarise Bell | 1 | 2 | 1 | 1 | 0 | 0 | 0 |
| 5 | Alyssa LaBelle | 1 | 3 | 1 | 1 | 0 | 1 | 2 |
| 13 | Ellie Pierce | 1 | 12 | 3 | 3 | 0 | 6 | 8 |
| 15 | Hillary Whitmore | 1 | 0 | 0 | 0 | 0 | 0 | 0 |
| 21 | Hannah Sinclair | 1 | 2 | 0 | 0 | 0 | 2 | 3 |
| 23 | Lauryn Brown | 1 | 8 | 1 | 1 | 0 | 6 | 7 |
| 25 | Emerson Walston | 1 | 0 | 0 | 0 | 0 | 0 | 0 |
| 31 | Aliyah Sapiel | 1 | 2 | 1 | 1 | 0 | 0 | 0 |
| 33 | Chloe LaBree | 1 | 4 | 1 | 1 | 0 | 2 | 2 |
| | TOTALS | 1 | 33 | 8 | 8 | - | 17 | 22 |
More From WDEA Ellsworth Maine