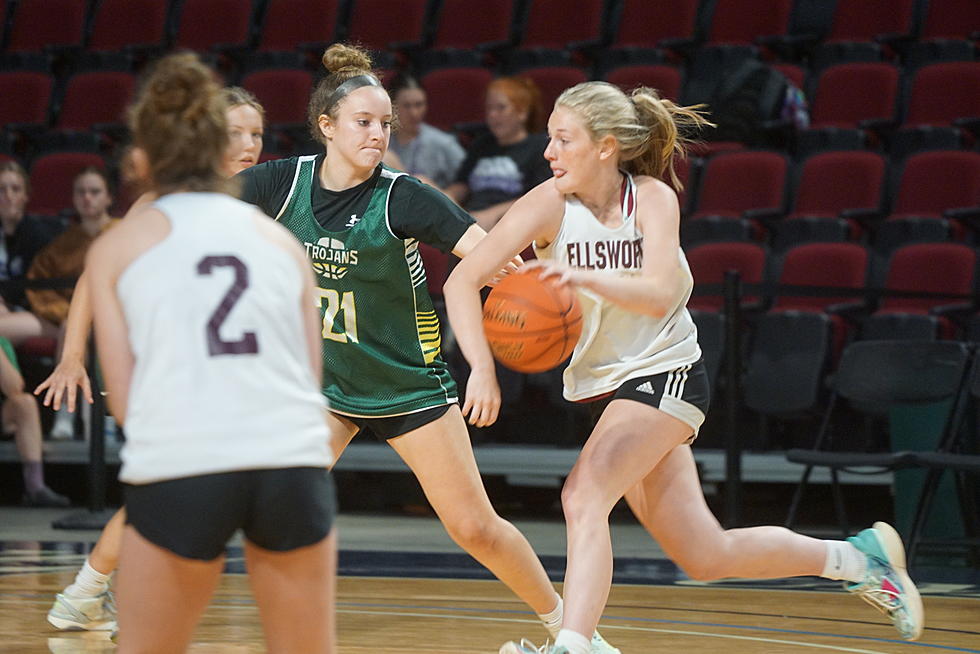 Ellsworth Girl's Defeat MDI 52-41 in John Bapst Title IX Invitational [PHOTOS & STATS]
MDI-Ellsworth Girl's Basketball July 9, 2023 Photo Chris Popper
The MDI and Ellsworth Girl's Basketball Teams met on Sunday afternoon, July 9th at the Cross Insurance Center in Bangor in the John Bapst Title IX Invitational. The Eagles won 52-41.
Ellsworth led 27-18 at the end of the 1st Half.
Addison Atherton led Ellsworth's scorers, finishing with 15 points while Grace Jaffray had 14 points.
Lexi Tozier led all scorers with 16 points. Mollie Gray had 7 points for the Trojans.
Check out the stats and photos from the game.
Box Score
MDI
| | | | | | | |
| --- | --- | --- | --- | --- | --- | --- |
| Name | PTS | FGM | 2PM | 3PM | FTM | FTA |
| Mia  Shaw | 2 | 1 | 1 | - | - | - |
| Alexsandra Hanley | 2 | 1 | 1 | - | - | - |
| Mallory Dunbar | 5 | 2 | 1 | 1 | - | - |
| Emma Simard | 0 | 0 | - | - | - | - |
| Nora Paulsen | 0 | 0 | - | - | - | - |
| Kelsea Noyes | 2 | 1 | 1 | - | - | - |
| Sophia Brophy | 4 | 2 | 2 | - | - | 2 |
| Mollie Gray | 7 | 3 | 2 | 1 | - | - |
| Lily Norwood | 3 | 1 | - | 1 | - | - |
| Lexi Tozier | 16 | 4 | 4 | - | 8 | 12 |
| TEAM | 0 | 0 | - | - | - | - |
| TOTALS | 41 | 15 | 12 | 3 | 8 | 14 |
Ellsworth
| | | | | | | |
| --- | --- | --- | --- | --- | --- | --- |
| Name | PTS | FGM | 2PM | 3PM | FTM | FTA |
| Mia Knapp | 0 | 0 | - | - | - | - |
| Abby Radel | 9 | 3 | 3 | - | 3 | 4 |
| Kaylee Bagley | 6 | 2 | - | 2 | - | - |
| Megan Jordan | 0 | 0 | - | - | - | - |
| Anna Herrick | 0 | 0 | - | - | - | - |
| Addison Atherton | 15 | 6 | 4 | 2 | 1 | 1 |
| Lily Bean | 6 | 2 | 2 | - | 2 | 2 |
| Allie Bivins | 0 | 0 | - | - | - | - |
| Violette Ray | 0 | 0 | - | - | - | - |
| Grace Jaffray | 14 | 7 | 7 | - | - | - |
| Jewell Cook | 0 | 0 | - | - | - | - |
| Maggie Devine | 2 | 1 | 1 | - | - | - |
| Lily Ball | 0 | 0 | - | - | - | - |
| TEAM | 0 | 0 | - | - | - | - |
| TOTALS | 52 | 21 | 17 | 4 | 6 | 7 |
MDI-Ellsworth Girls Basketball July 9
The MDI and Ellsworth Girl's Basketball Teams met on Sunday, July 9th in the John Bapst Title IX Invitational Tournament at the Cross Insurance Center in Bangor
More From WDEA Ellsworth Maine